There are primarily two types of events that the West Valley Astronomy Club hosts: year-round star parties and membership meetings. Please check out our upcoming events.
---
Member Meeting
Tuesday, February  6, 2017 at 7:00 PM
Unitarian Universalist Church
17540 Avenue Of The Arts
Surprise, Arizona
TOPIC:  " CCD Photometry from Inside the Light Dome"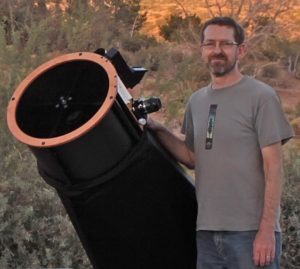 Tom Polakis is a Contributing Editor for Astronomy Magazine.  He has written many stories about the hobby and the profession.  Tom has actively pursued photometry with his CCD imaging Equipment in Tempe.  During that time, he has determined rotation periods of asteroids, measured brightness and colors of eclipsing binary and pulsating variable stars and created light curves of exoplanets.
For general information and previous meeting schedule, please visit our Meetings page »
---
Star Party
A Go/No-Go will be posted approximately 1 to 2 hours before sunset that day for those on the email notification list. Please join us with a scope (or without) for a few hours under a dark sky. Contact Walter Schmitt to be added to the notify list.
For more details and how to prepare, please visit our Star Party page »
---