Astronomy Websites and Resources
Here are a number of links to interesting astronomy websites.
Night Sky Network!
Get it all here… the clubs in your area, night sky planner, moon phase, and outreach resources
The Weather Channel
Check out the current weather conditions for the Phoenix area
Arizona State Parks – Star Parties & Astro Events
Astronomy events right here in our own Arizona state parks
Astronomy Picture of the Day
This is a link to the "full" website with Search, Calendar, etc. capability.
NASA New Horizon Mission
This exciting mission launched in January 2006 and is enroute to Pluto and the Kuiper Belt. It is the fastest spacecraft and will arrive at Pluto in July 2015 where it will fly by this mysterious, frozen world and its moon Charon. The mission has already discovered two new moons around Pluto and many more discoveries are in store.
International Dark Sky Association
The International Dark-Sky Association is the only non-profit organization fighting to preserve the night, working to protect wildlife, cut energy waste, and stop light pollution.
Moon Calendar
Moon rise, Moon Set and Moon Phases Calendar
---
Items For Sale
WVAC members may list astronomy items for sale. To submit a "for sale" notice, please send us a message. In your email message, please provide details of the item(s) for sale, your asking price(s), condition and location of the item(s), your name and contact information, etc. You may also attach any images of the item(s) to be included in the advertisement. Please let us know when the item(s) is no longer available so it may be removed from the list.
FREE – Custom Telescope Stand
Custom stand for telescope built with 4 prong steel pier stand, leveling bolts, electrical extension cord, and handle. Height is 40 inches, each base leg is 19 inches. Adaptor plate currently set up for Celestron Nexstar 8, but may be changed as needed.
Contact Pat Calascibett at 623-583-9568, or cell 602-318-7301 (text), or email to pat9722@cox.net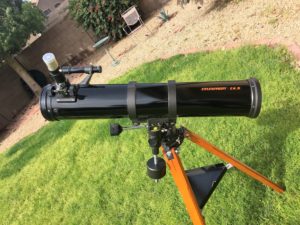 CLASSIC – Celestron C4.5 Newtonian Telescope
Hardly used Celestron C4.5 telescope with balanced RA/Dec equatorial mount, a vernier and wooden tripod. This scope is a "widow" sale and proceeds go to the WVAC club. Price is $95.
Contact John Cline at 623-544 2425, or email to johclin@cox.net

8″ LX90 Schmidt-Cassegrain Telescope  SOLD
8″ LX90 Schmidt-Cassegrain Telescope with Autostar Hand Controller. Asking price is $600.. ($1850 new).
Contact Len Cohen at 623-546-3741, or email to fralen@cox.net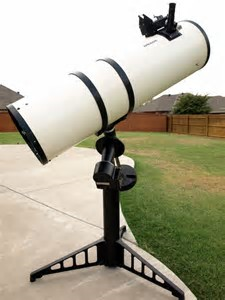 Meade 10″ Starfinder Telescope
Meade 10 in. Starfinder Reflecting Telescope. Asking price is $300.
Contact Len Cohen at 623-546-3741, or email to fralen@cox.net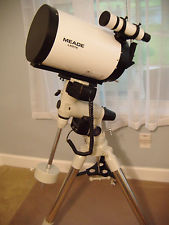 Meade 8″ LXD 75 Telescope
8″ LXD 75 Telescope –  Comes with additional Lenses. Would like $550. We also have a Meade 90mm, 4.5 " with computerized Star finder  which can be included for the same price.
Contact Mary or Mike at 623 262 7717, or email to lhcbooklady@gmail.com
Meade StarFinder 12.5 in. Dobsonian Telescope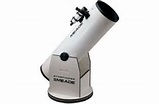 I have a Meade StarFinder, whopping 12.5 in., Dobsonian telescope that I am ready to give up. It sits on a perfectly balanced cart with pneumatic wheels; all lenses, filters, telrad finder books, other books, part of deal. Understand that you are getting a 12-1/2 inch scope with great optics for what was $800 brand new with only one eyepiece. It is simple and incredibly usable. I live in Sun City, would love to have someone see and use the equipment, all in very good condition. Best offer. I am no longer able to continue with this incredible hobby. Use the following email to ask questions, etc. Truck or van helpful to move from house.
Contact Carol Safford – mece@cox.net

---