Lunar Eclipse (Blood Moon)  May 15, 2022 Total Lunar Eclipse (Blood Moon)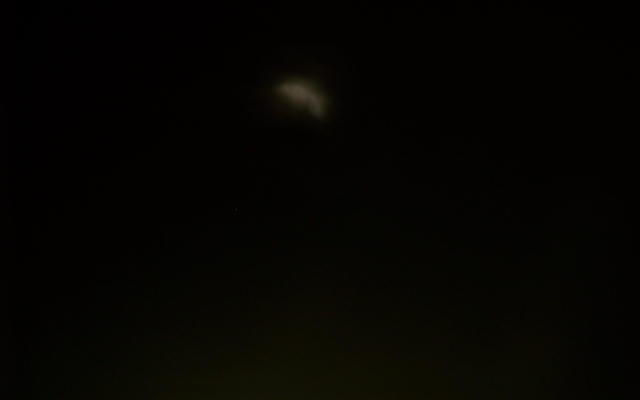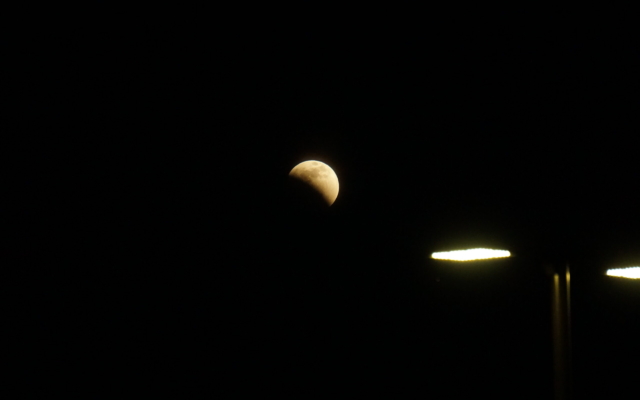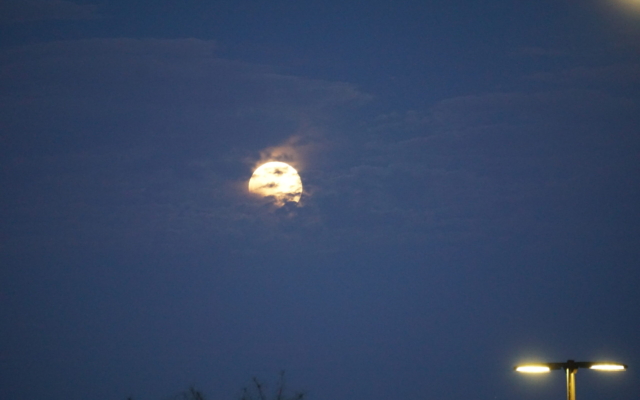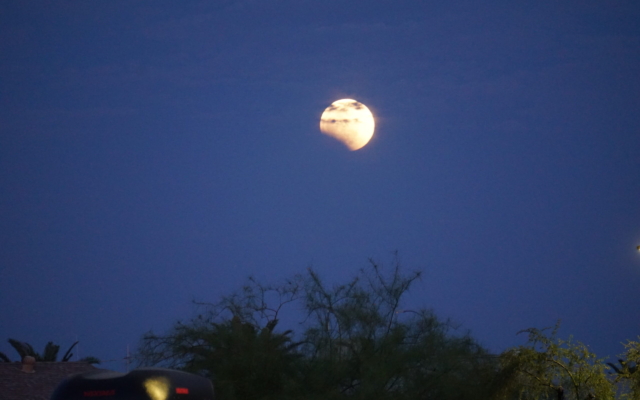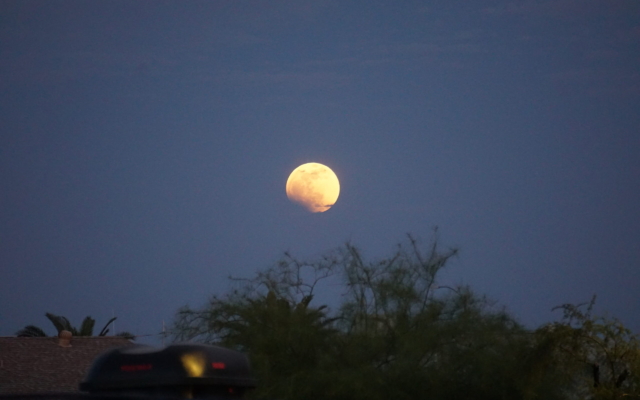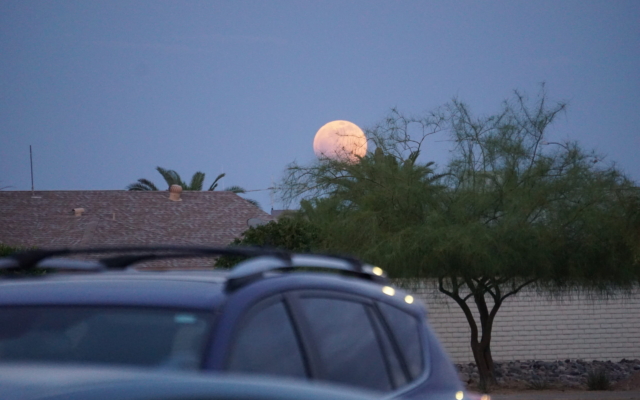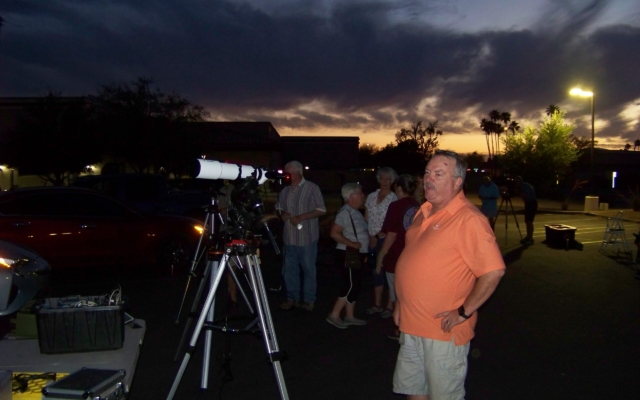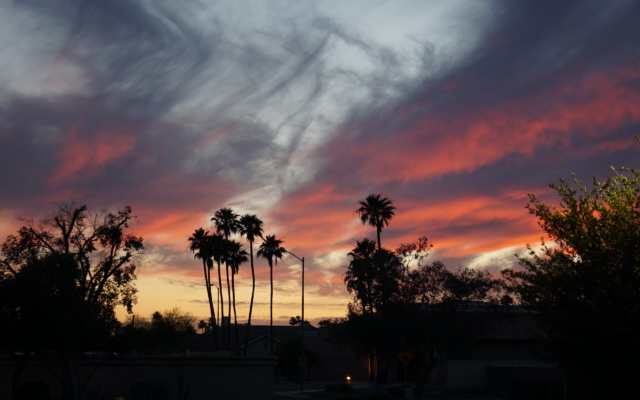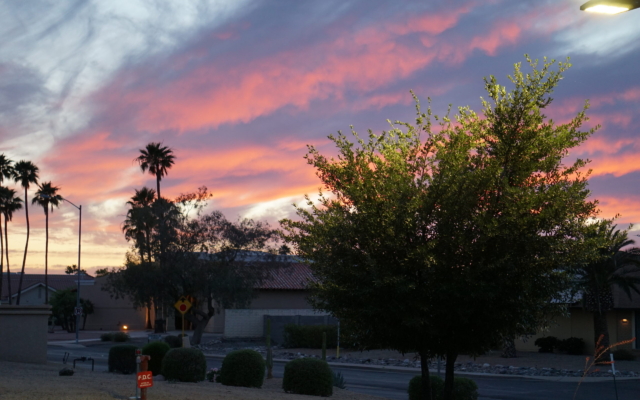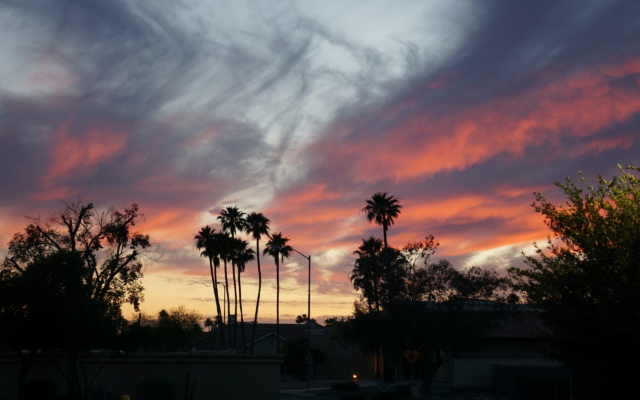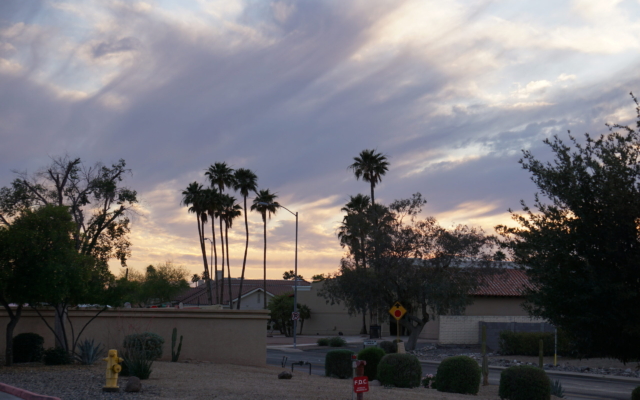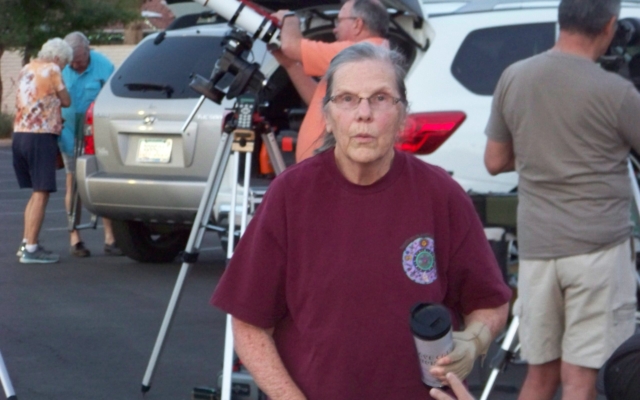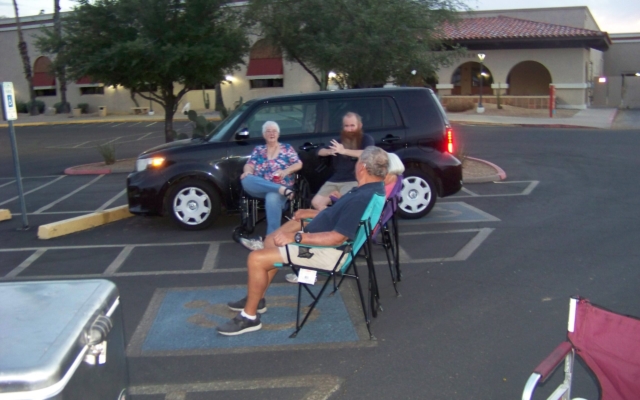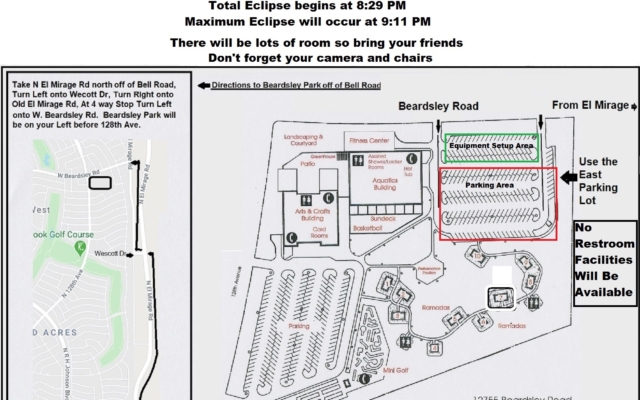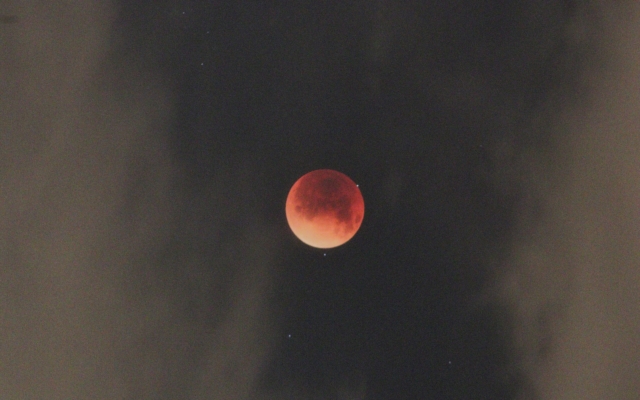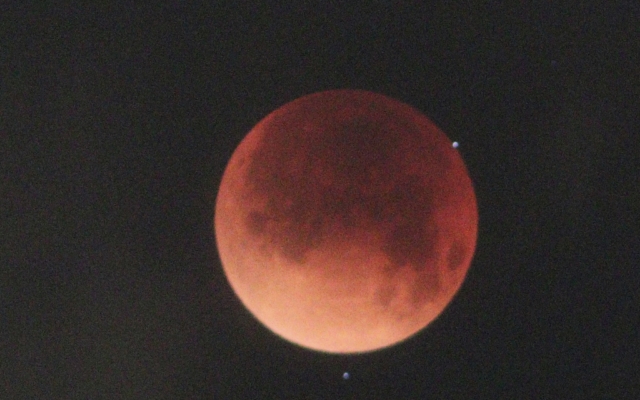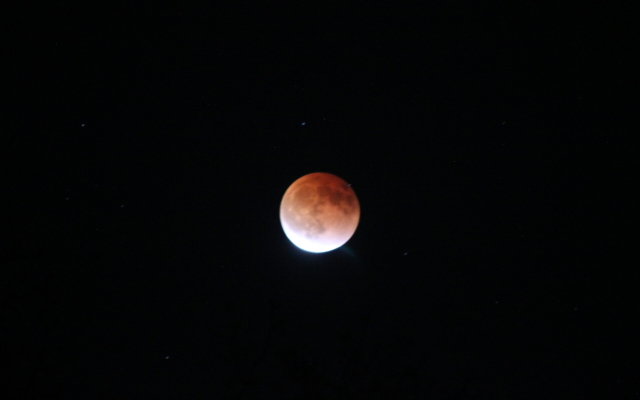 Public Star Party  Peoria Sunrise Mountain Library  Date and time: Monday, May 9 from 7:00 – 8:00 PM Please contact the library to register for this event, 21109 North 98th Avenue PEORIA, AZ  85382 623-773-8650
Scout Pack 436 Astronomy Outreach Event – November 30th, 2021
99 attendees (60 children and 39 adults) + our 8 volunteers
Set up at 5:30 pm – finished at 8:00 pm
WVAC Volunteers Present: Bob Randle, Bob and Carolyn Colvert, Larry Matney, Luke Edens, Carolyn Hoolhorst, and John and Deb Hiatt
Event description: The Club hosted a star party for Scout Pack 436 (ages from Kindergarten to 5th grade) from6:30 to 7:30 pm . It was dark and it was a little hard to count participation, the count of 99 was conservative.
The Scouts seemed very enthusiastic and enjoyed the experience, and so did their parents! For many it was their first look through a telescope. Primary objects were Venus, Saturn and Jupiter, plus a few dark sky objects via Bob Colvert's digital camera setup.
Volunteer activity: drive to the site and set up telescopes and associated equipment at the Arizona Model Railroading Society. The site was located on the Society's property at 23280 N 43rd Ave, Glendale, AZ 85310. Light pollution, noise and dust were a problem at this site. However, that did not detract from the Scouts' enjoyment of the event.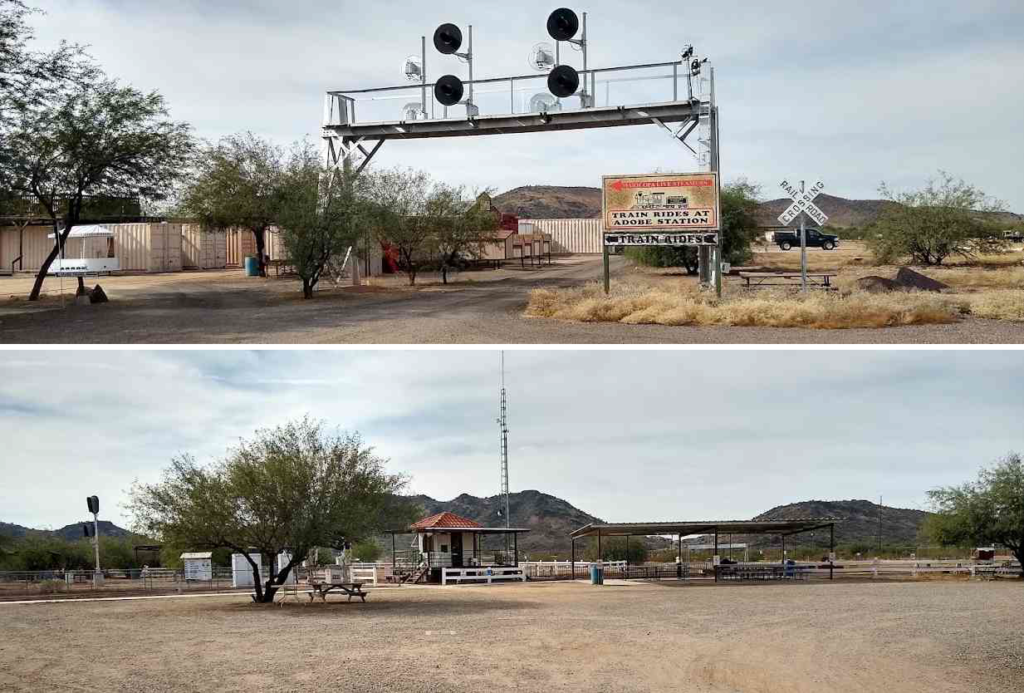 Alamo Lake State Park "Night Under the Stars" November 6th 2021  This event is located at the  Alamo Lake State Park and is hosted by the Verde Valley Astronomy club.   WVAC will be providing additional telescopes and support.   This event was free to the public.  Click Here for the link to the Verde Valley Astronomy Club Website.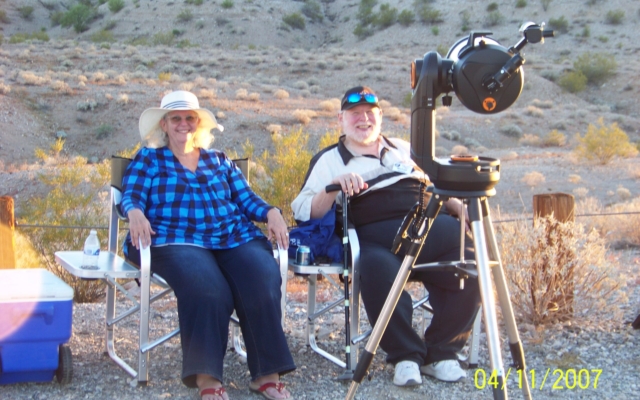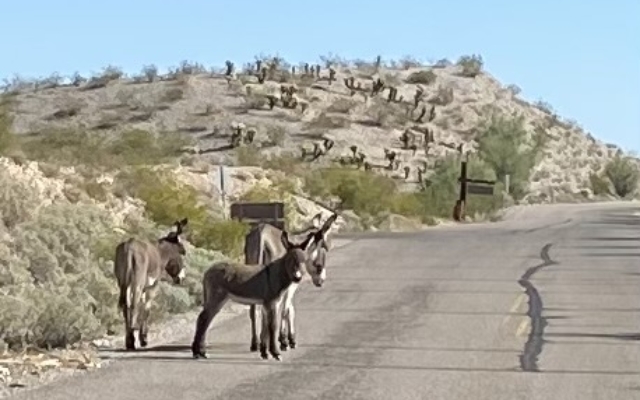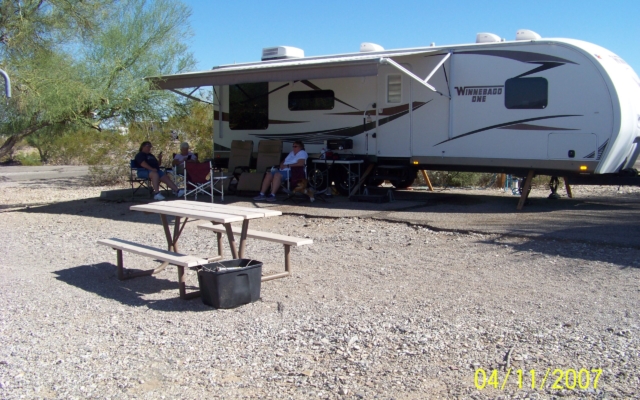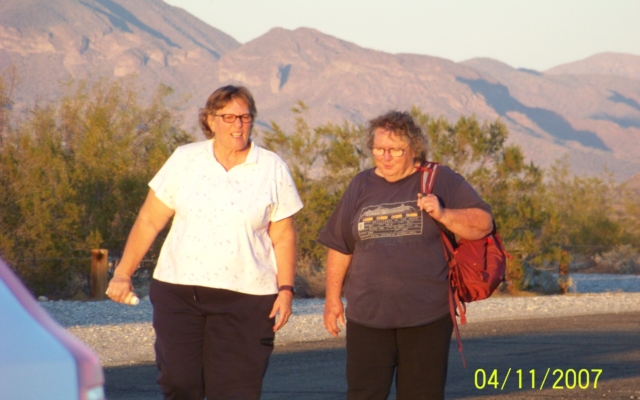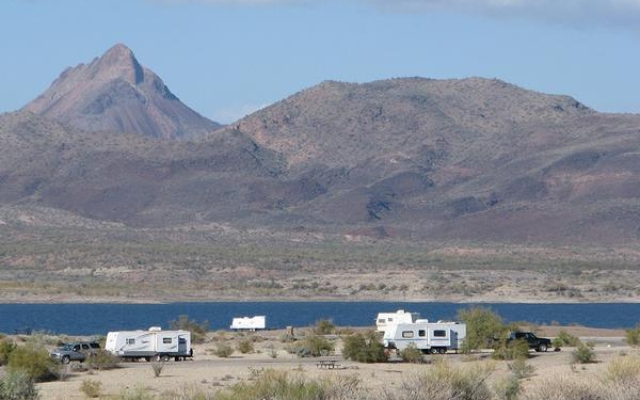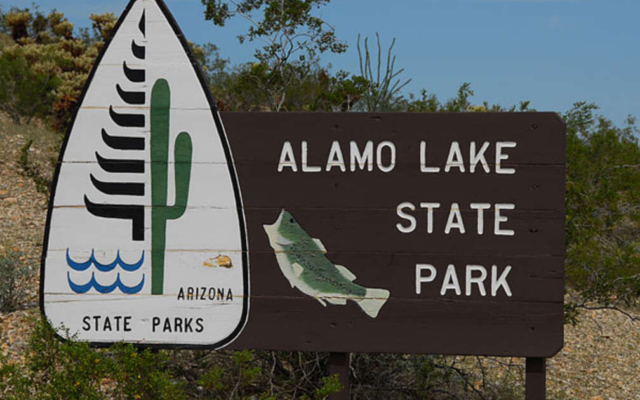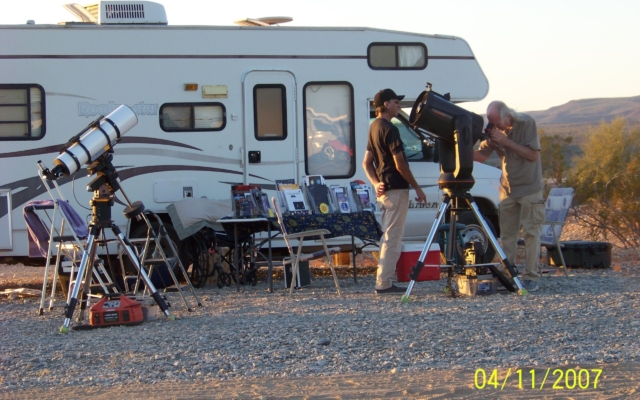 November 6th  Surprise Sci-Tech Festival
Surprise SciTech Festival – November 6th, 2021
95 attendees + our 3 volunteers = 20 volunteer hours (including drive time)
Set up at 8:00 am – finished at 1:30 pm
WVAC Volunteers Present: John Cline, Larry Matney and John Hiatt
—
Event description: The City of Surprise celebrates STEAM efforts in the community by holding an
annual SciTech Festival. This free educational event featured interactive science, technology,
engineering, art and math exhibits and demonstrations. Technology and the daily interactions with it
continue to grow. Surprise embraces these new trends and the businesses that create new products
and services.
—
Volunteer activity: set up the table provided by the City of Surprise with educational materials, cards
with the Club's website and contact information, and a small Celestron Telescope. We told visitors
about the West Valley Astronomy Club, and asked them about their interest in astronomy. When
appropriate we told visitors about our monthly meetings and star parties. The small telescope was
used to demonstrate the surprising clarity and magnification (15x) provided by a small entry level
instrument. A small security camera on the parking garage a few hundred yards away was selected for
observation. Children (and adults) were encouraged to learn how to focus the telescope to see clearly.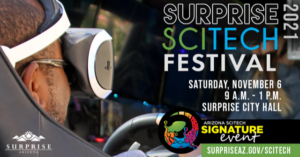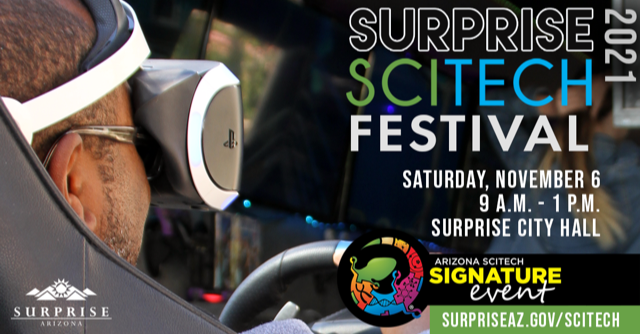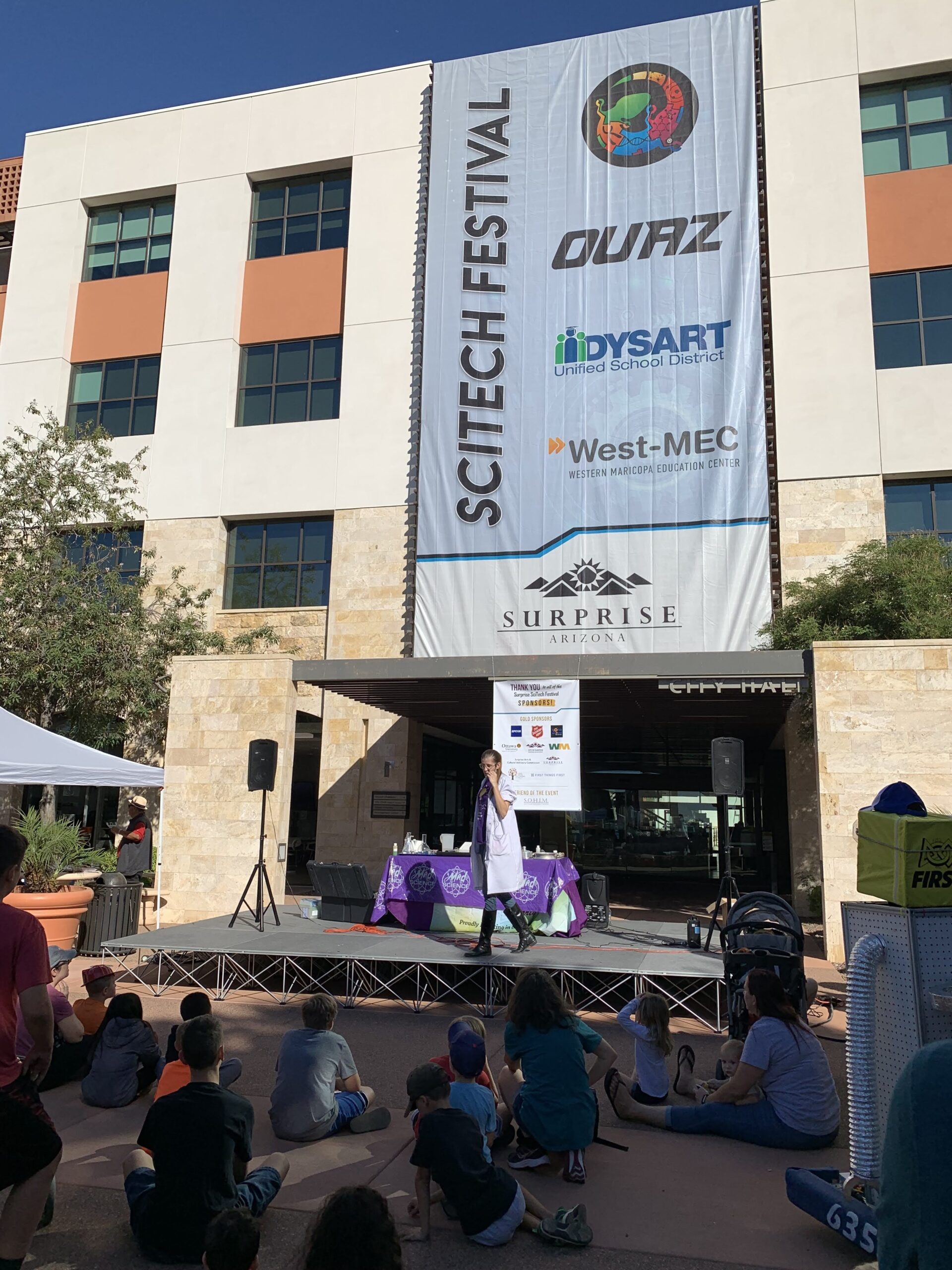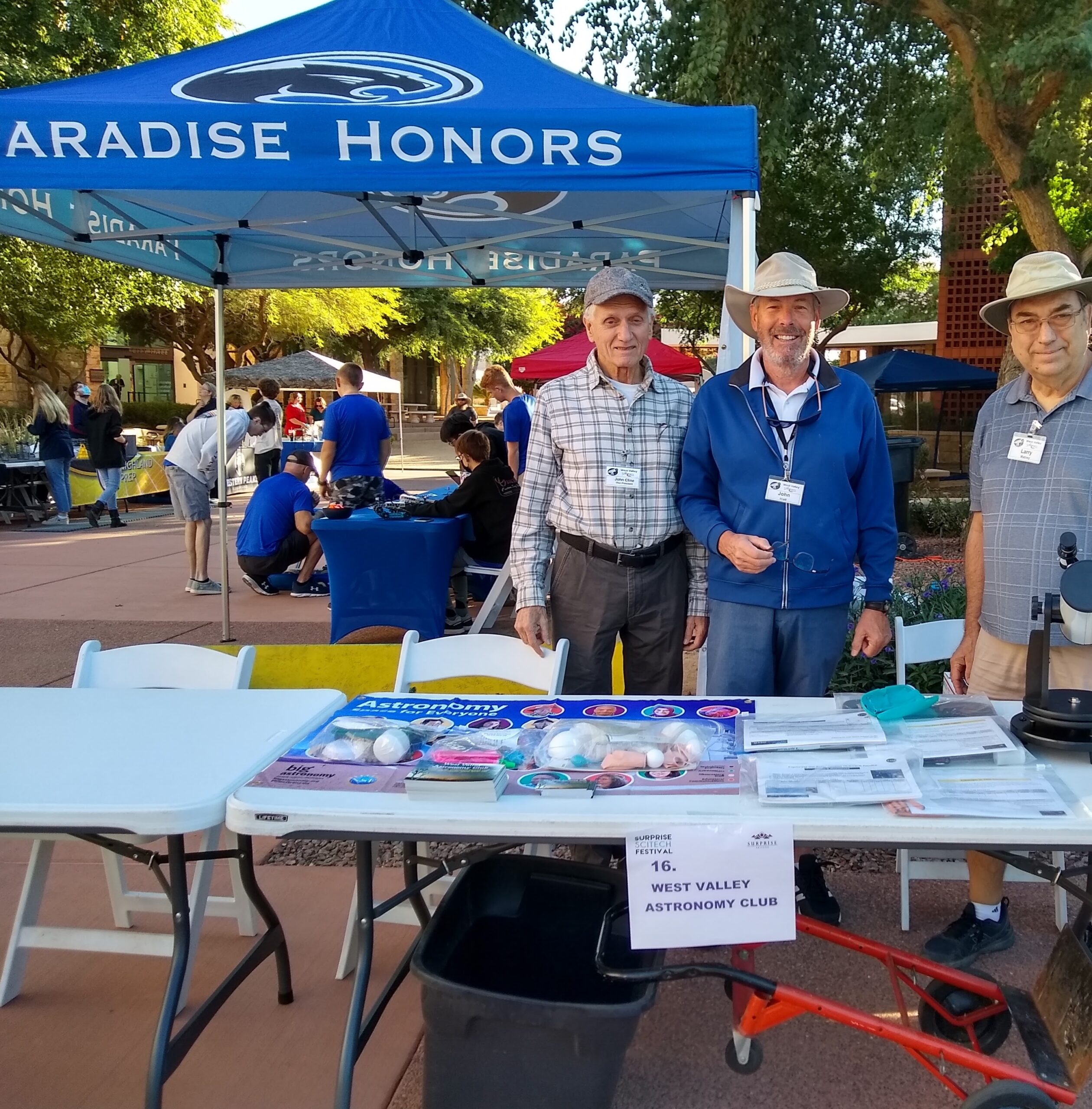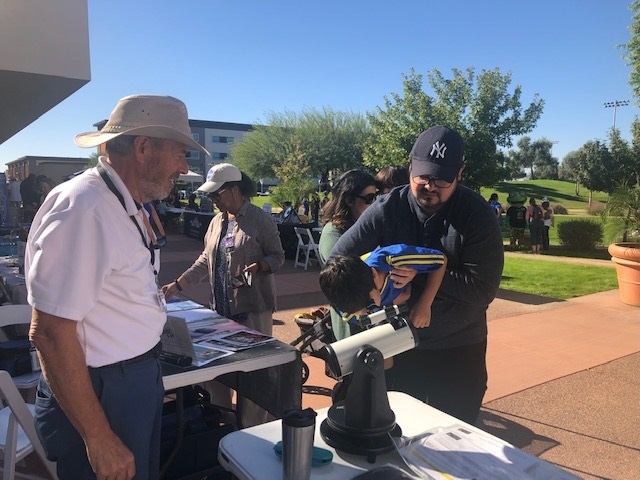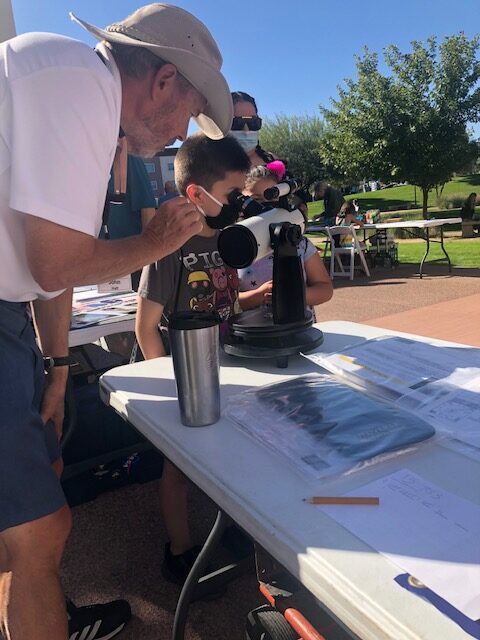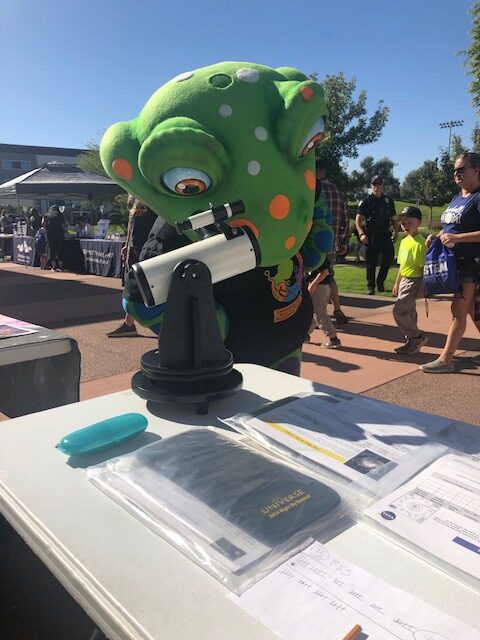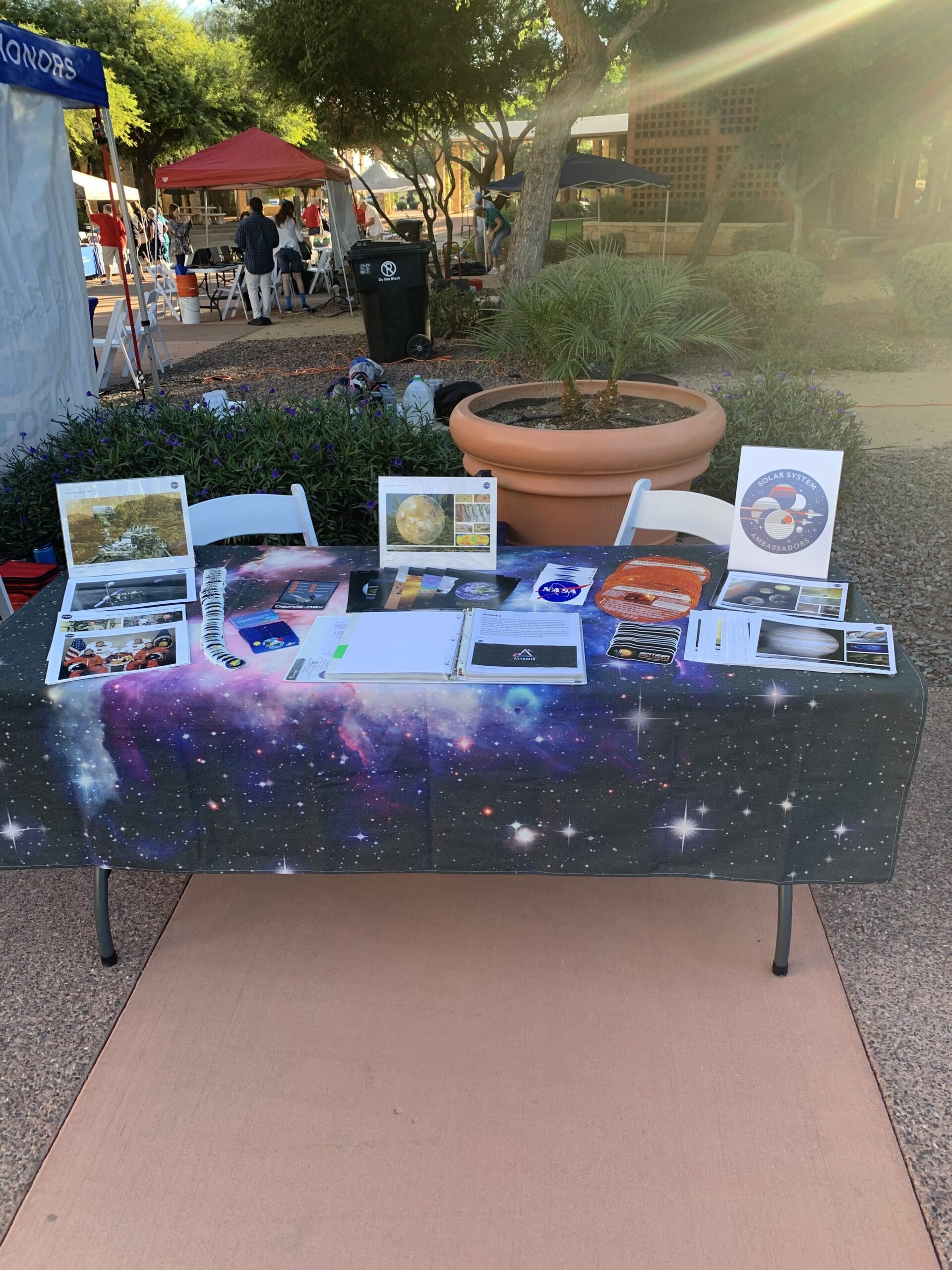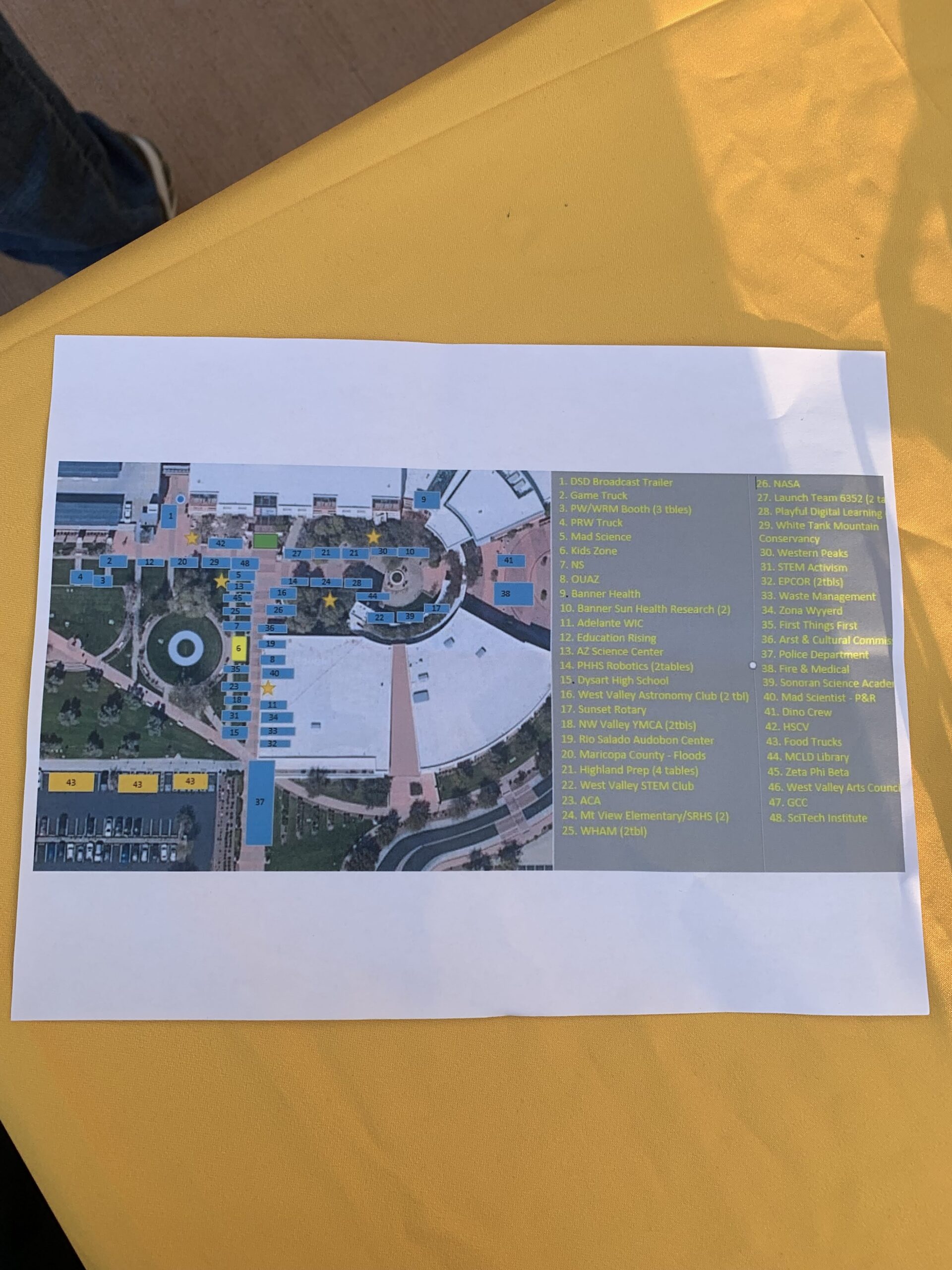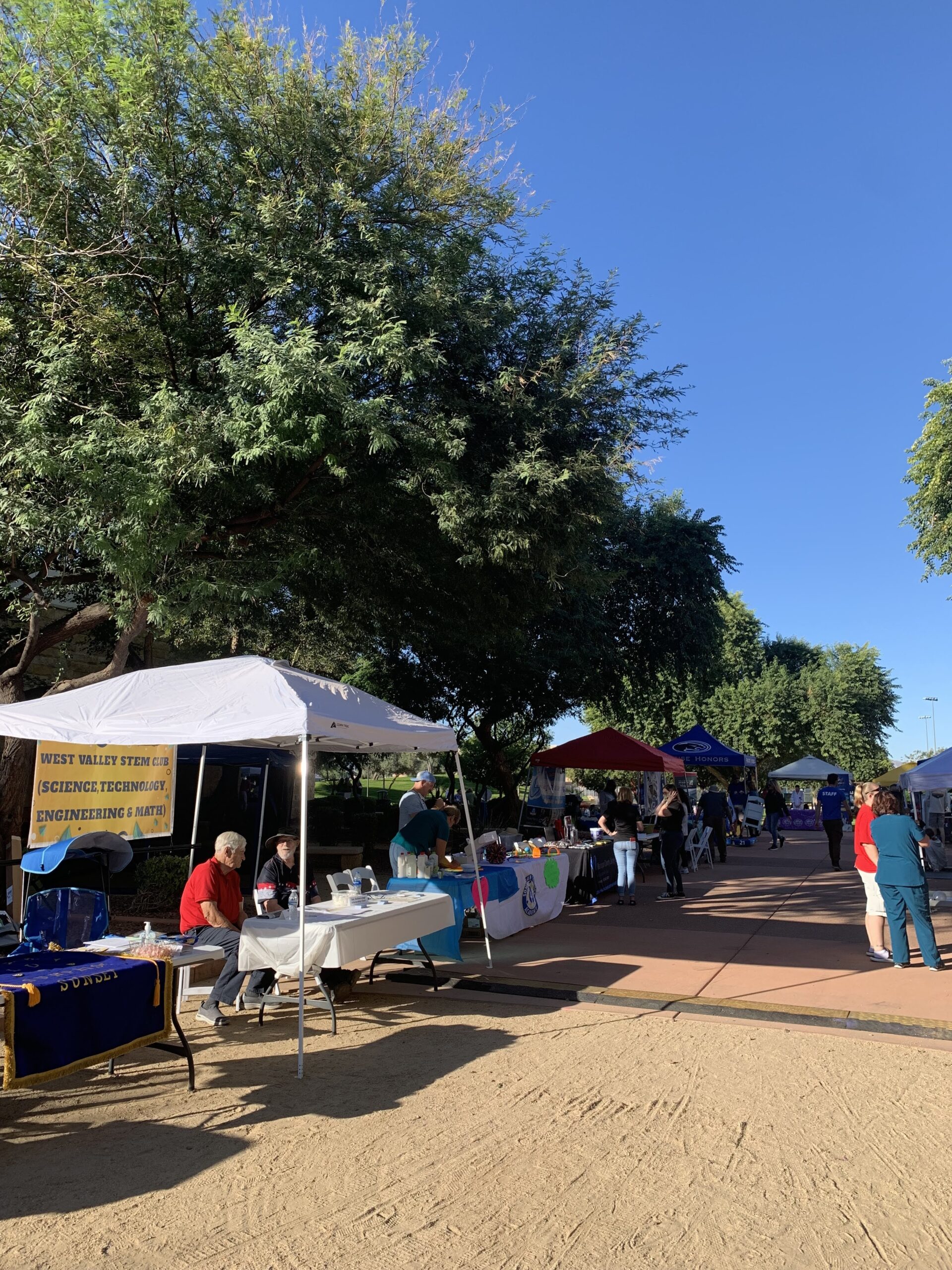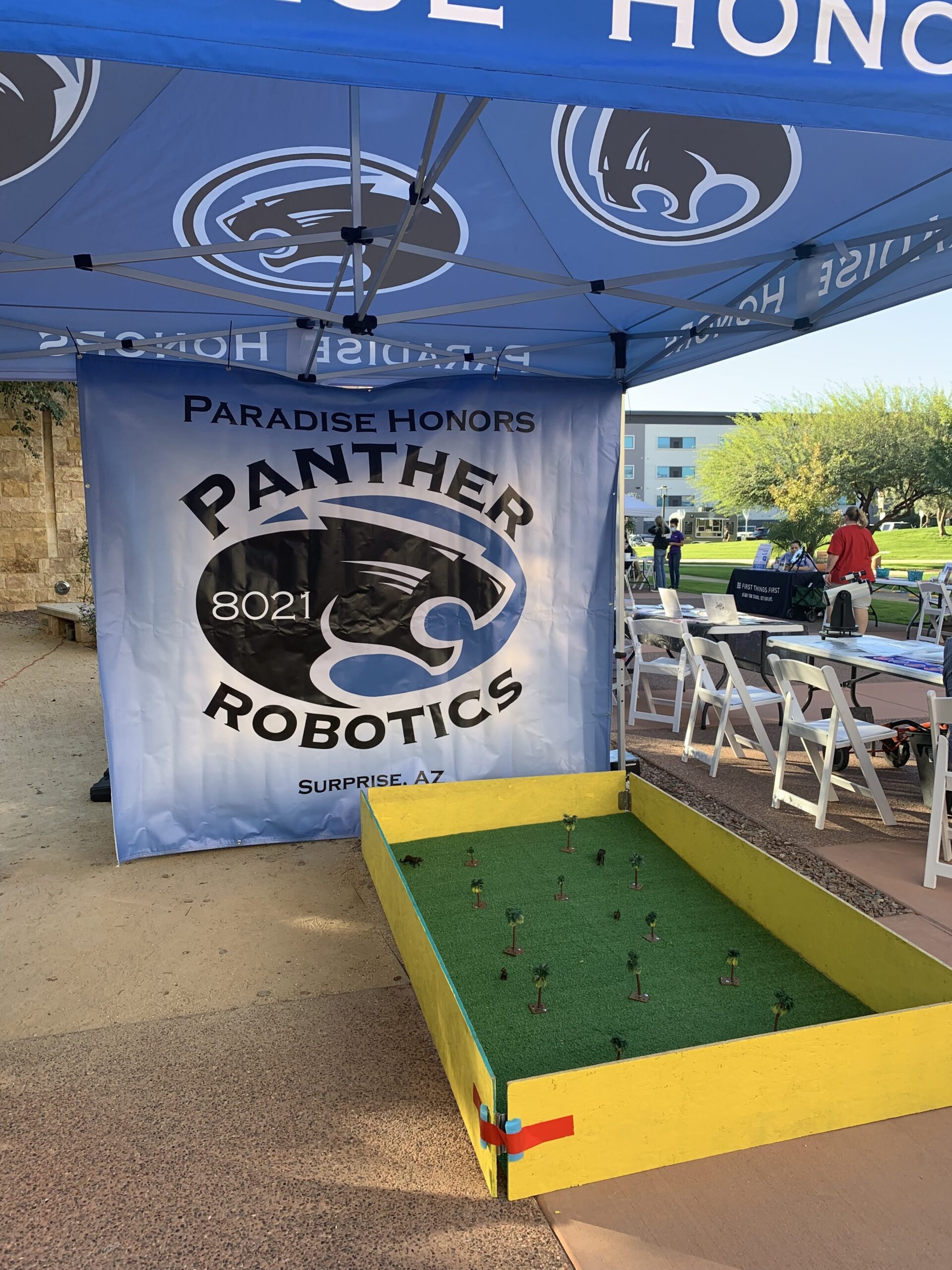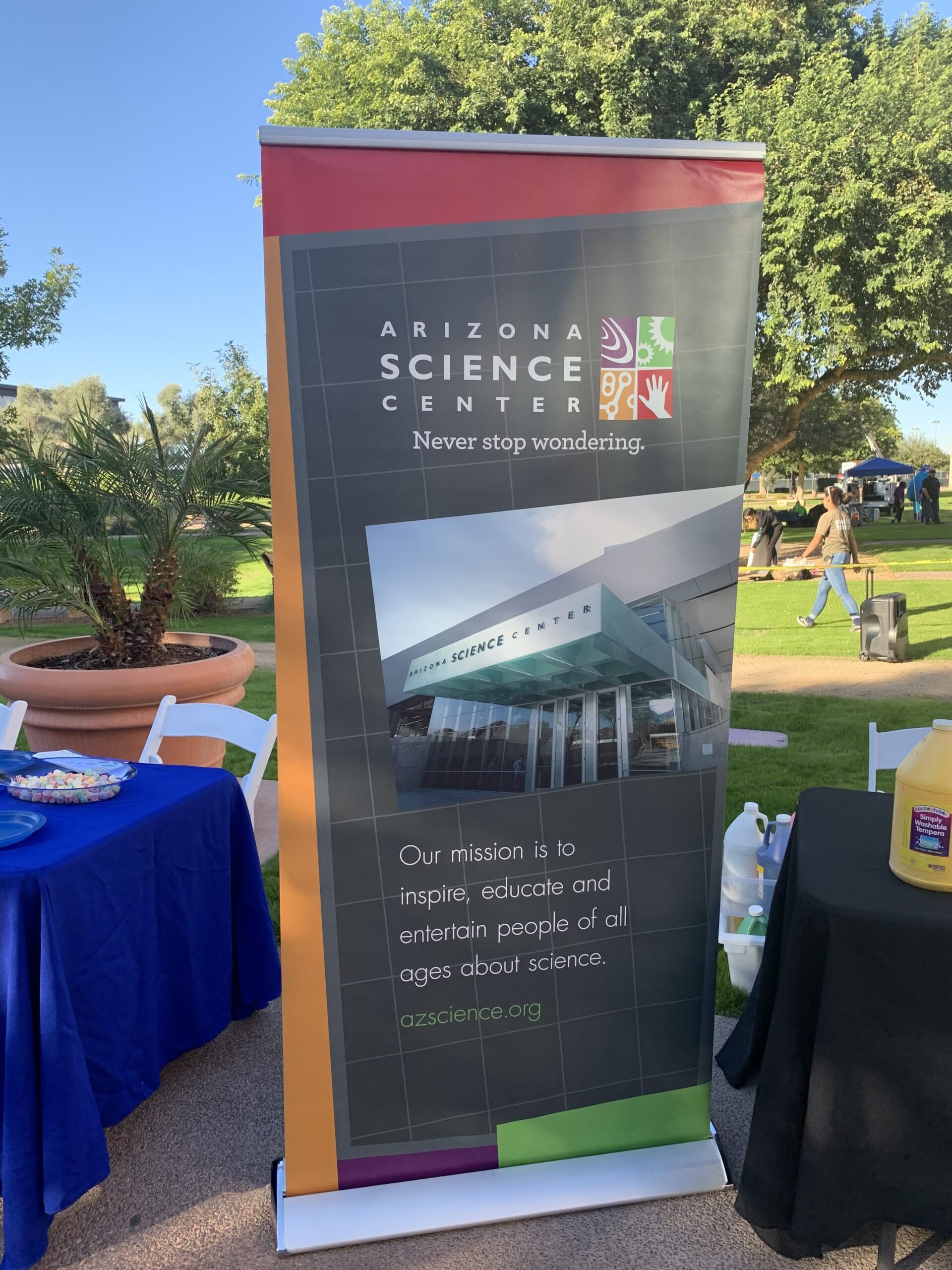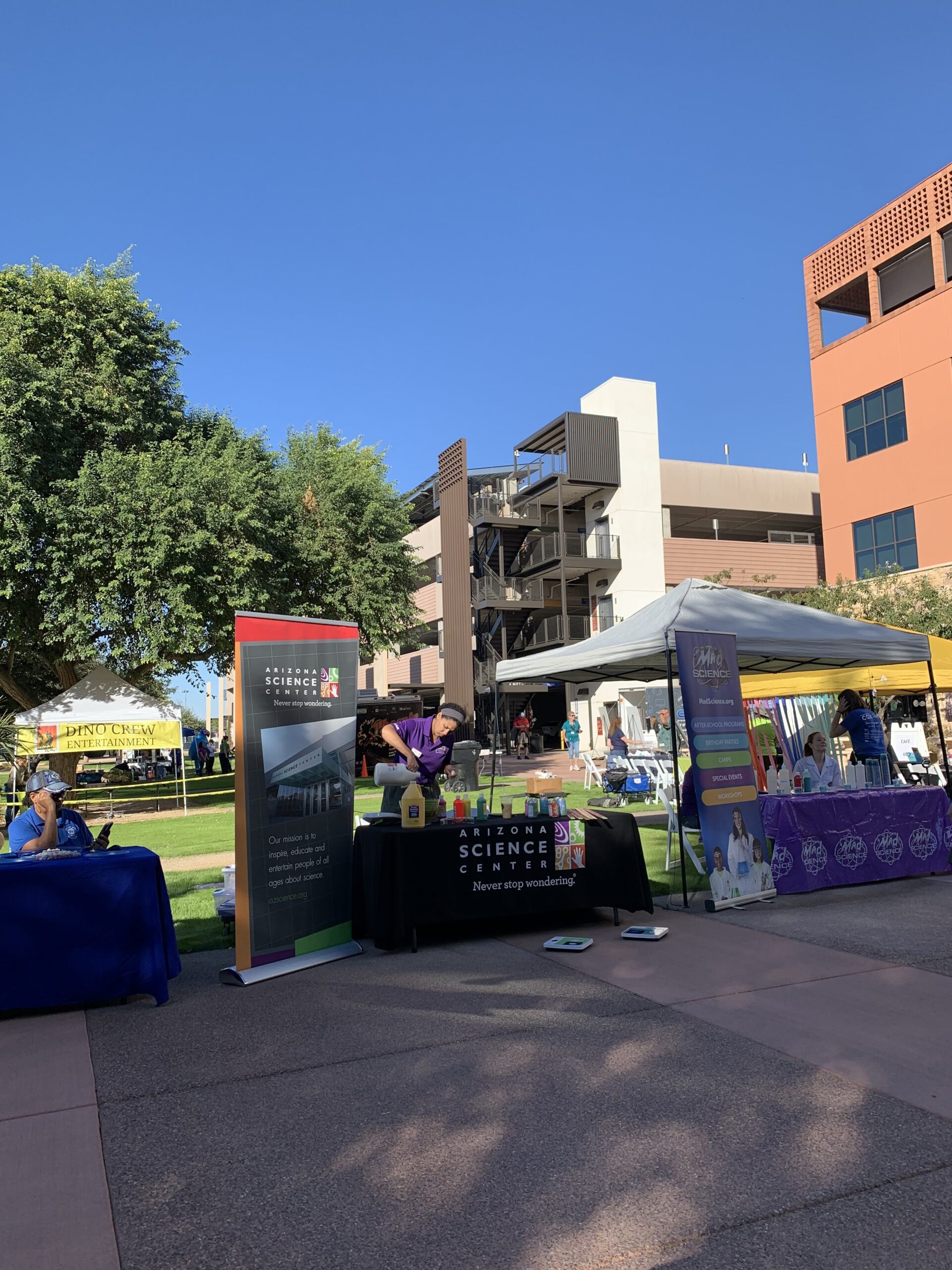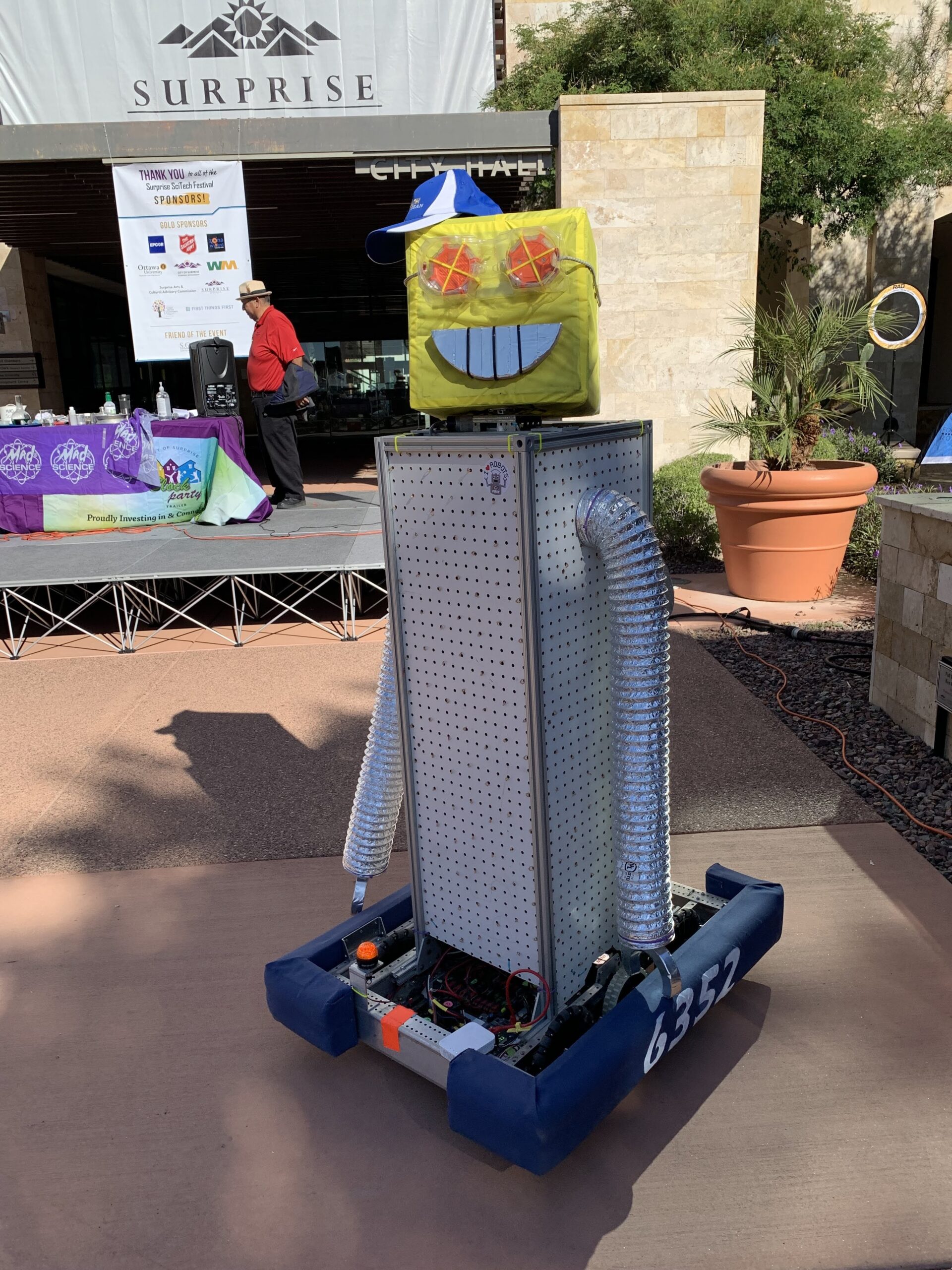 November 4th 2021 we presented an outreach program for the Salome Arizona Elementary School.
The host teacher was Moniqa Raval who worked out the details for the location and time of the event.  Moniqa invited 3 other grades to join us.   We setup a telescope to view the Sun using special filters along with a hands one learning tool consisting of a pencil stuck into a ping-pong ball.   The students would hold the pencil at arm's length, and then standing in one spot would walk in a circle watch the shadow appear on the ball.   This represents the phases of the moon.    The teachers and their class where:
1st Grade: 5 students – Mrs. Gemma Gomez
2nd Grade: 8 students – Mrs. Julie Penrod
3rd Grade: 5 students: Mrs. Moniqa Raval-Marino
4th Grade: 8 students – Mrs. Chiqui Asco
Mrs. Alicia Pantoja assistant.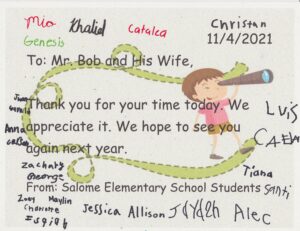 The students are looking forward to our visit in 2022.
November 4th 2021 we presented an outreach program for the Wenden Arizona Elementary School.
The host teacher was Lauren Miller who worked out the details for the location and time of the event.  Lauren invited 2 other grades to join us.   We setup a telescope to view the Sun using special filters along with a hands one learning tool consisting of a pencil stuck into a ping-pong ball.   The students would hold the pencil at arm's length, and then standing in one spot would walk in a circle watch the shadow appear on the ball.   This represents the phases of the moon.    The teachers and their class where:
Ms. Lauren Miller brought her 3rd grade class of 5 students.
Ms. Moleno brought her 9 4th grade students
Ms. Hyde brought her 10 5th grade students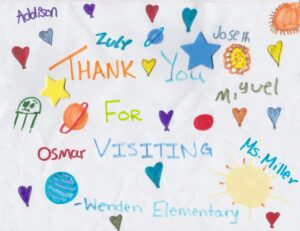 The students are looking forward to our visit in 2022.
October 16th   International Observe the Moon Night
Heritage Park 15210 W. Sweetwater Ave, Surprise AZ
Viewing Begins at 6:00pm ending around 9:00pm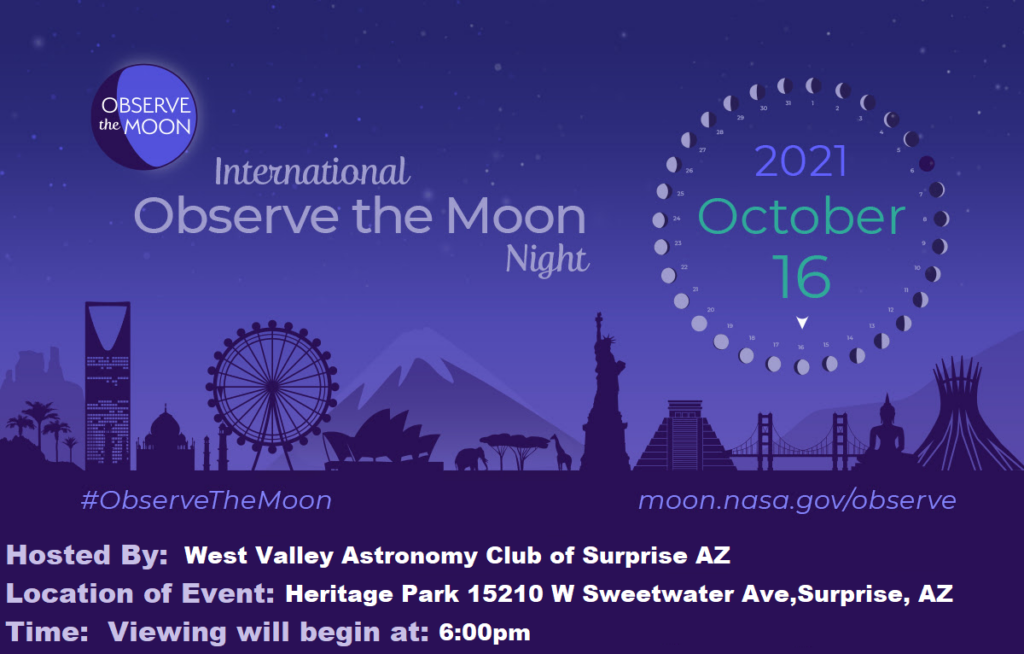 Peoria Library Public Star Party
Our first star party was such a success that WVAC has been asked to participate in two star parties for the Peoria Libraries.   The general public must preregister at the libraries.  All WVAC member are welcome to attend, we will be looking for volunteers to share their knowledge of the night sky and/or their telescopes. If you would like to volunteer please contact John Hiatt.
Viewing will begin at 7:00pm
Sunrise Mountain Library at 98th Avenue and Lake Pleasant Parkway,  September 13th 
Peoria Main Library at 85th Ave. and Monroe,  September 27th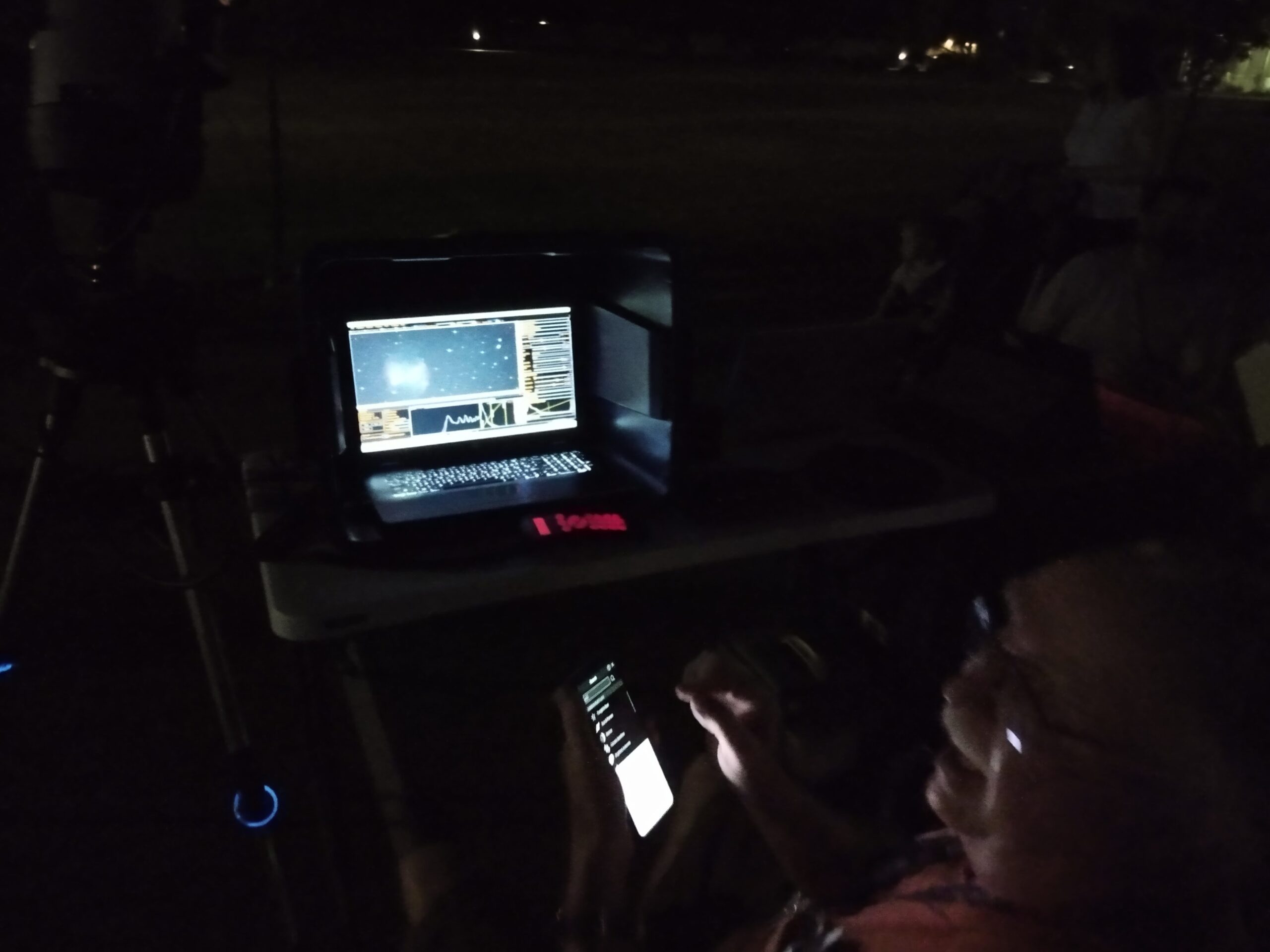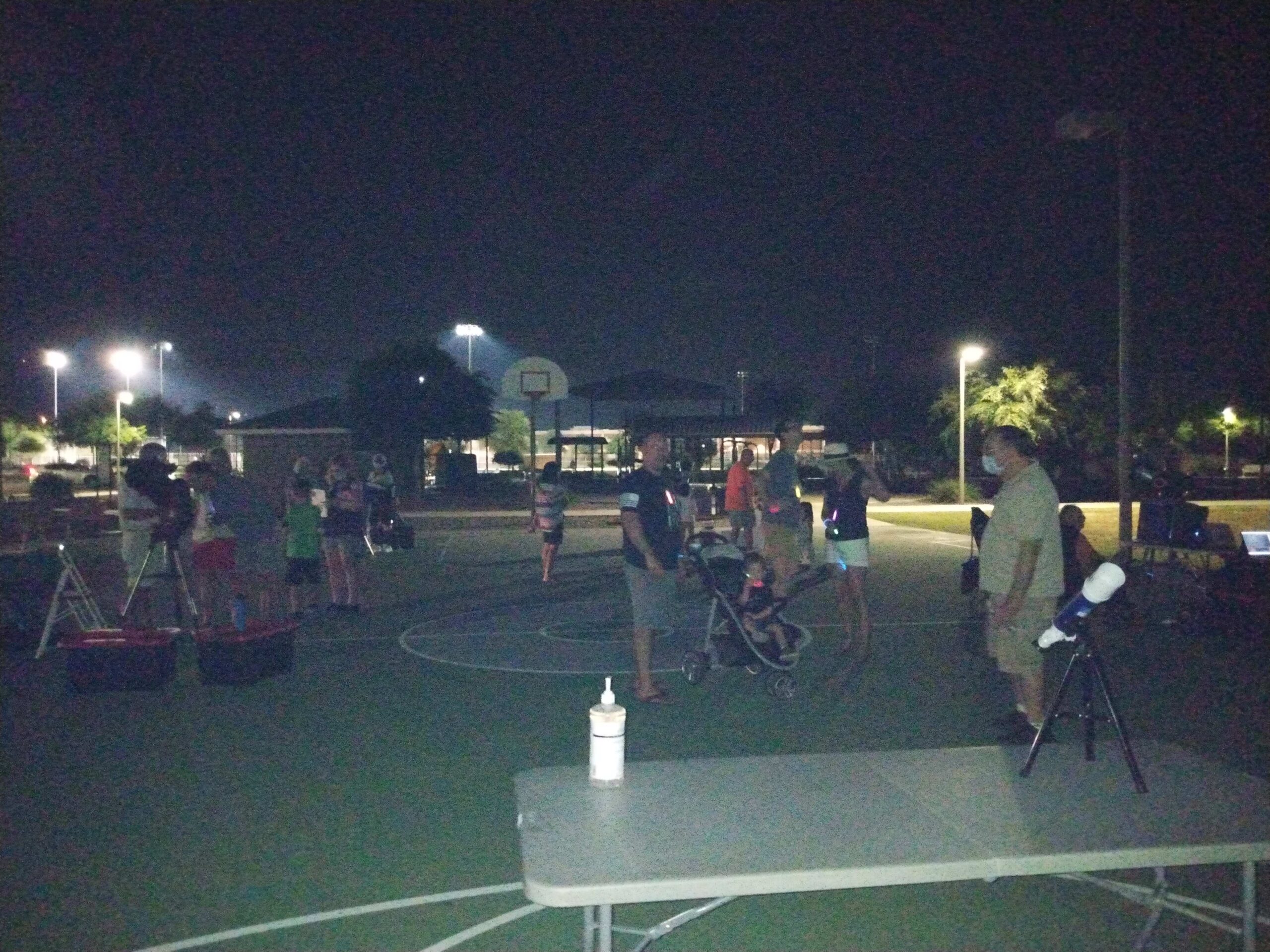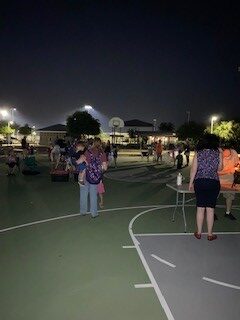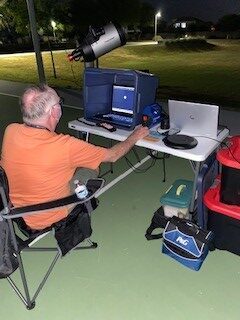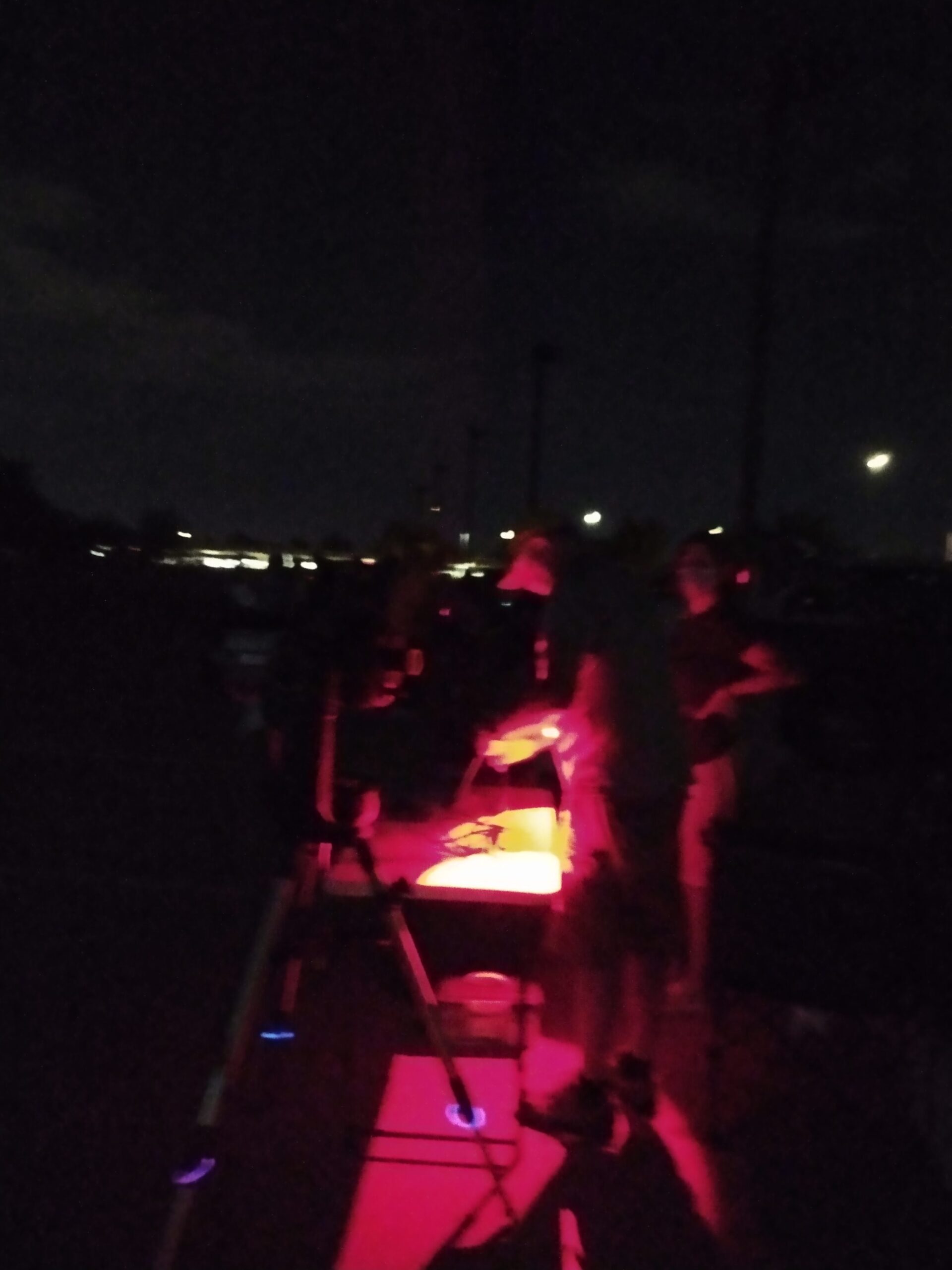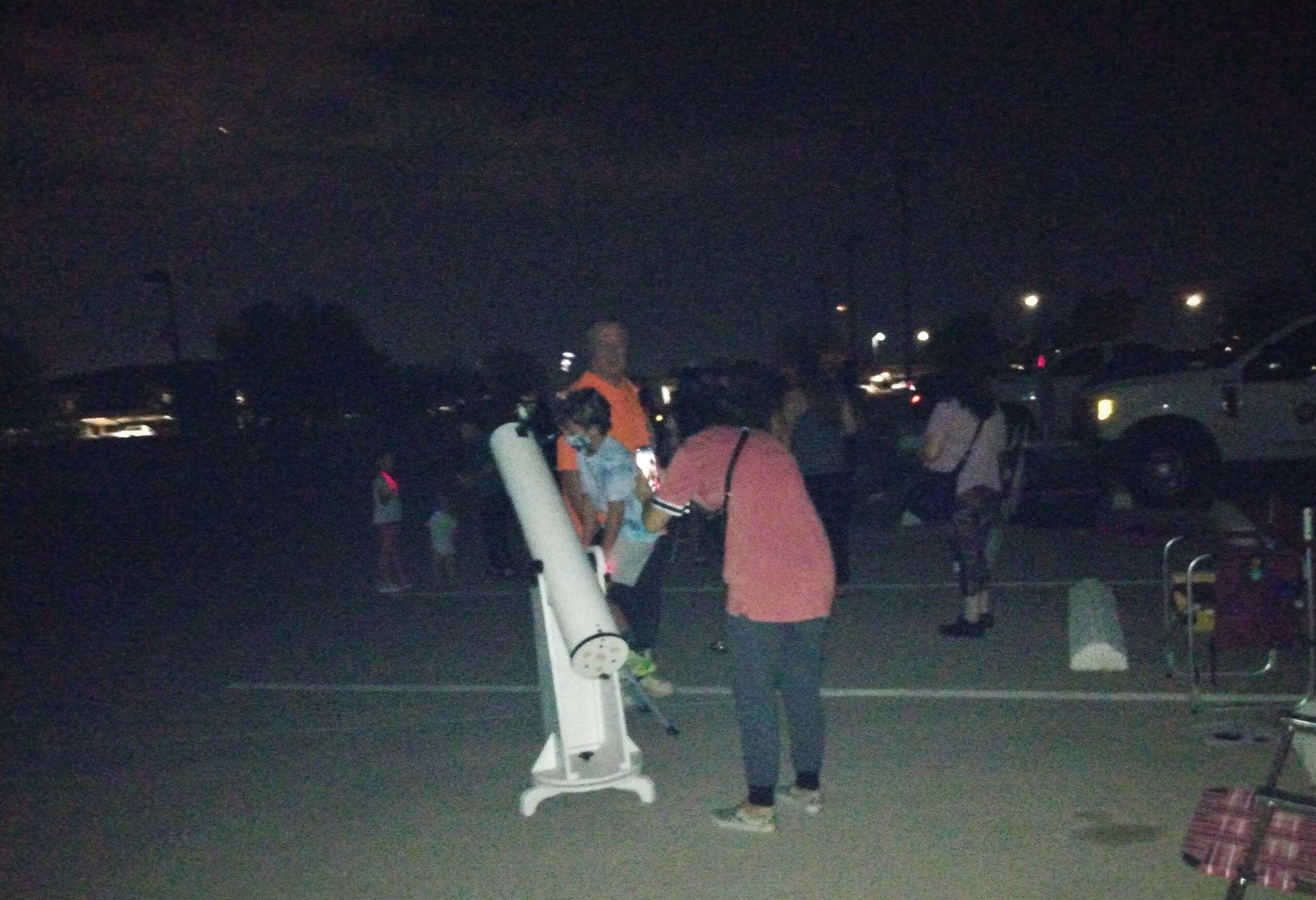 Marley Park Elementary Second Grade Outreach April 29th, 2021
On April 29th John Hiatt organized an outreach event with the Marley Park Elementary Second Grade Class.   Around 80 students used 3 telescopes setup to observe the Sun.   WVAC members who participated in the event were John Hiatt,  Bob Colvert, Luke Edens, Larry Matney  and Bob and Janie Randle.  Second Grade Teacher Jessica Carleton was the main contact at the school.  Jessica wrote the following:  
Good morning,
Thank you for an amazing morning! Our students had a great time and learned a lot of new and exciting things.  They were still talking about it when I came back to class.  They are looking forward to the night event to look at the stars. We appreciate you taking the time out of your day to provide this opportunity. I look forward to continuing this event in the future. Have a great day.
As indicated above WVAC will be hosting the annual "Observe the Moon Night" in Marley Park on October 16th 2021. 
We want to thank everyone in attendance for a great event, the 2nd graders had fun and so did we.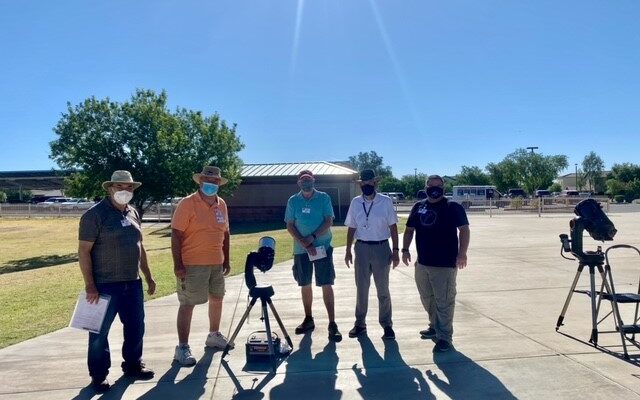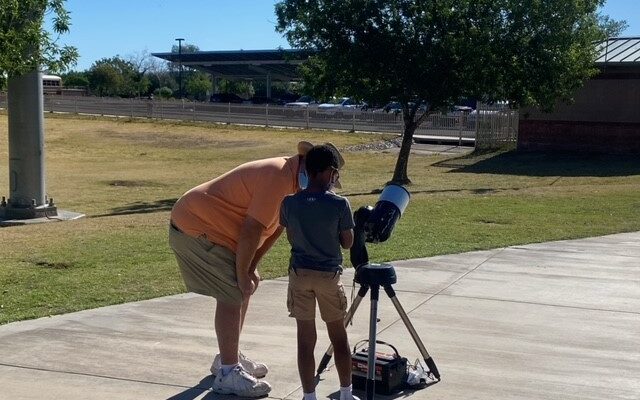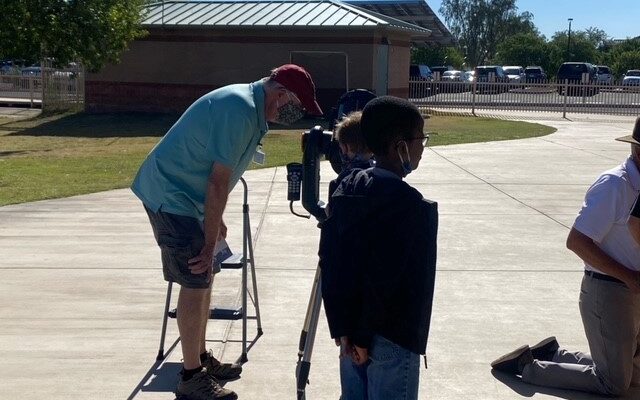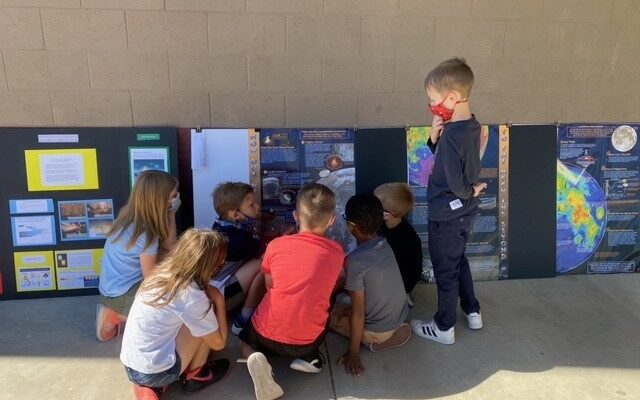 Lowell Observatory Trip(POSTPONED/Rescheduling) (Events Planner: Paul Bleikamp) (Members Only Event)
WVAC Meteor Crater Trip(POSTPONED/Reschedulging)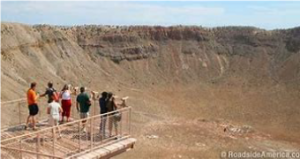 The Club is planning a visit to our state's Meteor Crater early next year. We will have our very own tour guide who will take us out on the rim. The modernized facility contains a restaurant, a gift shop and a fascinating rock shop.  A movie, "IMPACT, The Mystery of Meteor Crater"  plays at regular intervals in their Big Screen Theater. The trip up north is about a 2-3 hour drive and we will have the same van service that we are using on our Mirror Lab trip for about the same price or  people could car pool on their own. The crater has a very interesting history and a great deal of science.  Ron Langlois is leading this trip. More information about this trip will be given out as soon as it is made available.
Steward Observatory Mirror Lab visit – November 2019

Our club is repeating a highly popular visit to the U of A mirror lab in Tucson Arizona on November 21, 2019.
The experience is an energetic 90 minute walking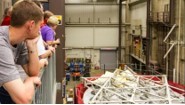 tour which explains and shows, up-close, the immense mirror production process for astronomical telescopes. The mirrors for the Giant Magellan Telescope are in production and installation will begin soon in Chile. Time is 1-2:30 PM for our group tour. The cost is $18 pp. Van service is $70 pp which will offer pickup at the church and drop off at the Lab.
Contact Ron Langlois directly by cell phone, 623-466-4118 or email (Here), All payments for the Mirror Lab trip must be received by 31 October 2019, unless you are making your own arrangements! Please send cash or checks to Ron Langlois, 16956 W. Eureka Springs Dr. Surprise AZ, 85387. Make checks payable to Ron Langlois.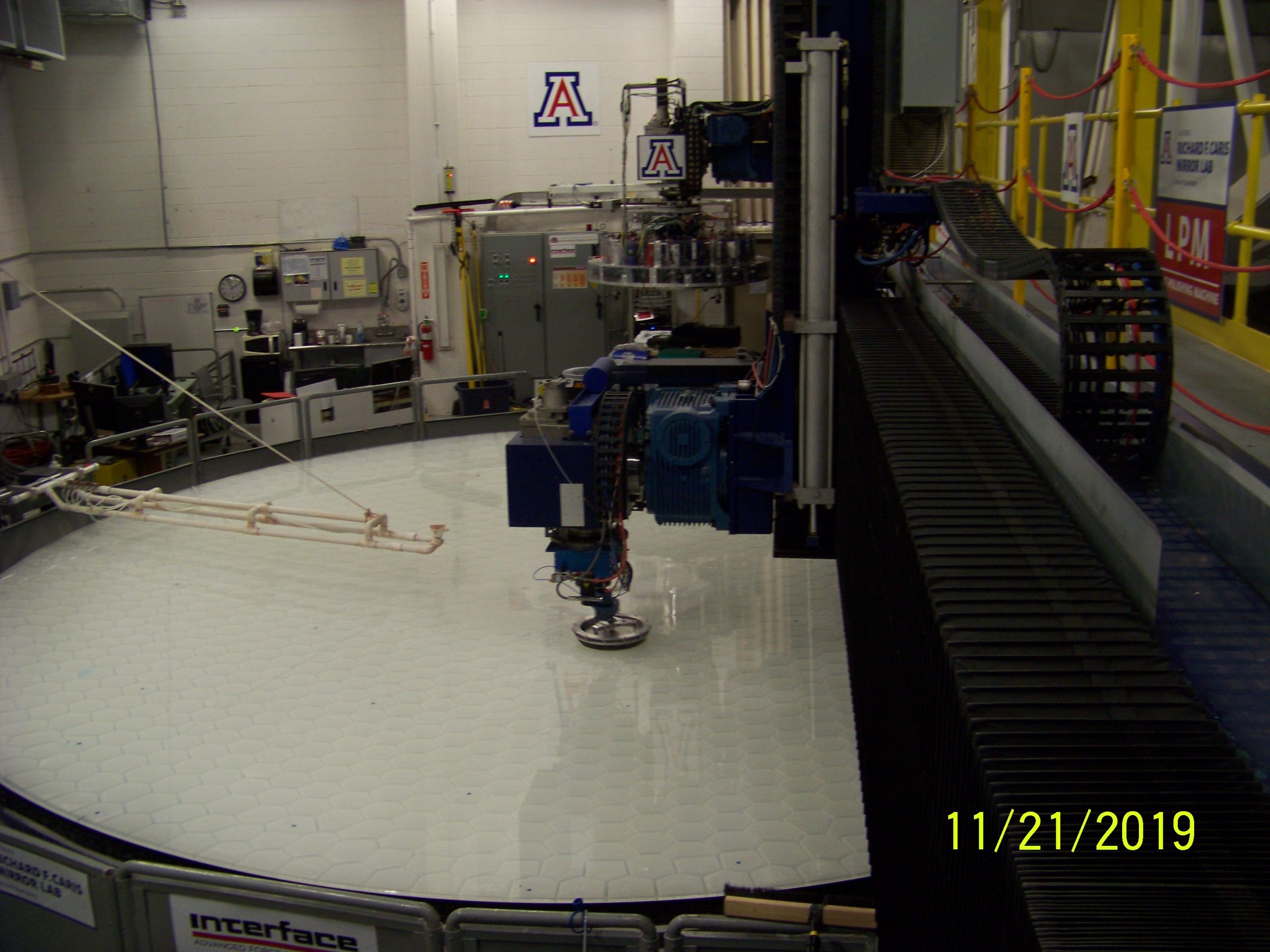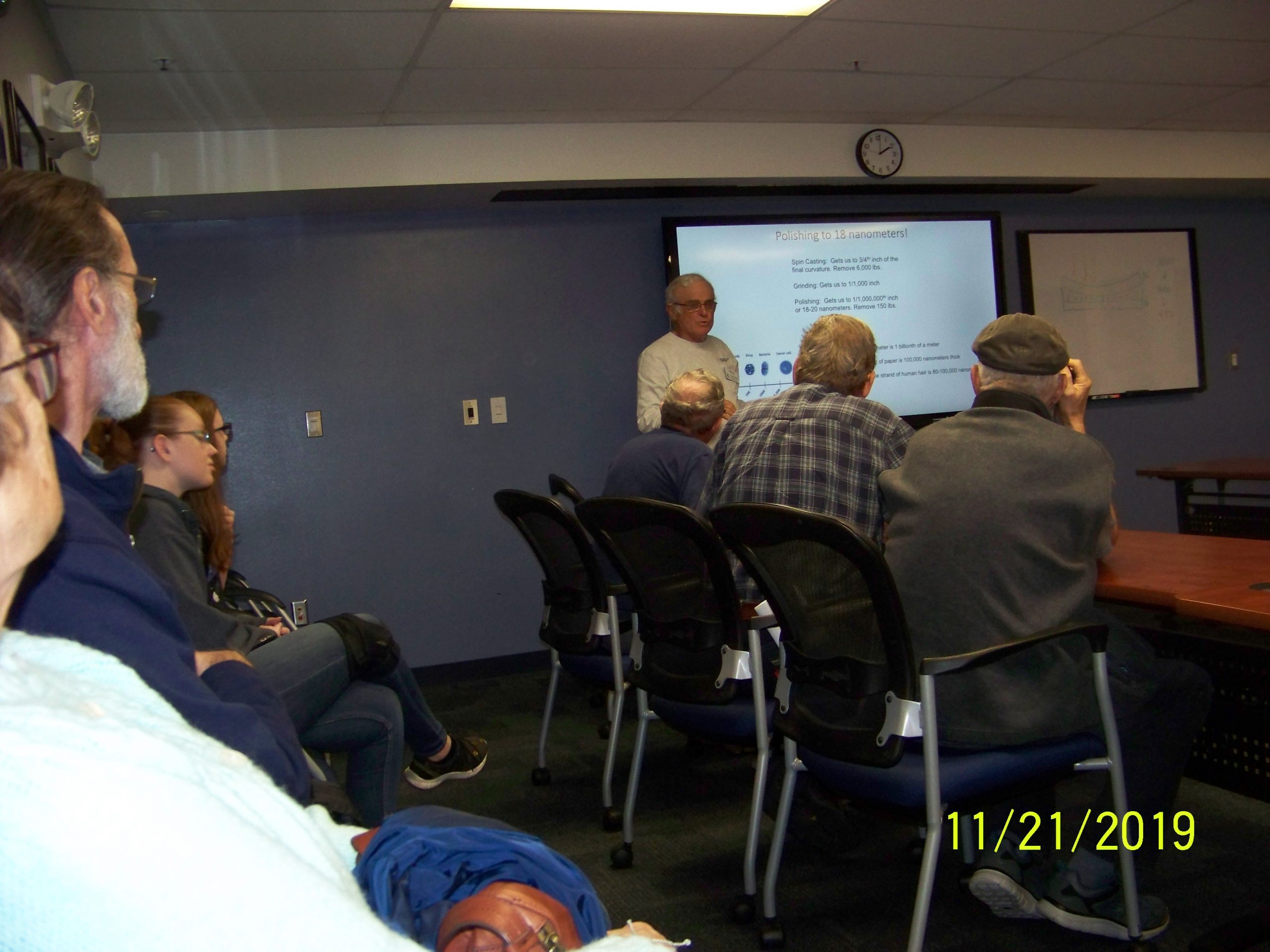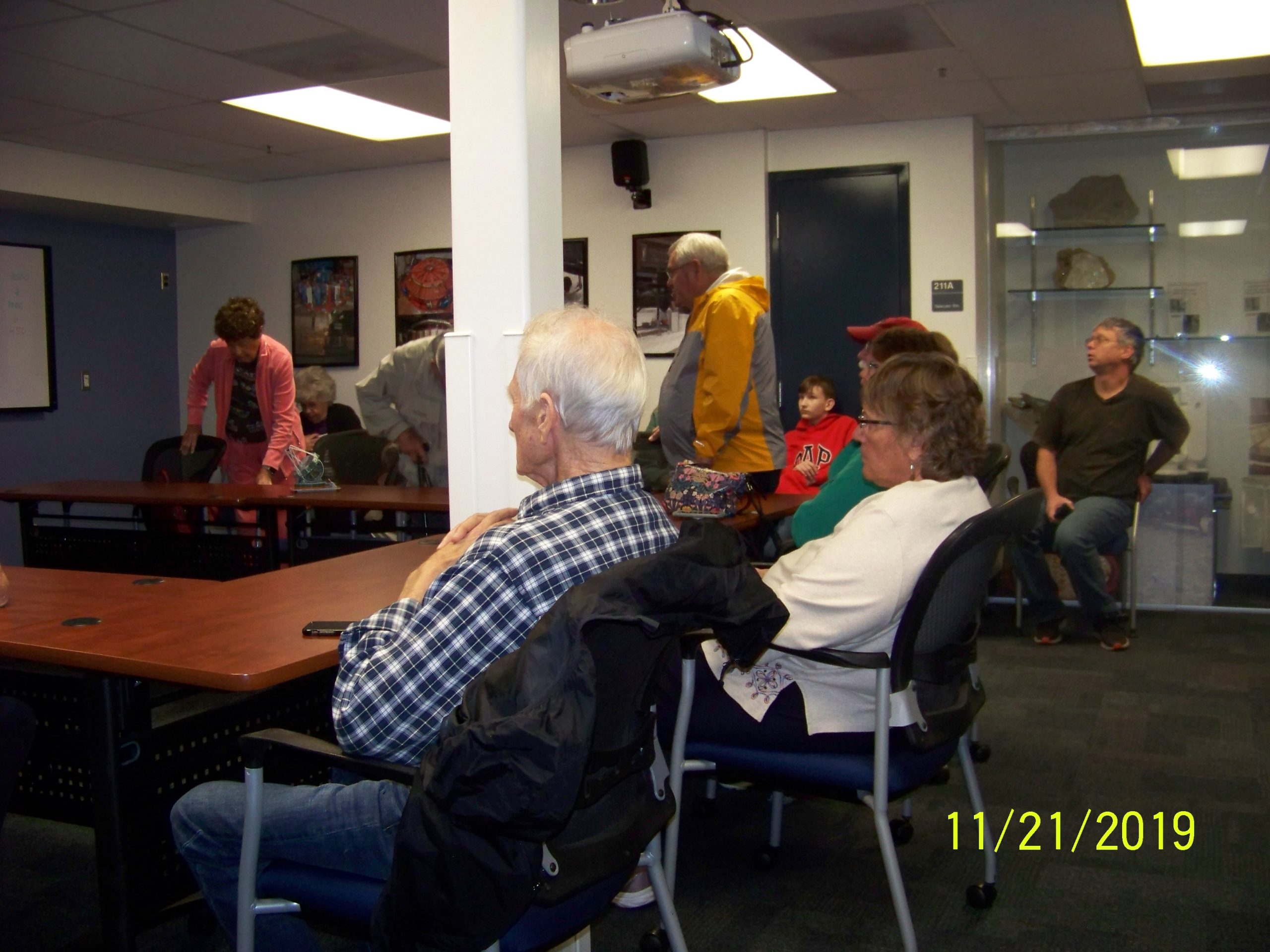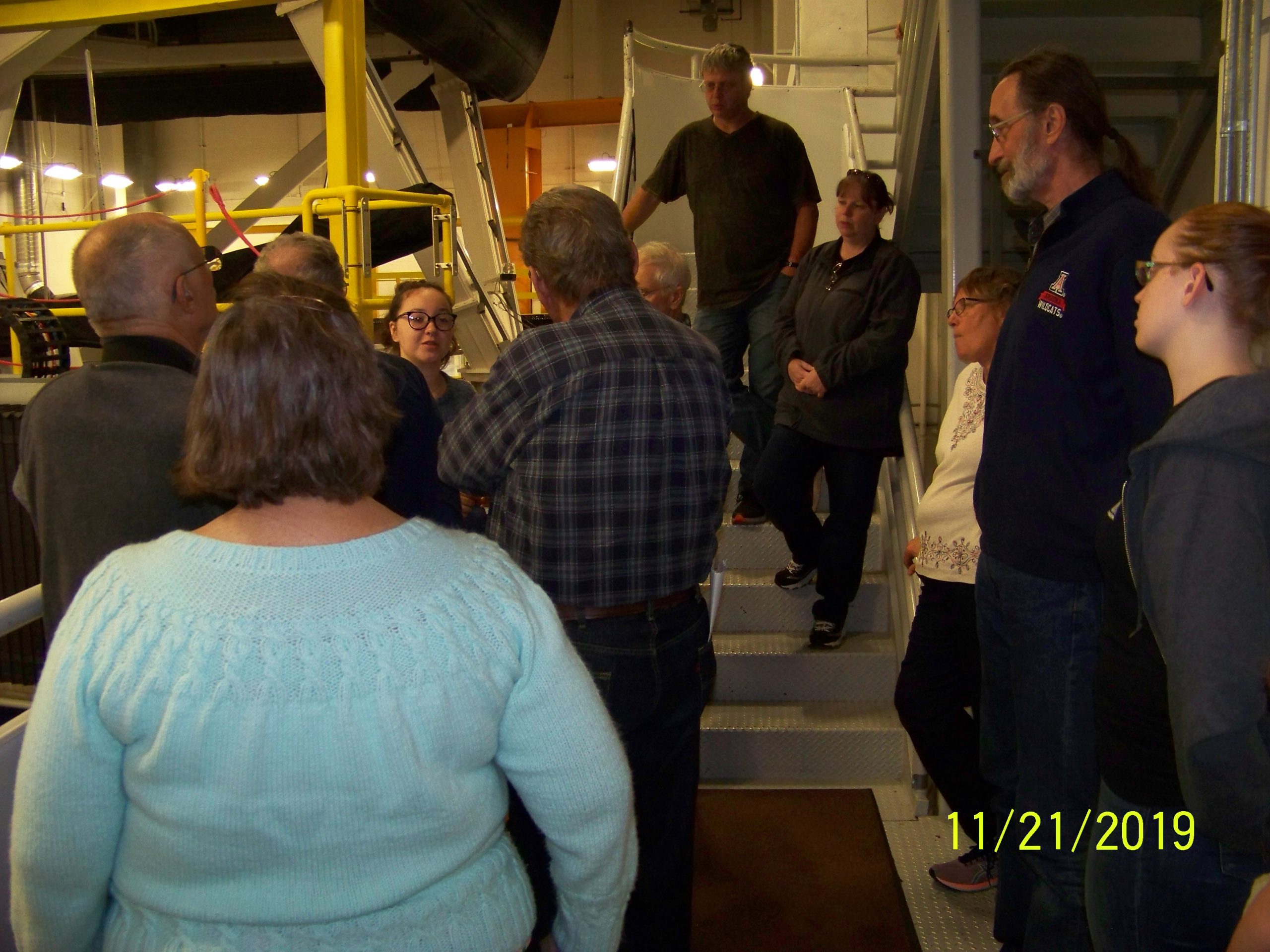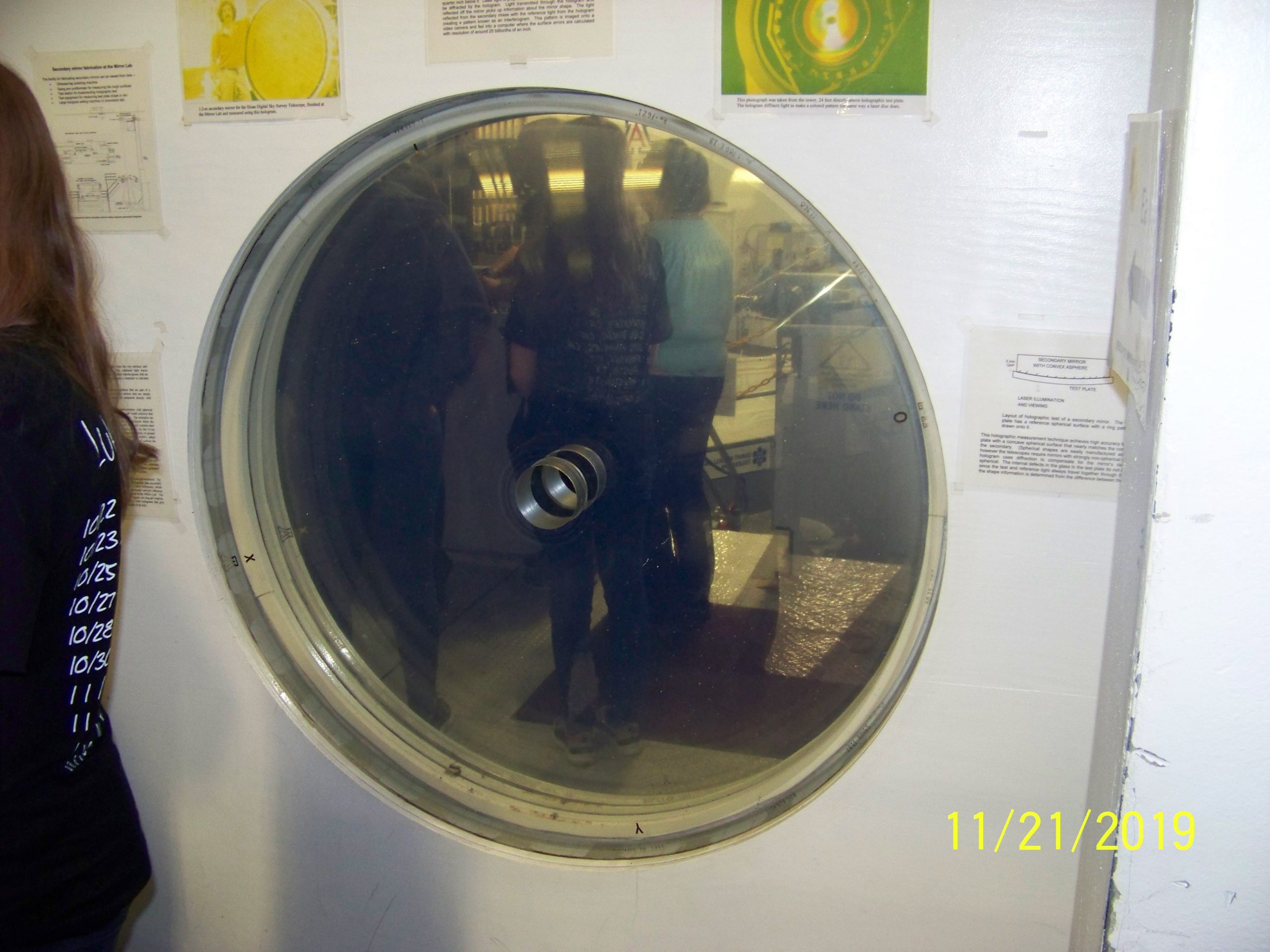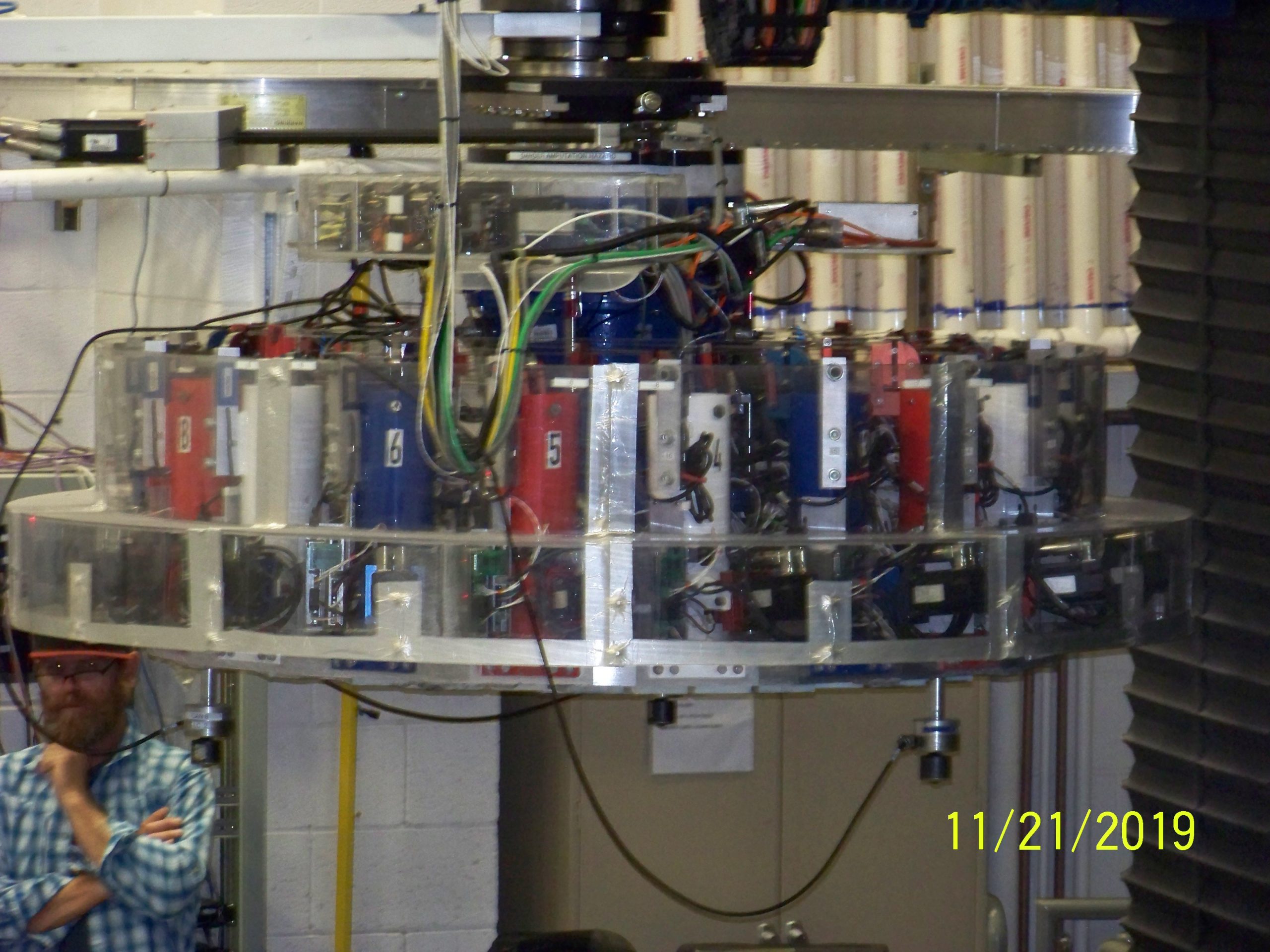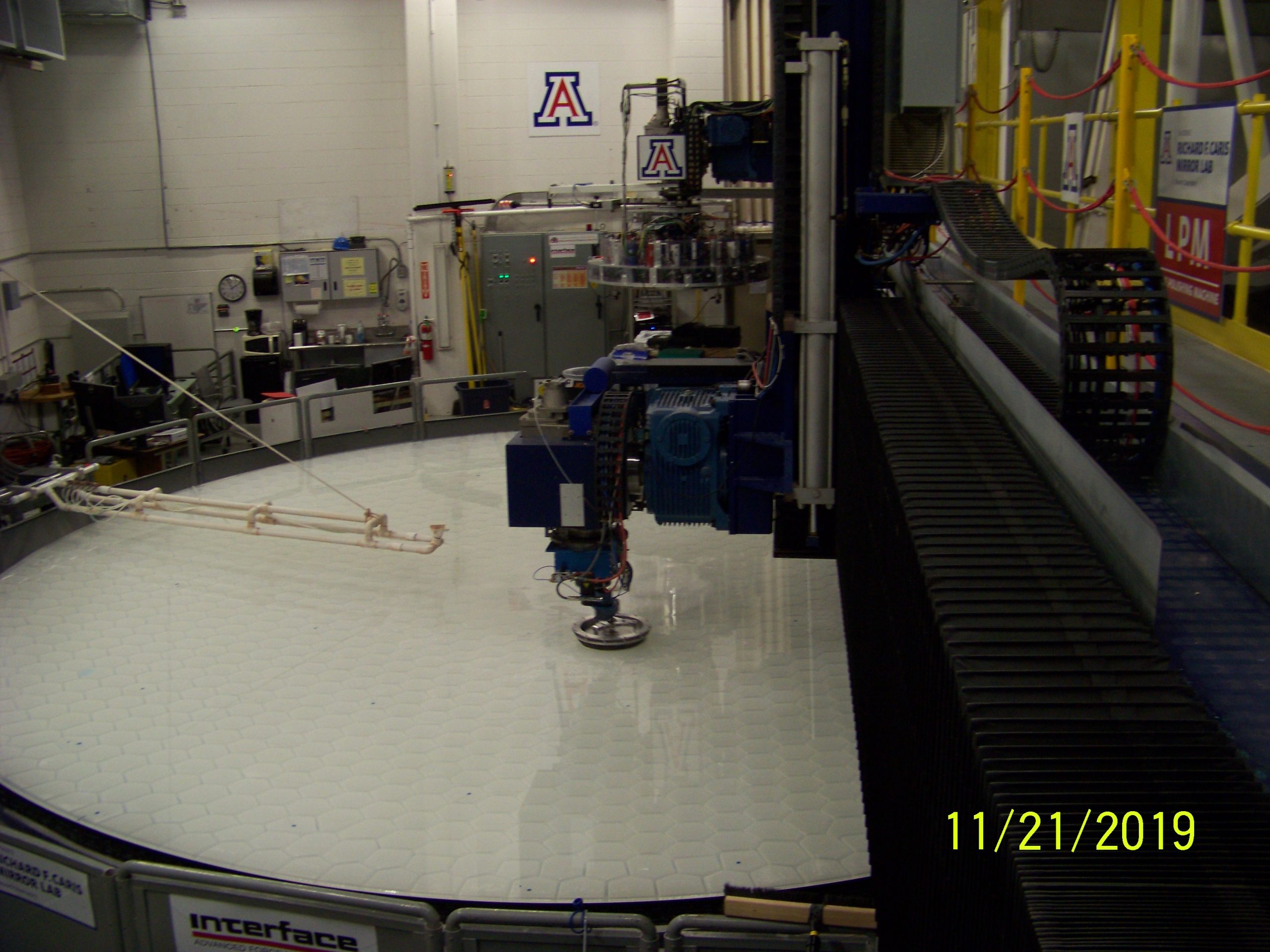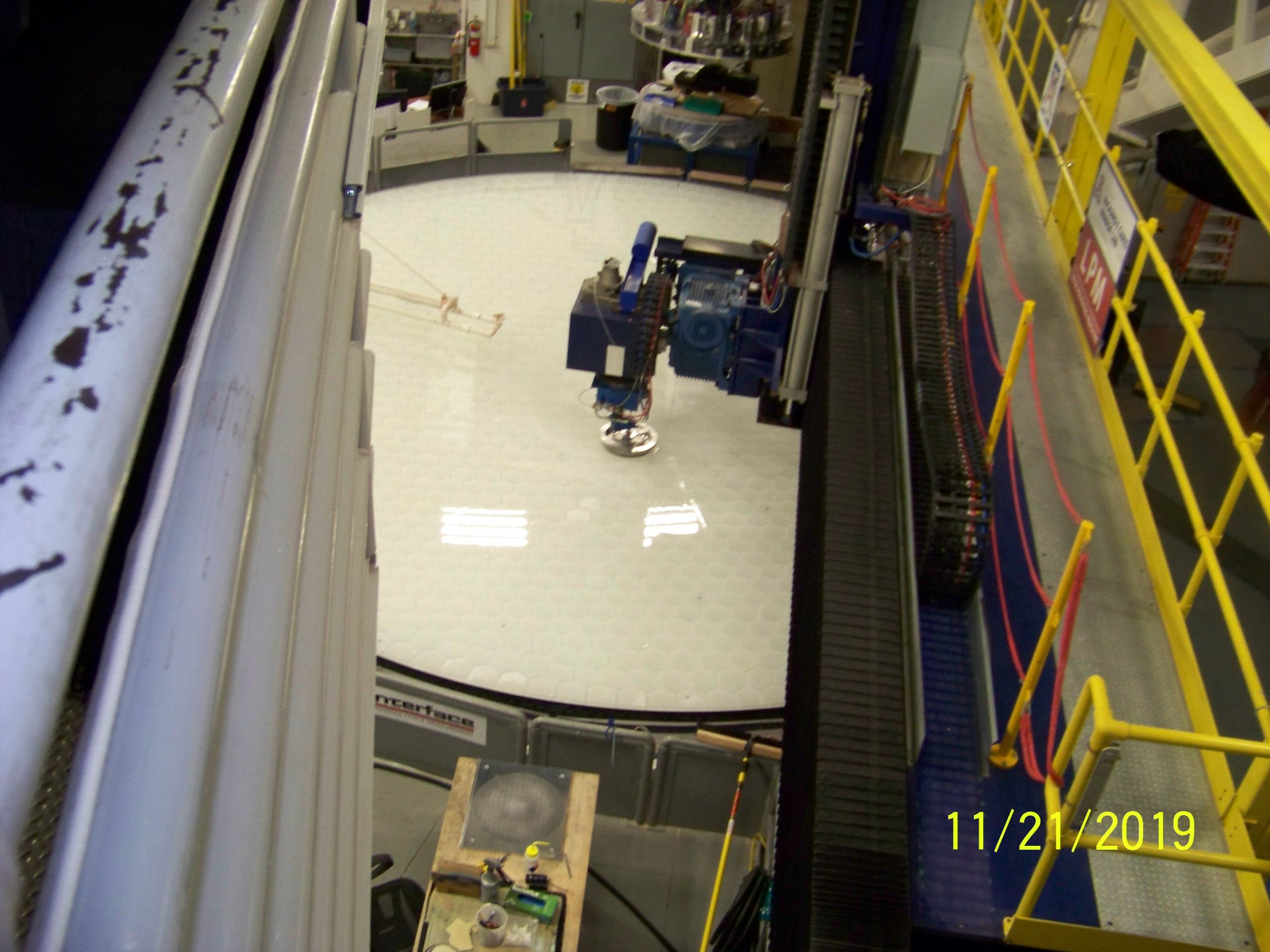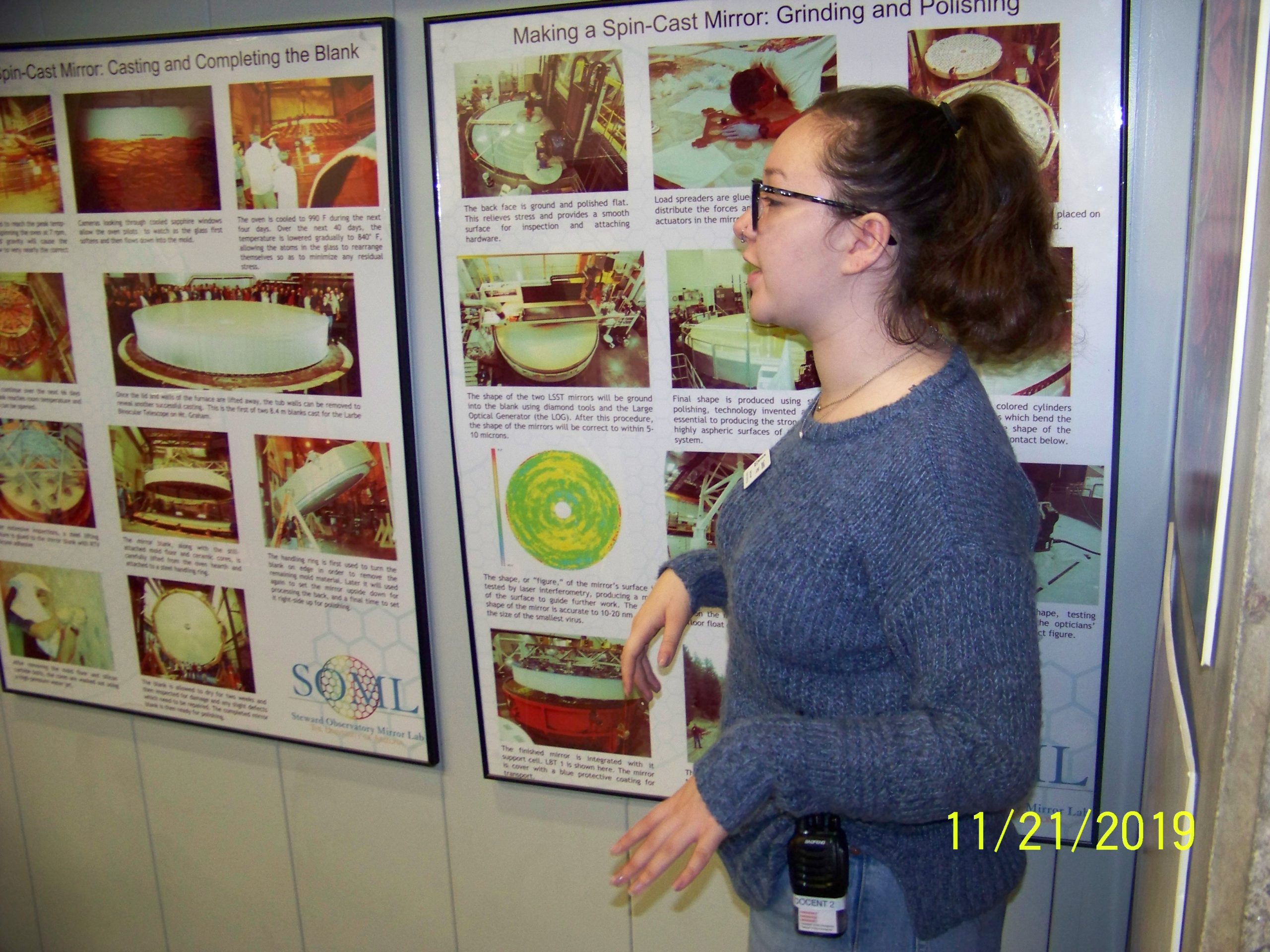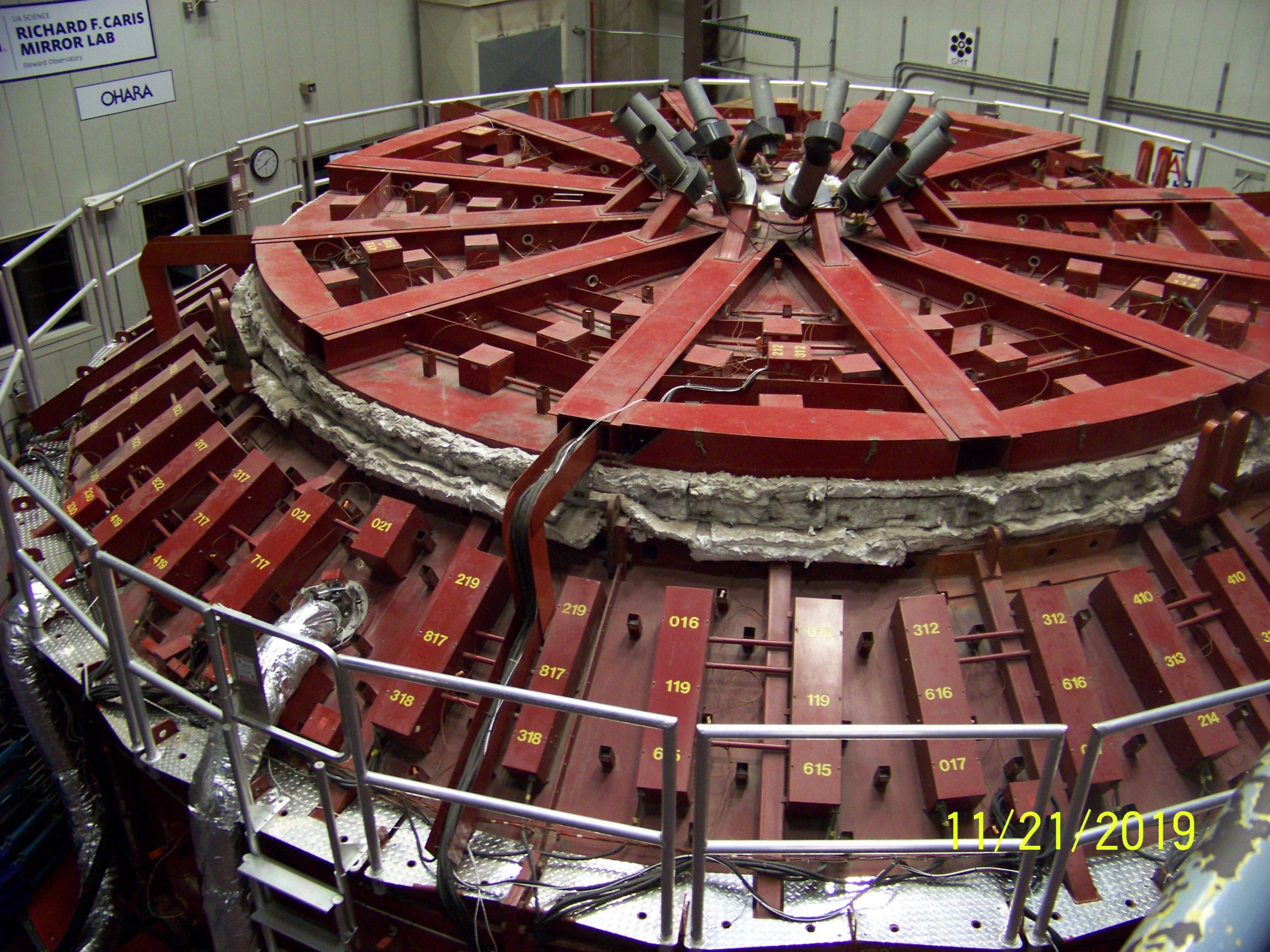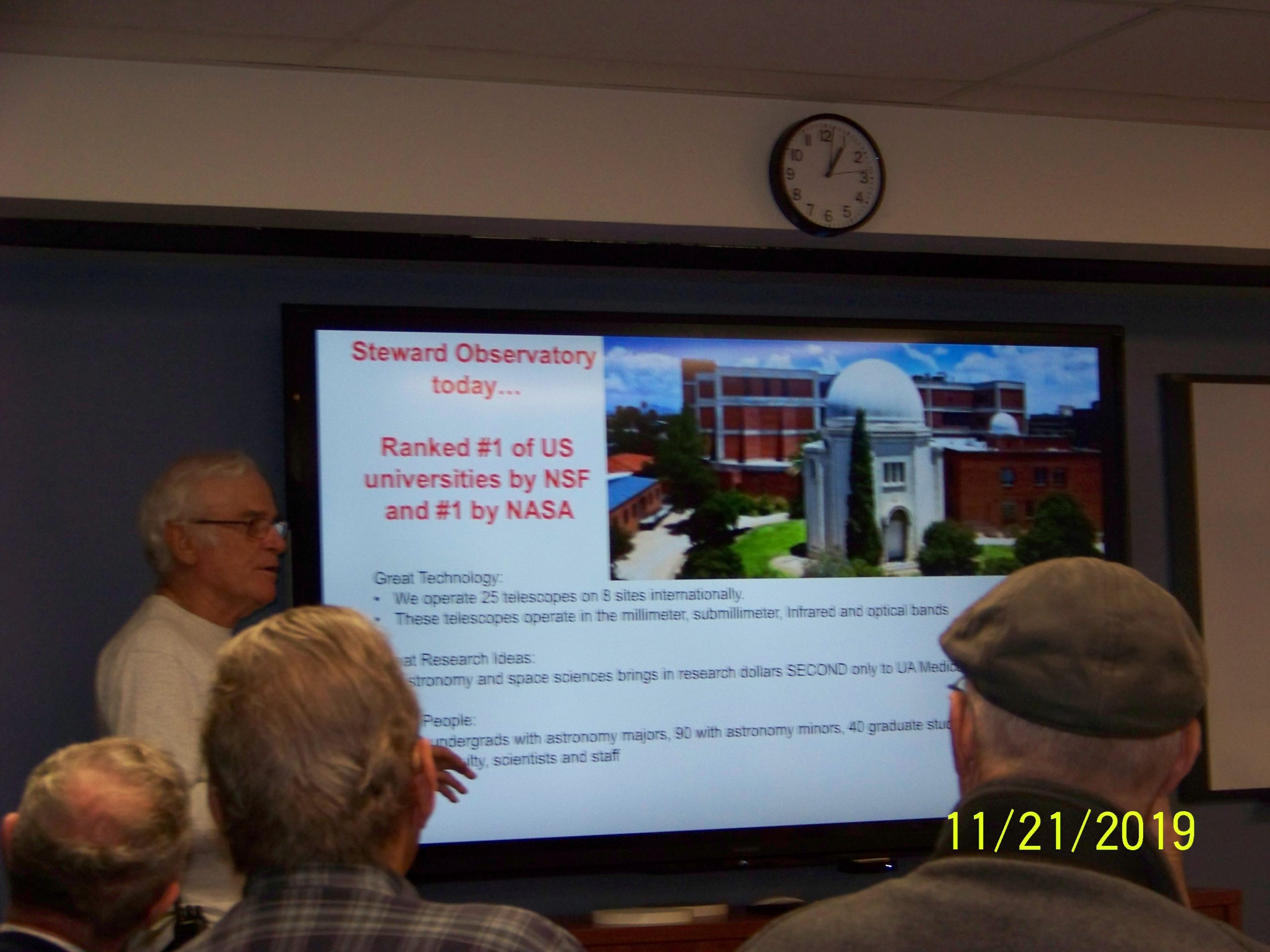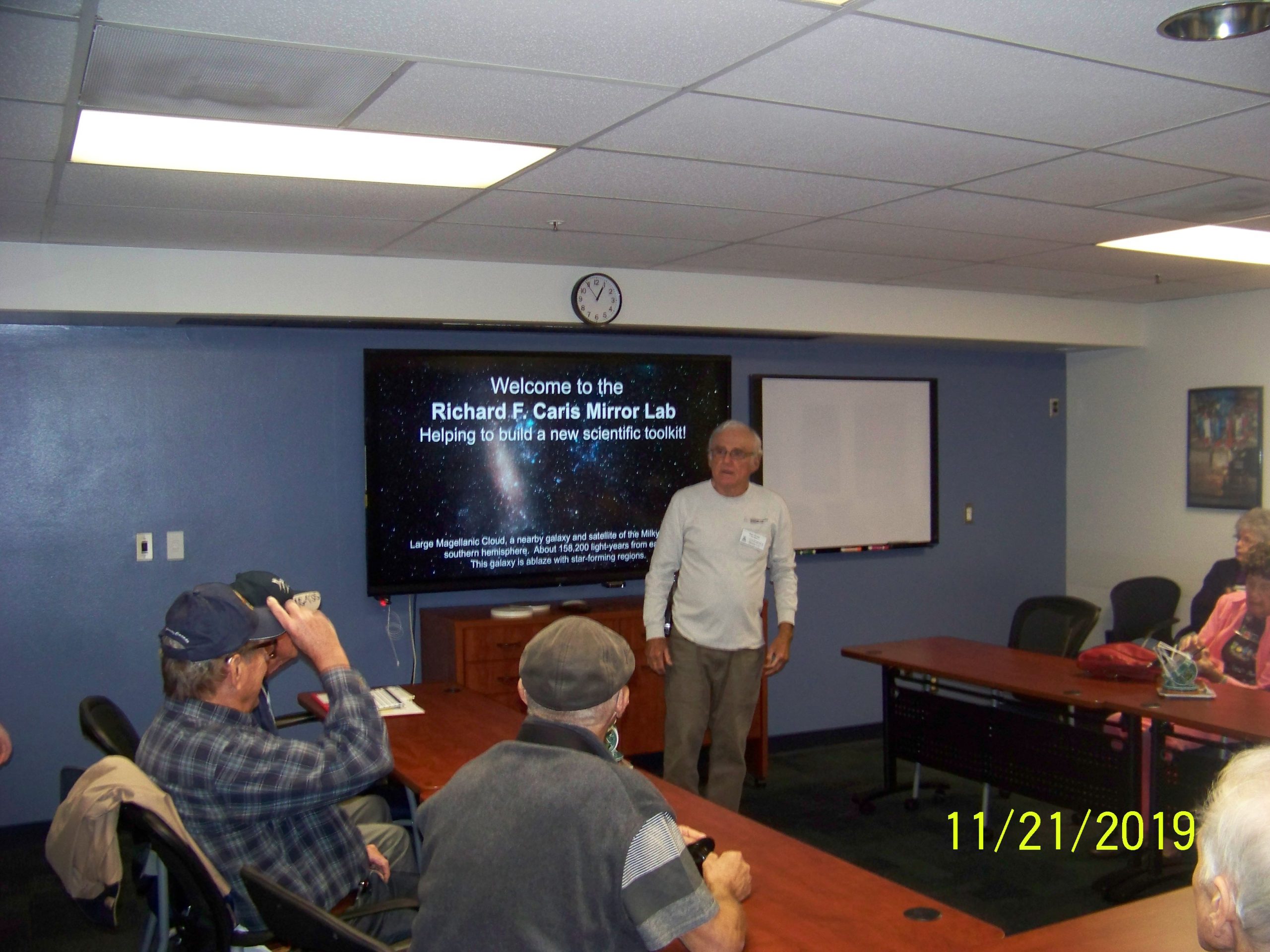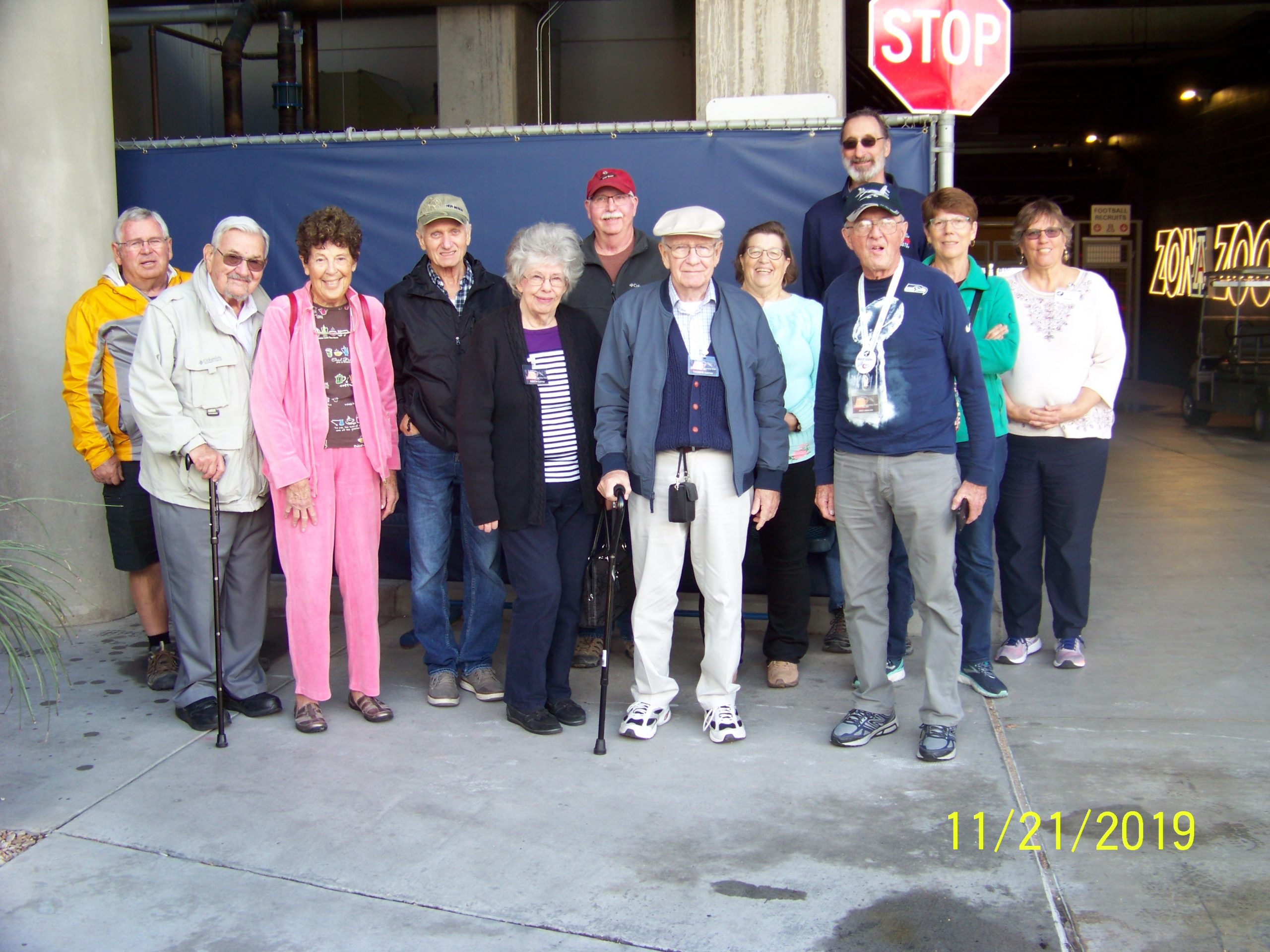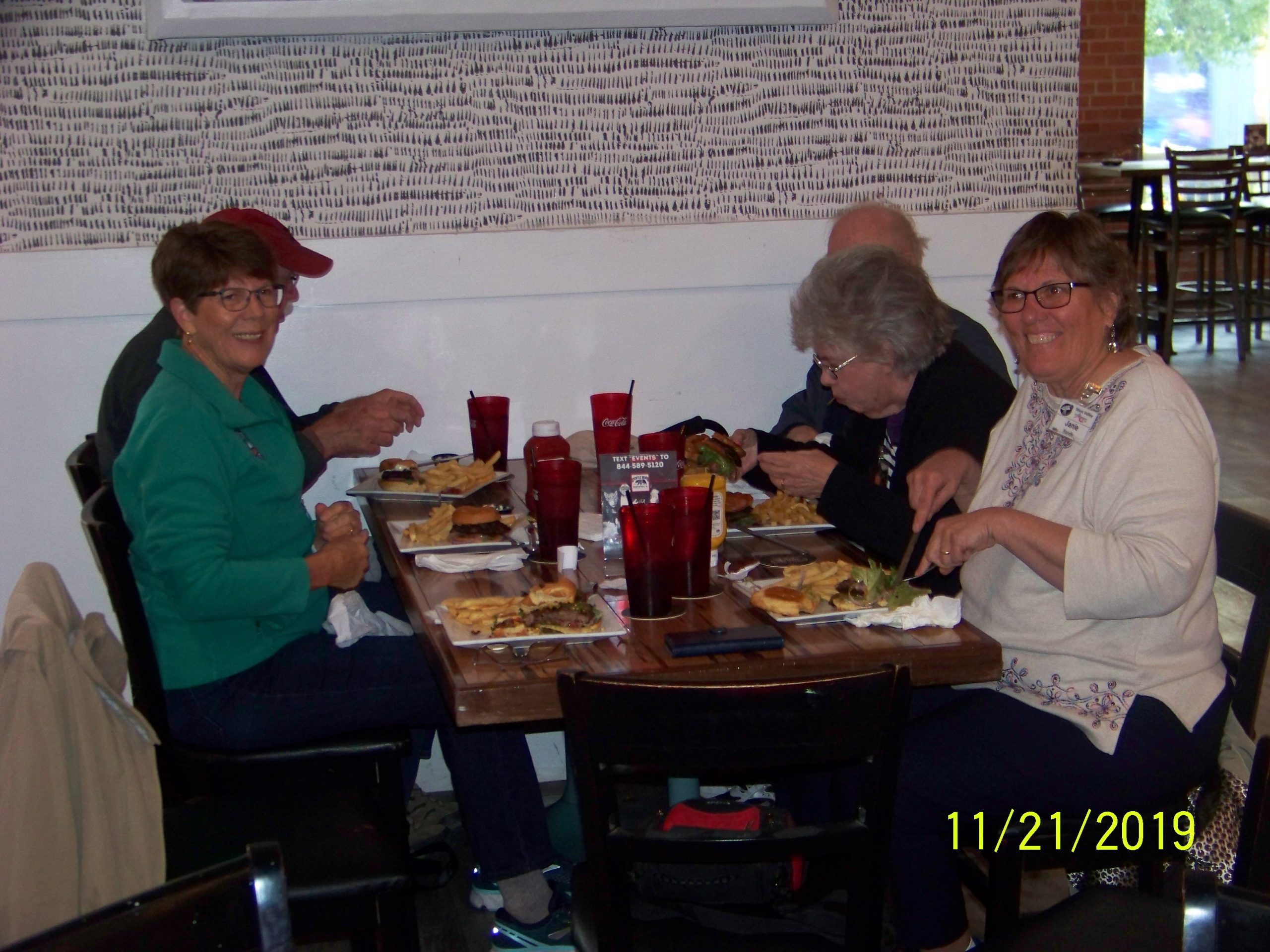 Alamo Lake State Park Star Gazing Party – November 2019
(Verde Valley Astronomy Club)
Nov.15 (arrive), 16 (star gazing), 17 (depart)
Make your own reservation online. Our club members are on site C41 from the 14th – 19th.
Contact Janie or Bob Randle for questions (623) 975-7483 or (Email them here).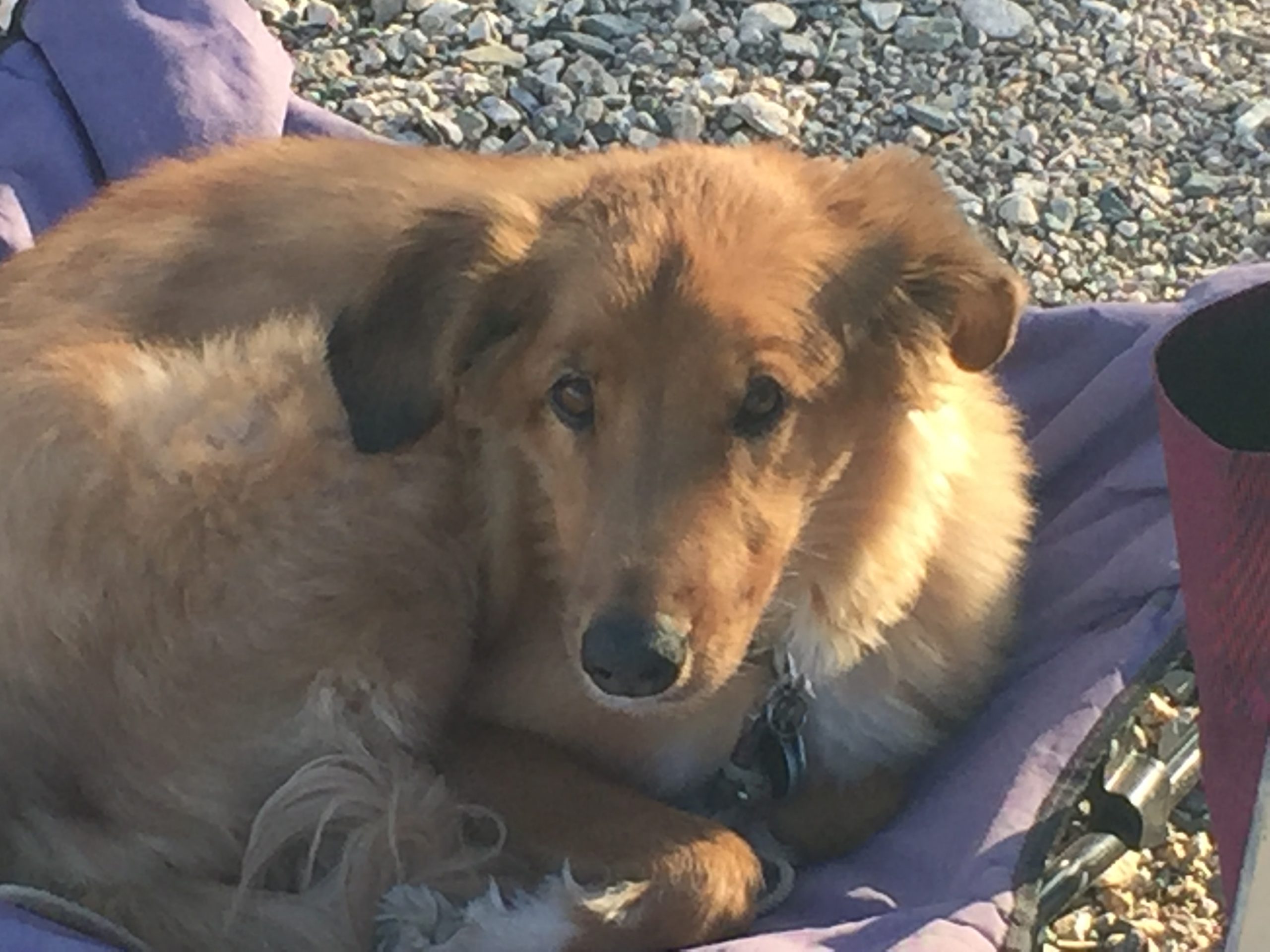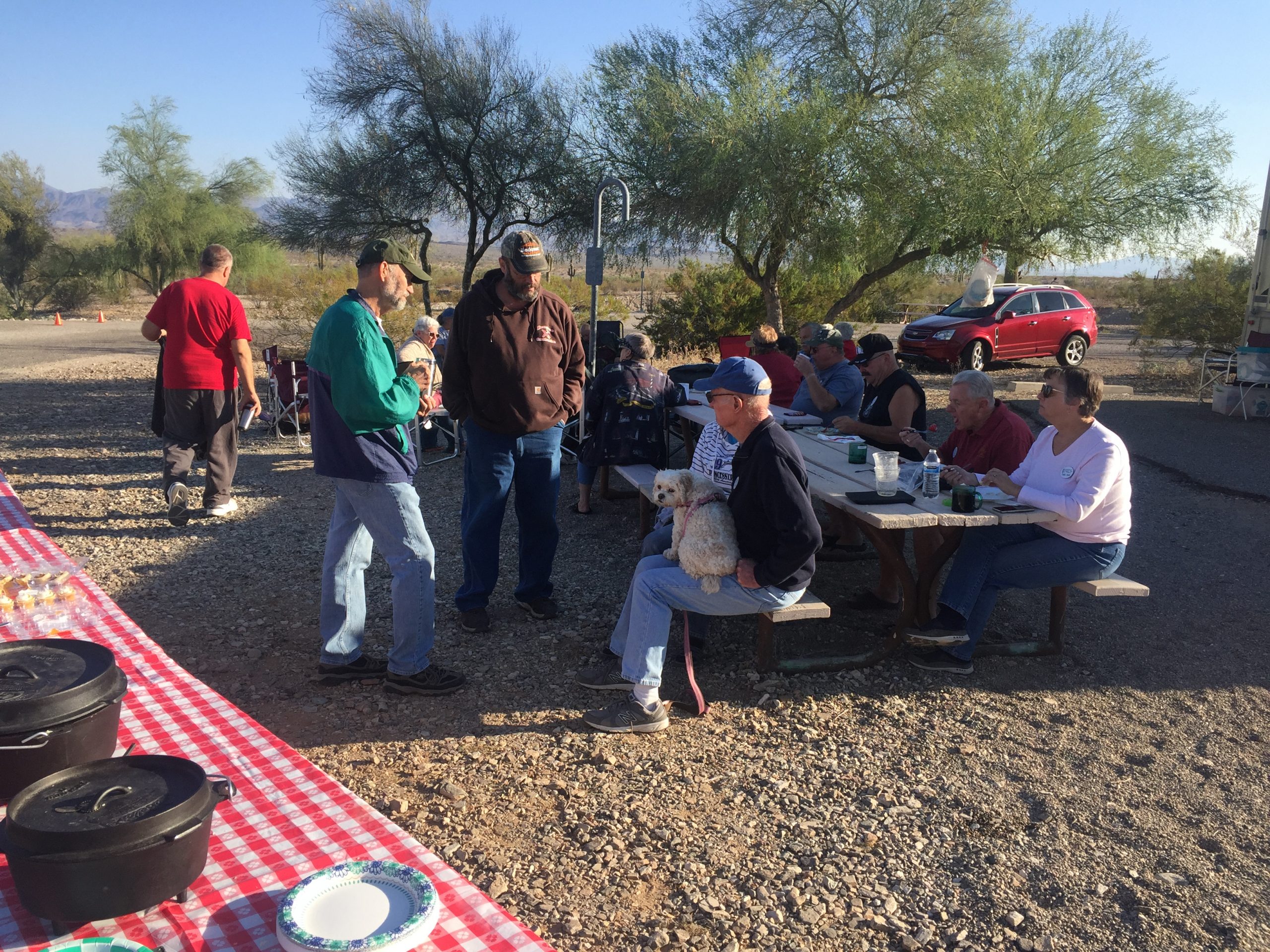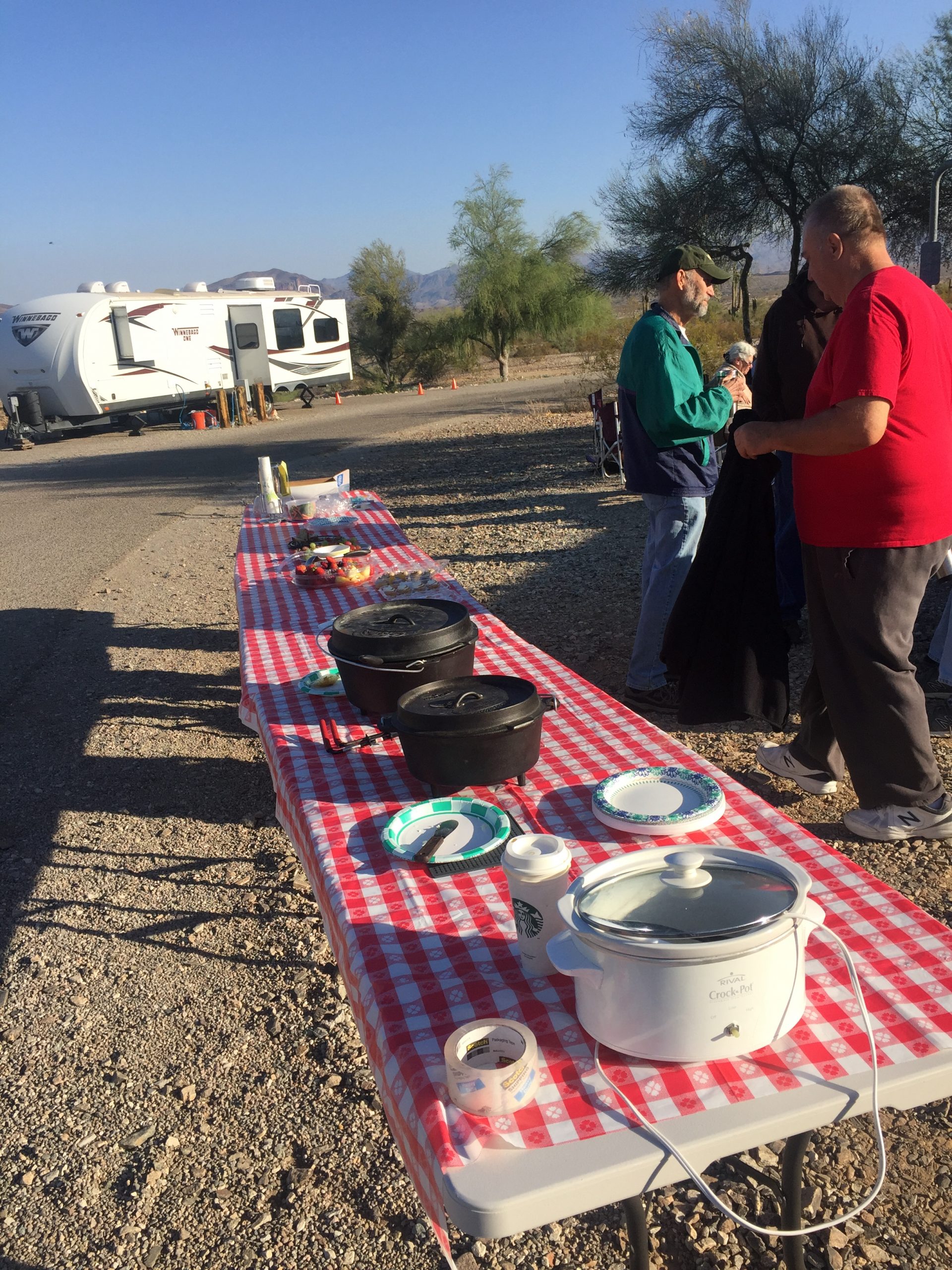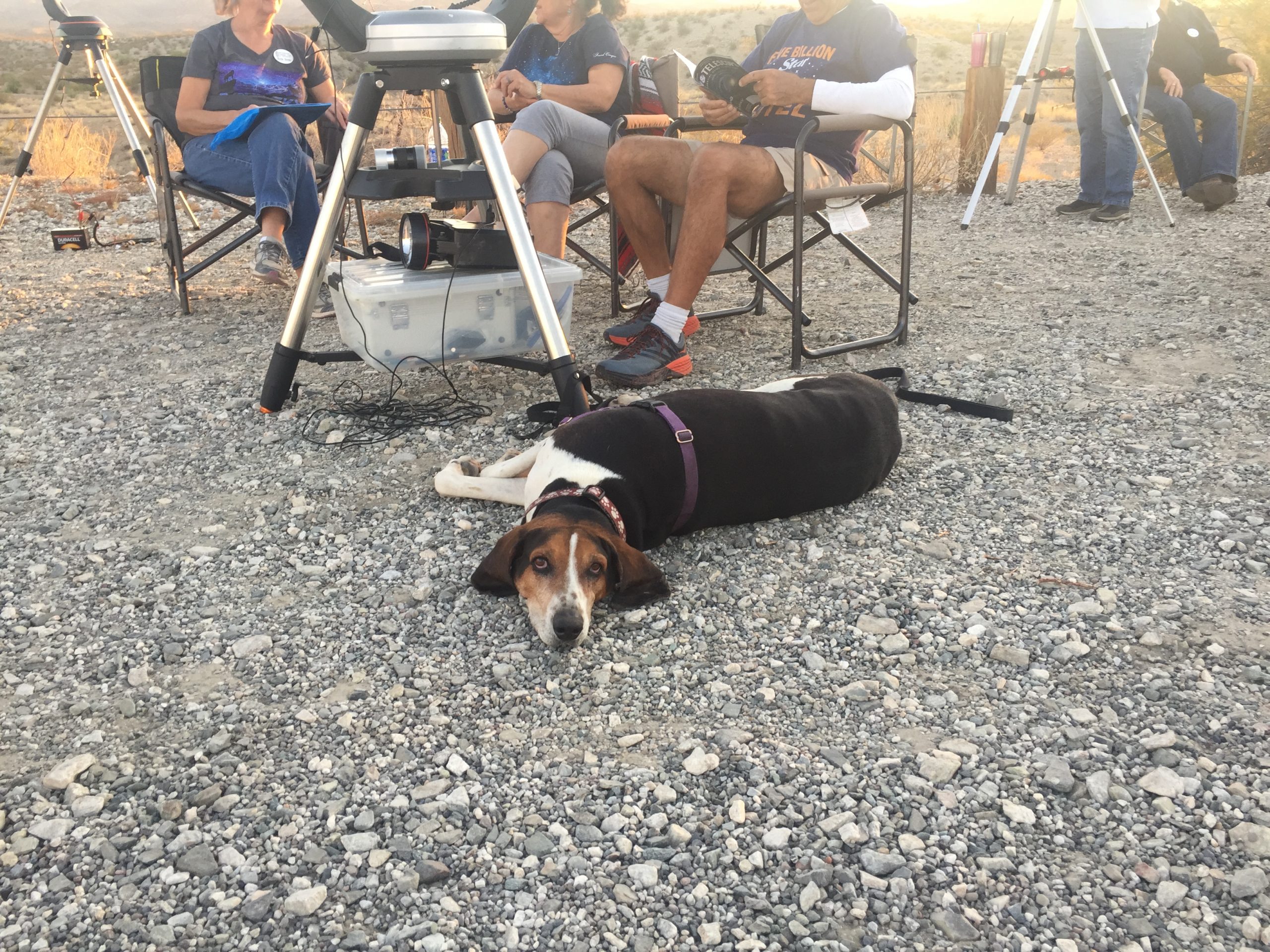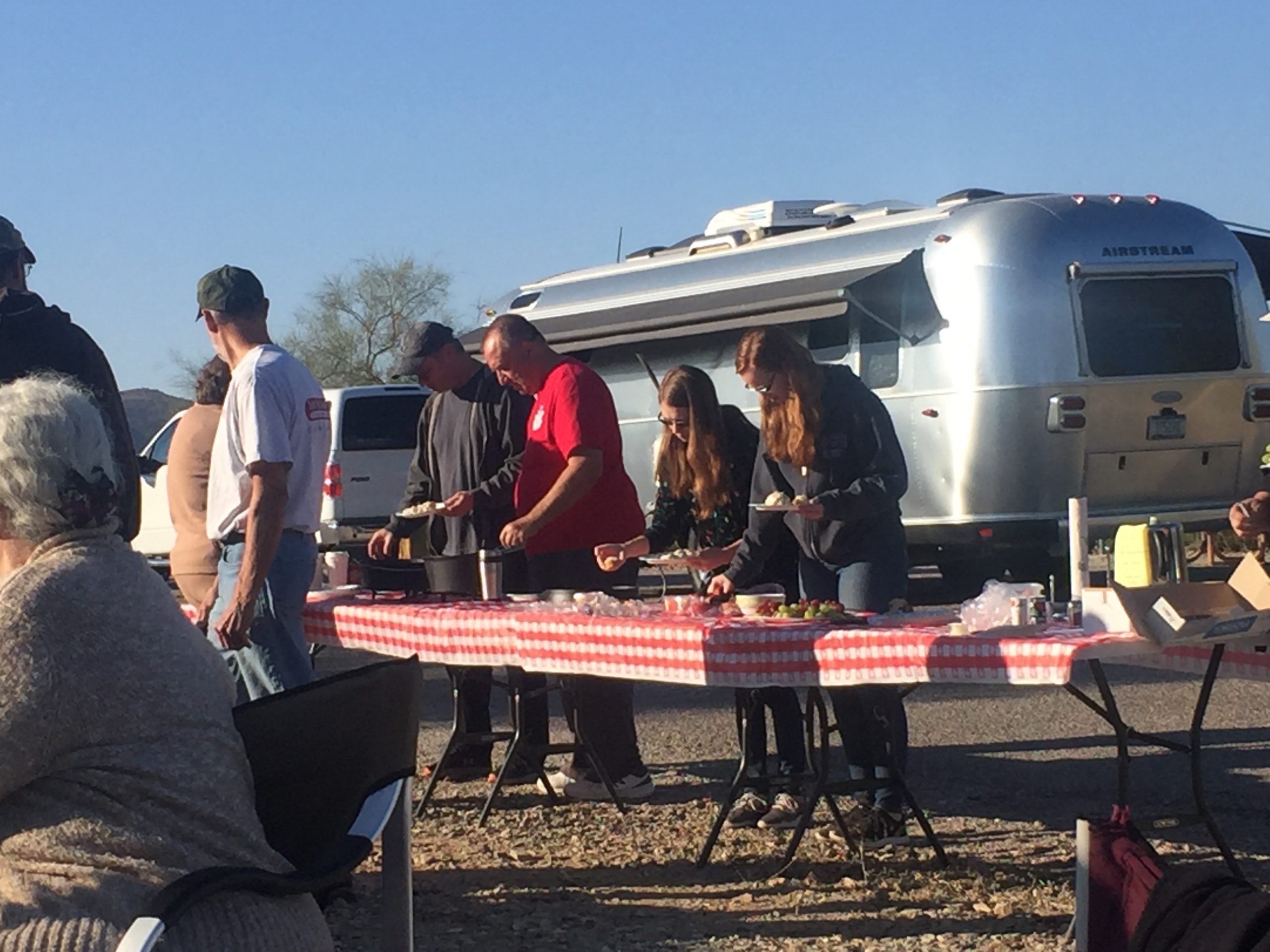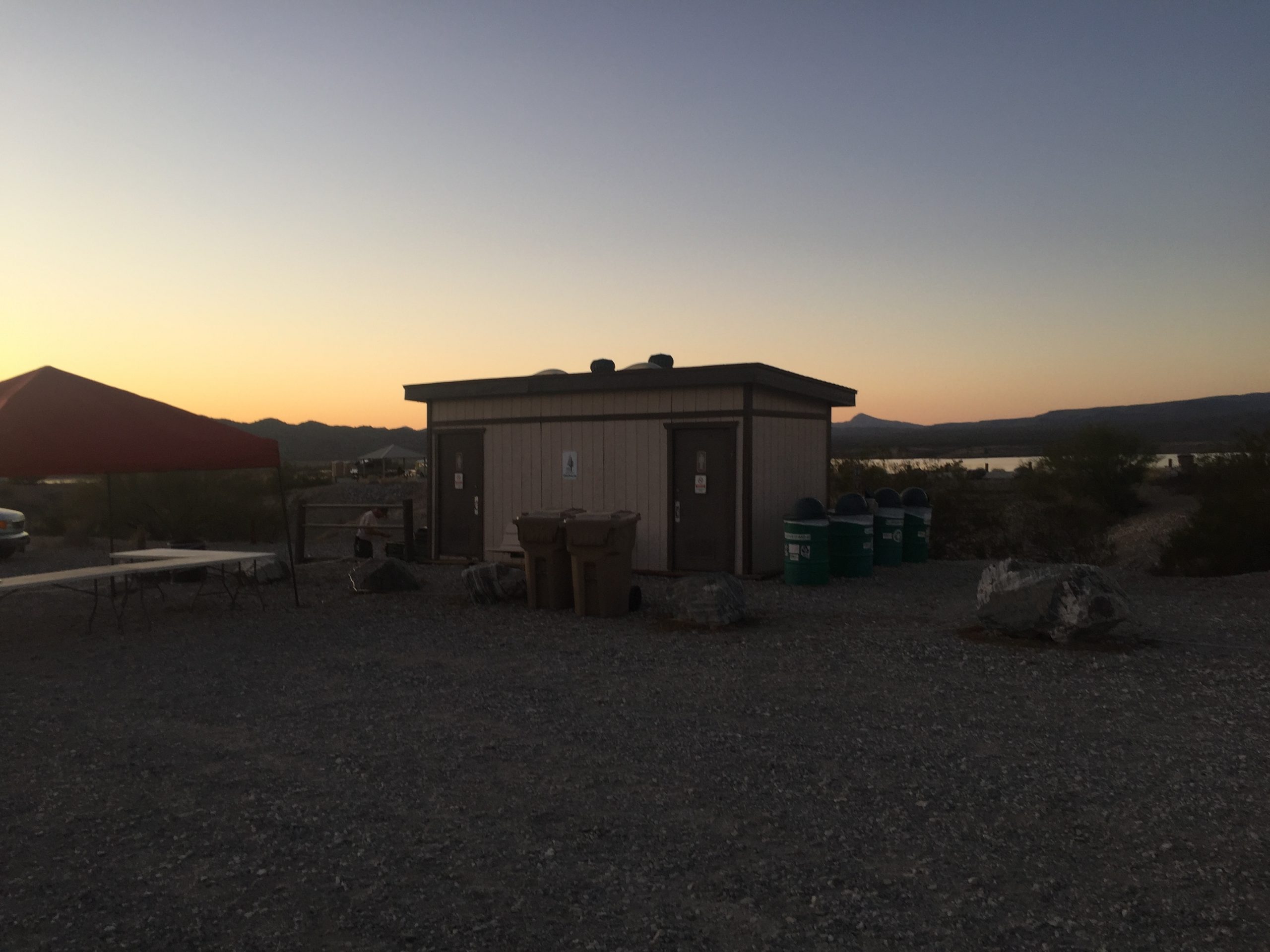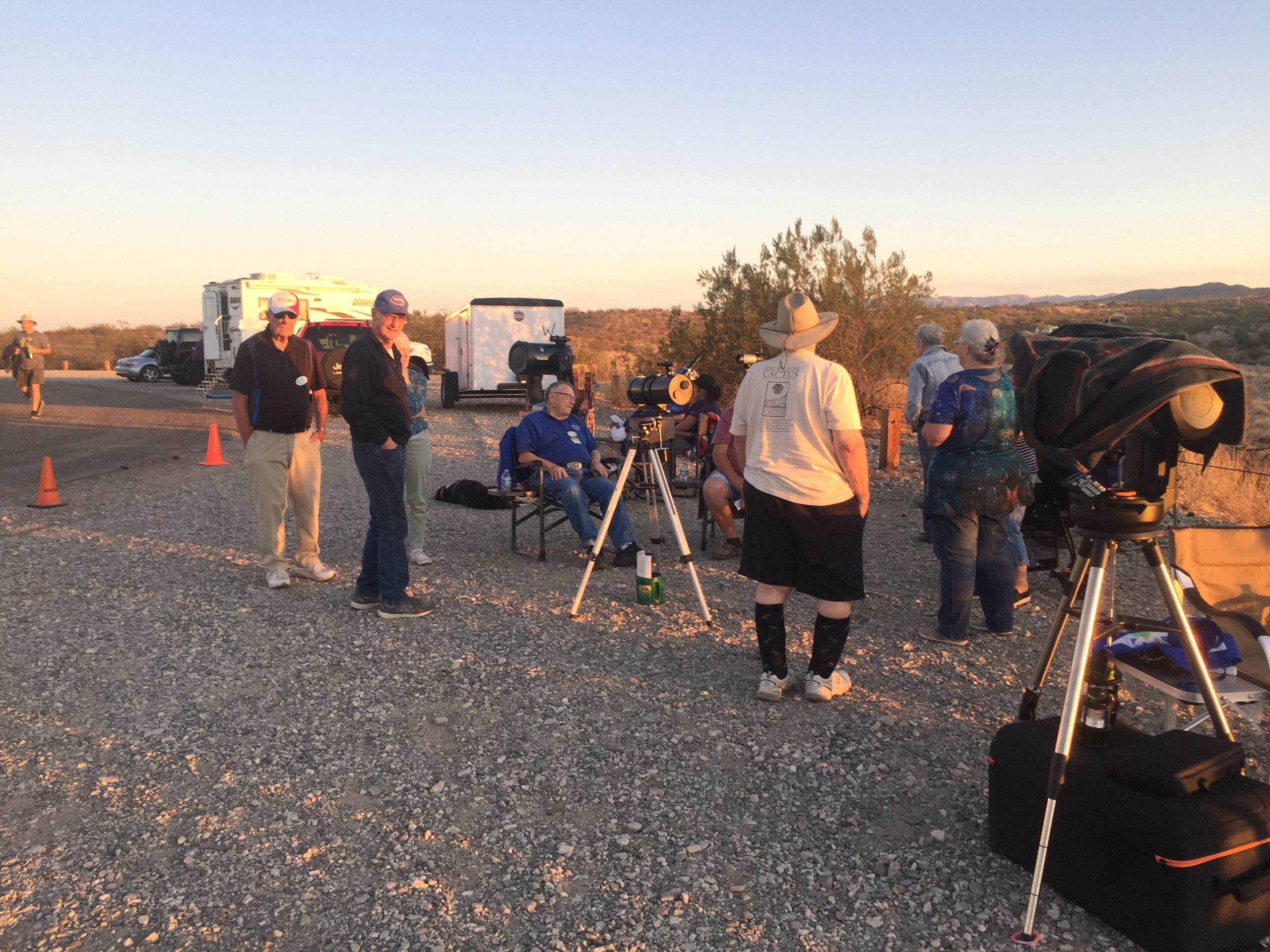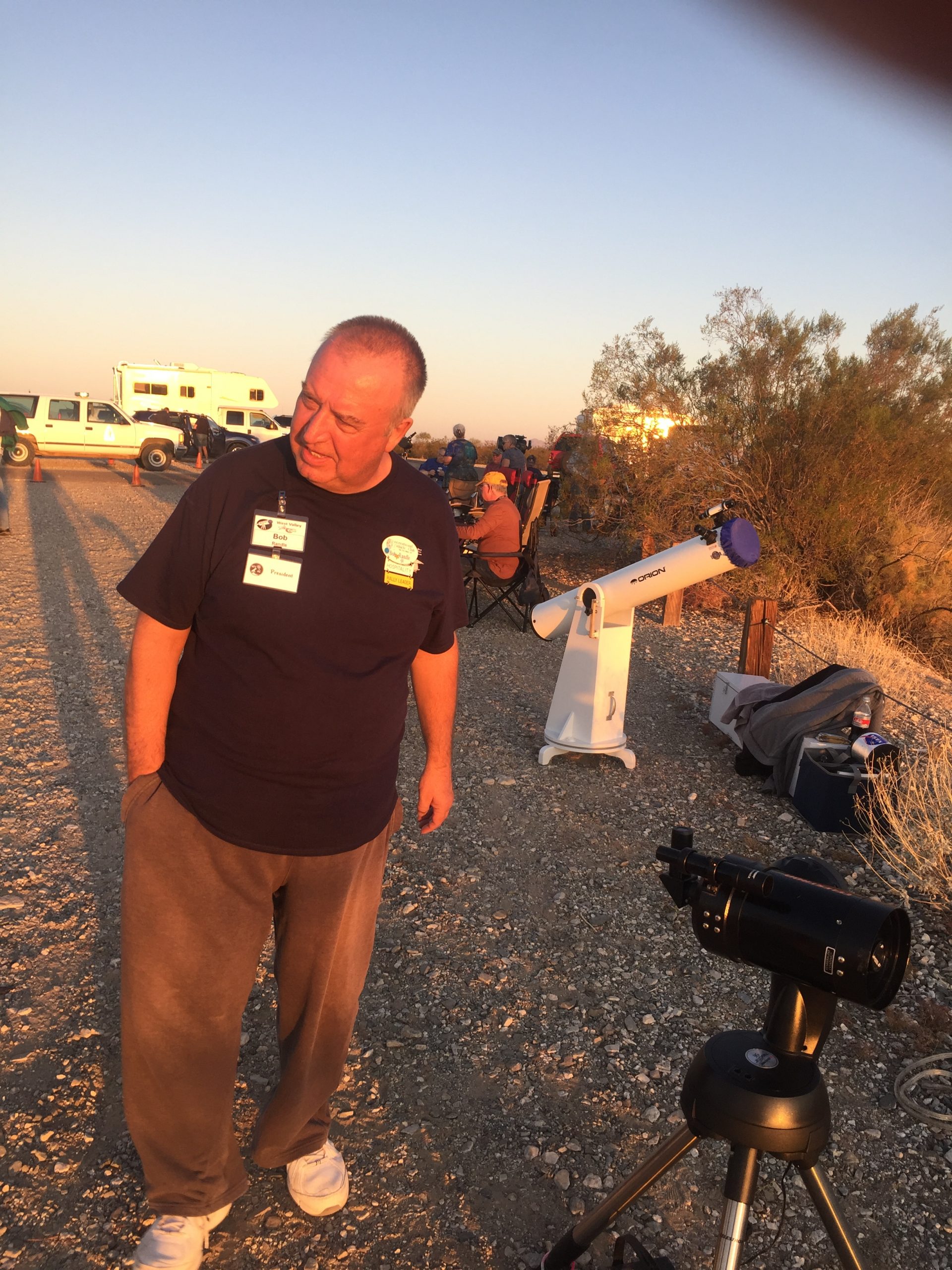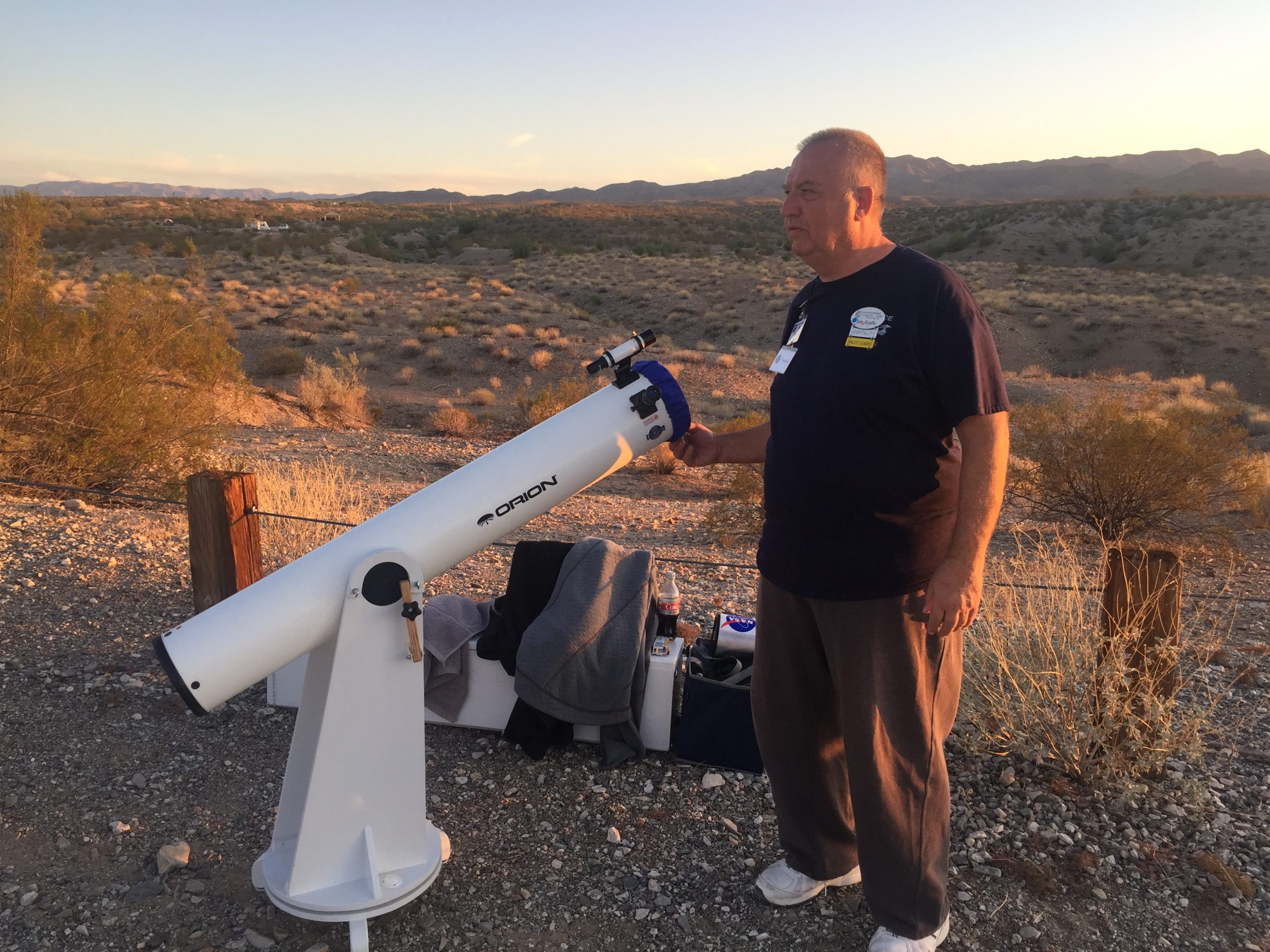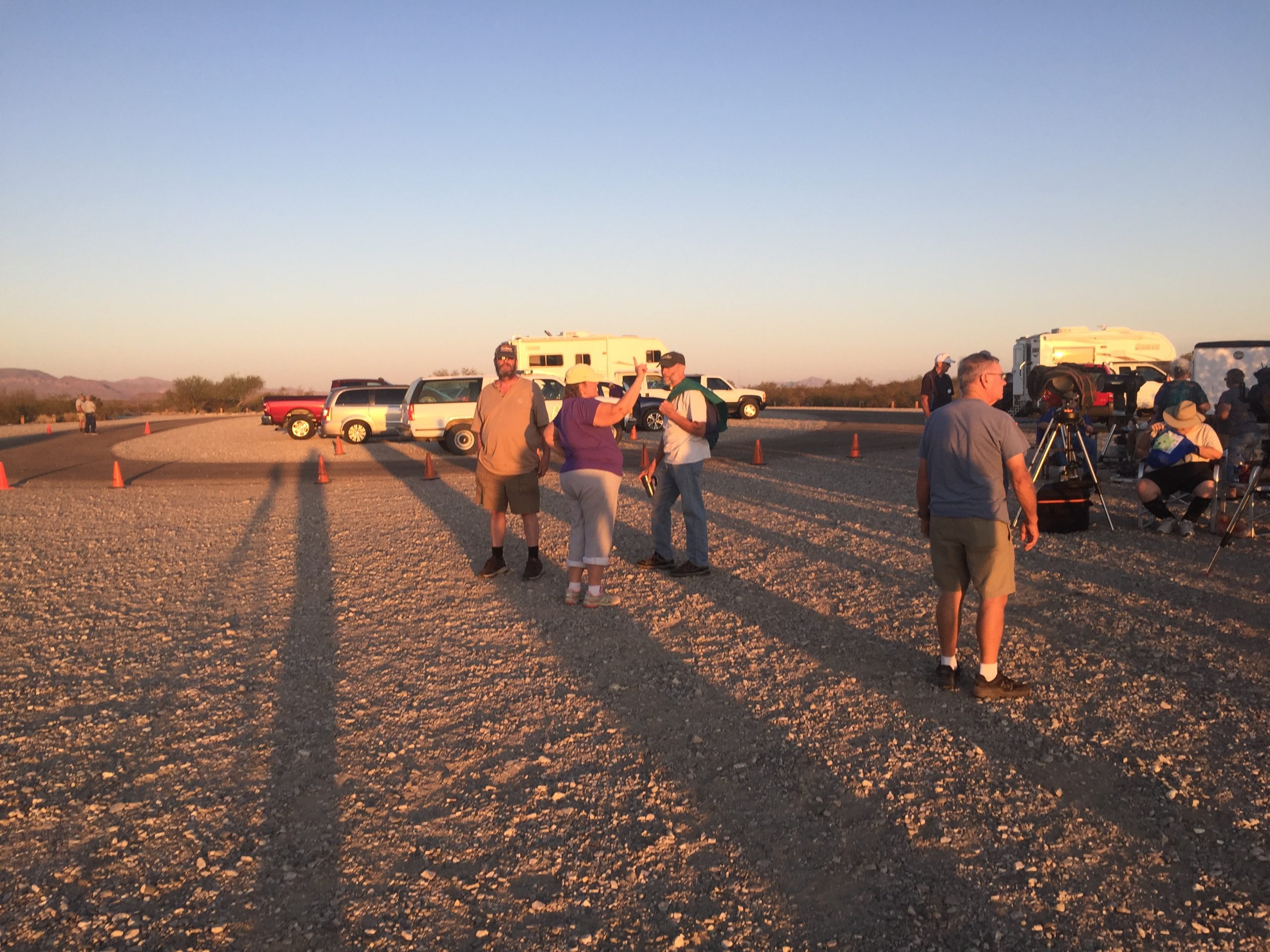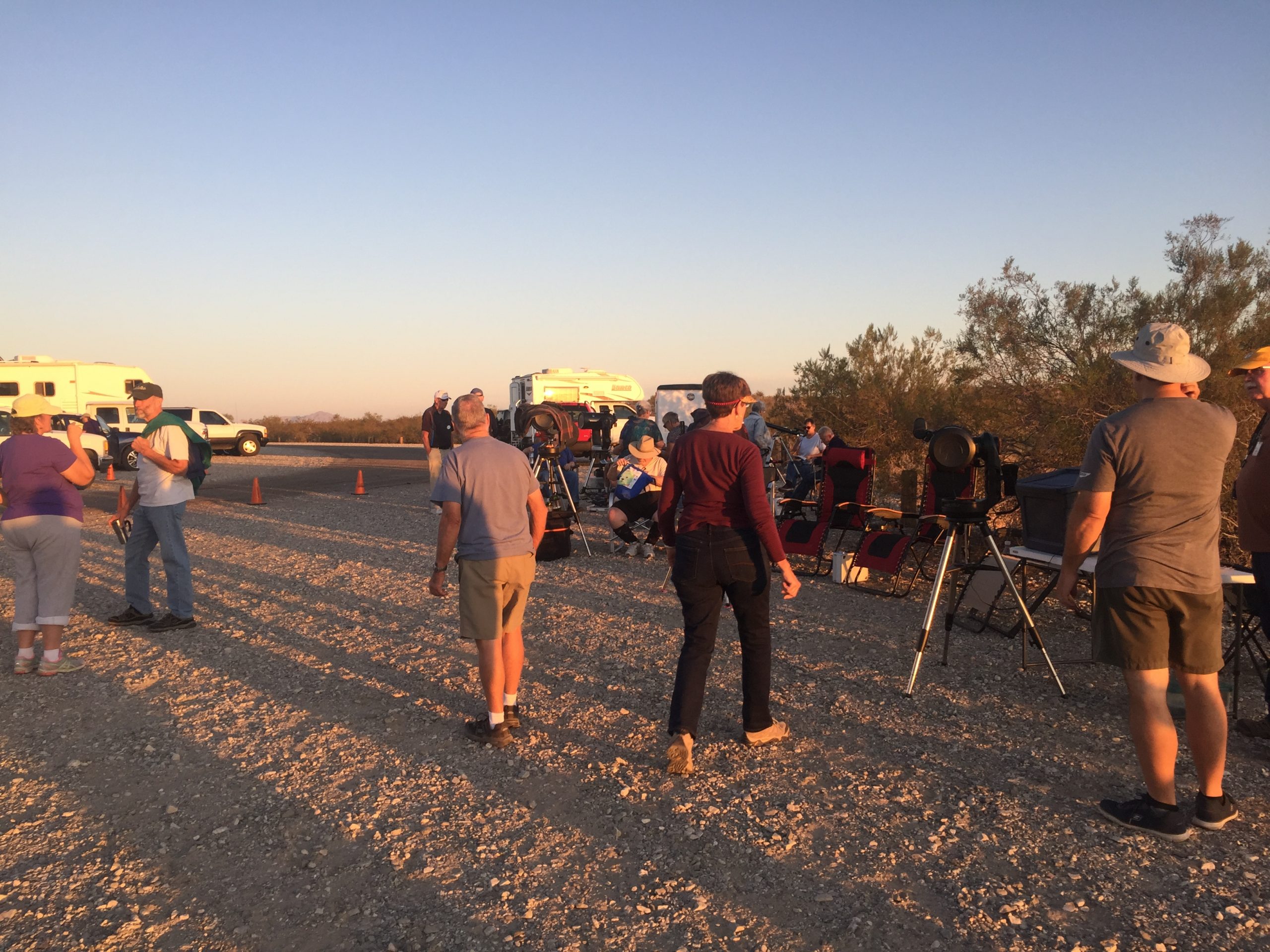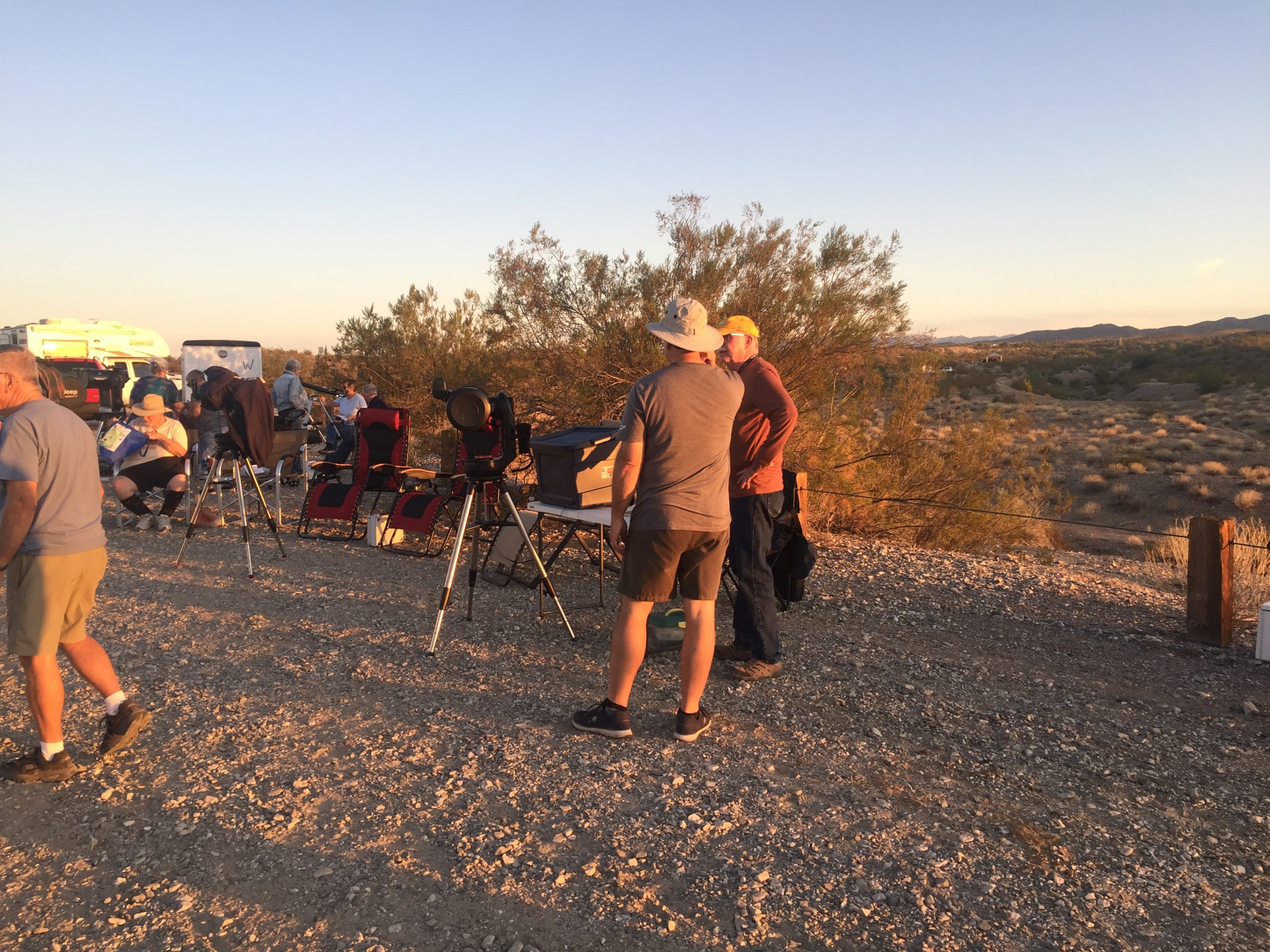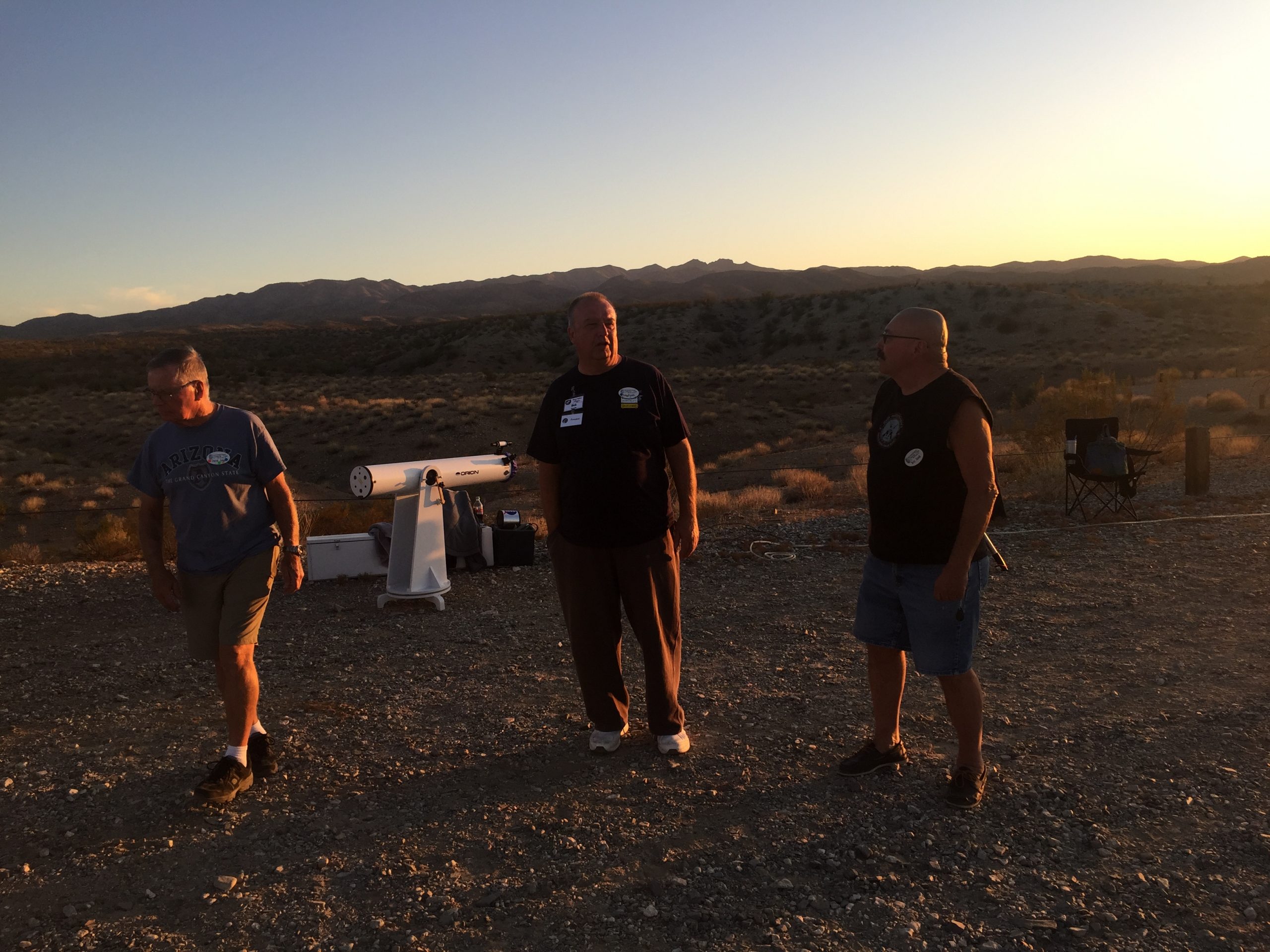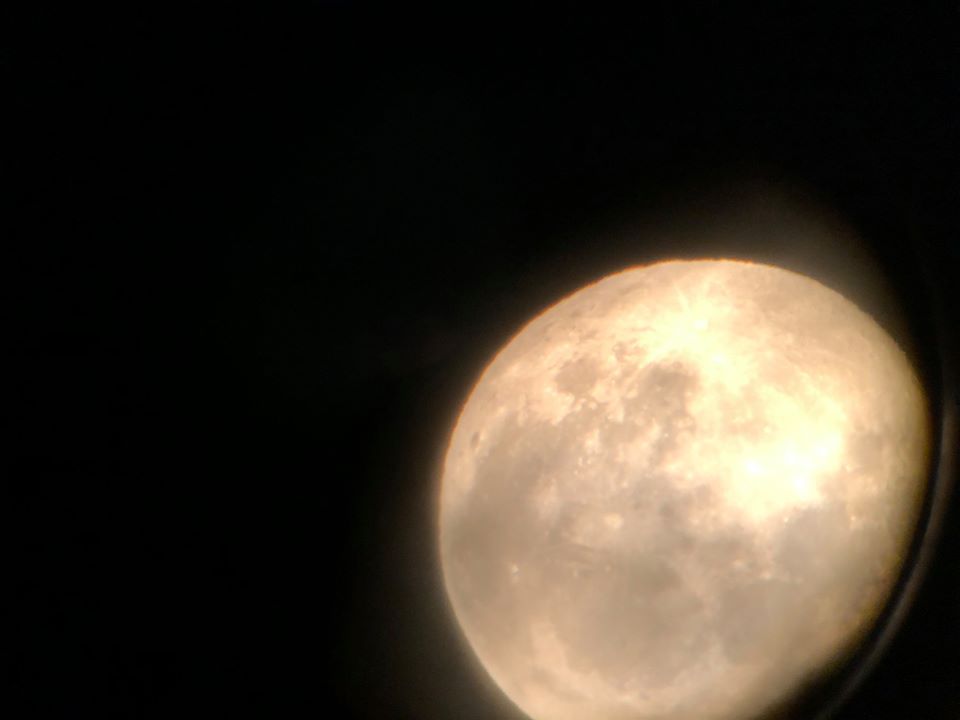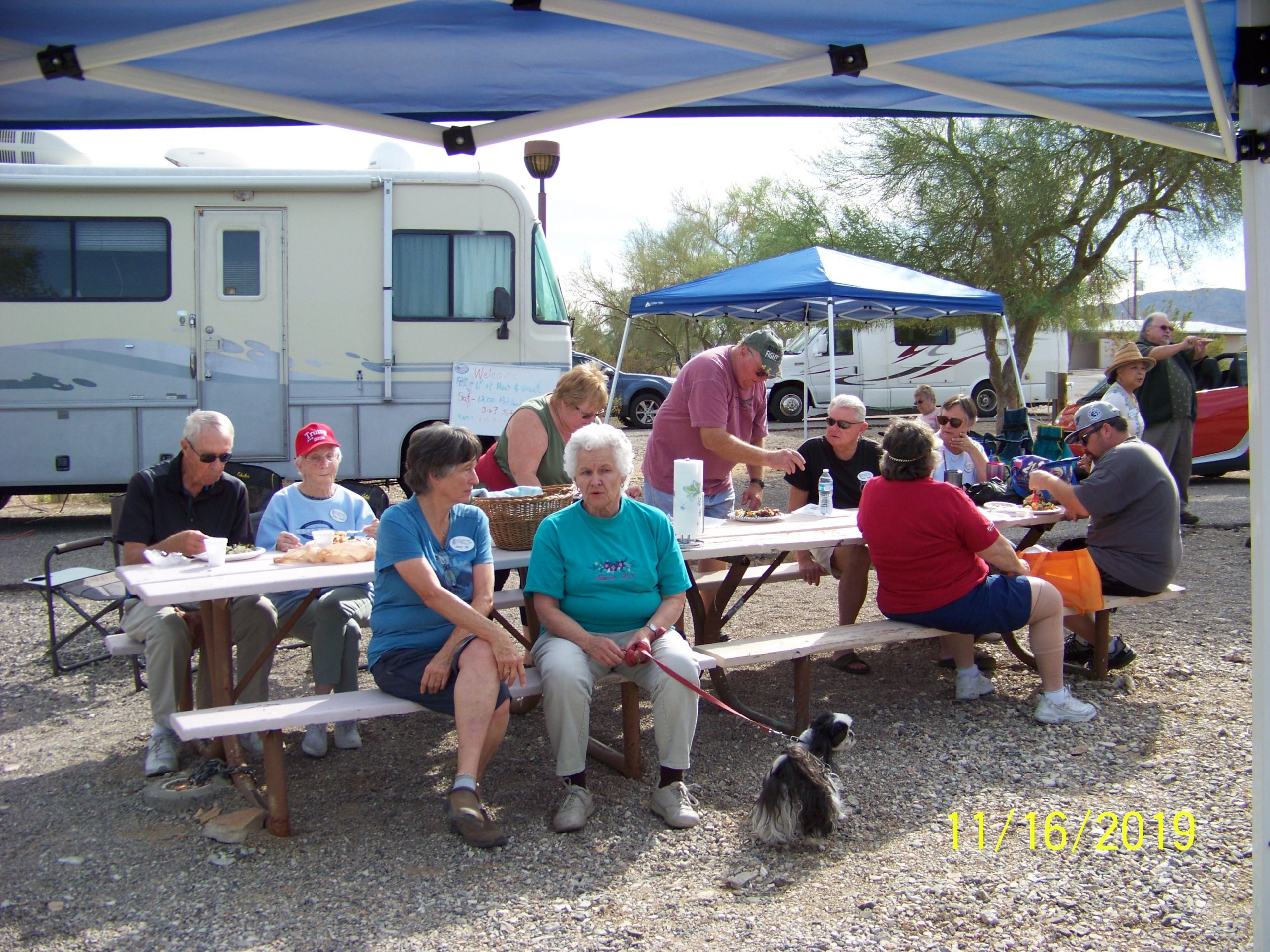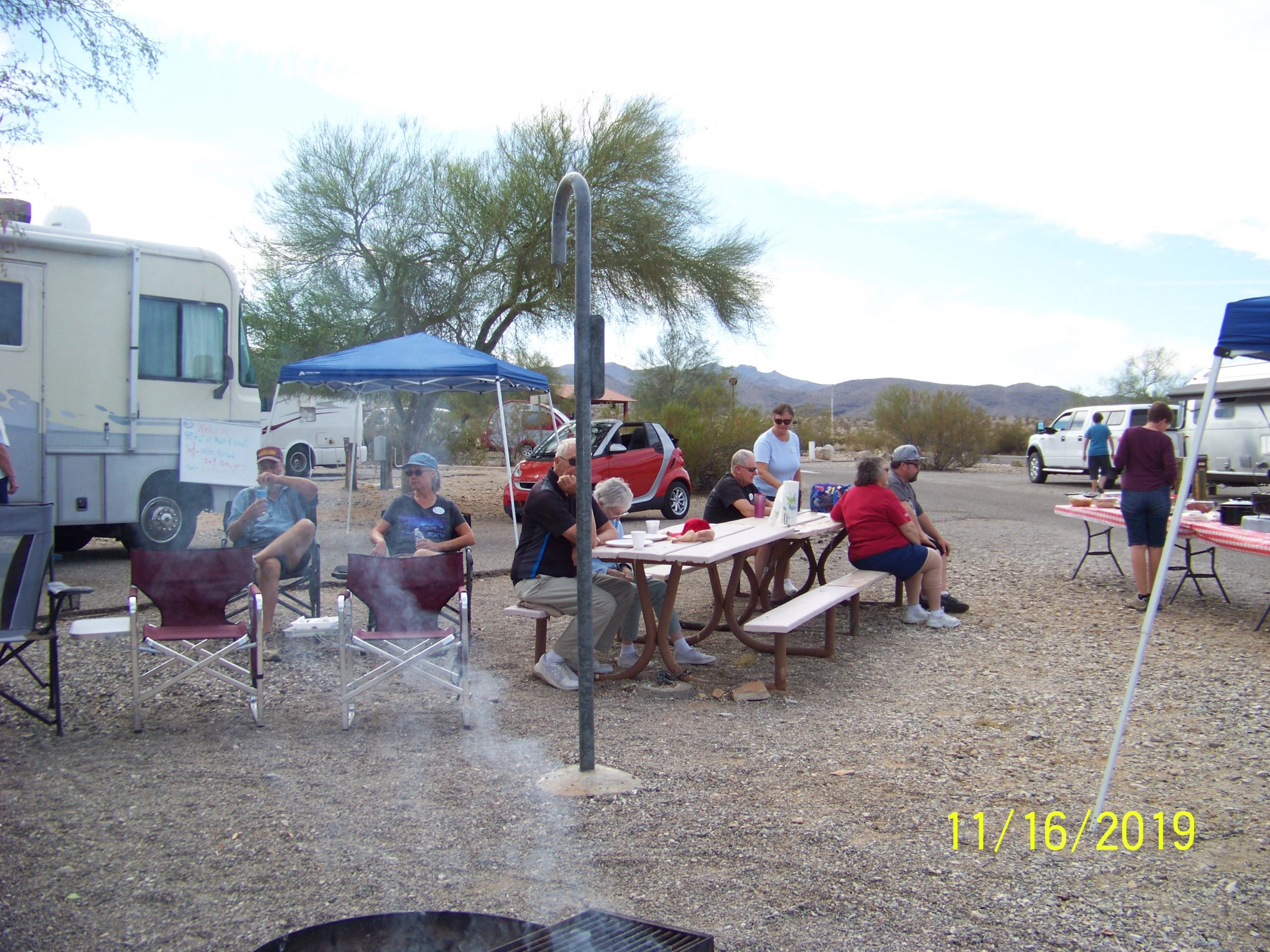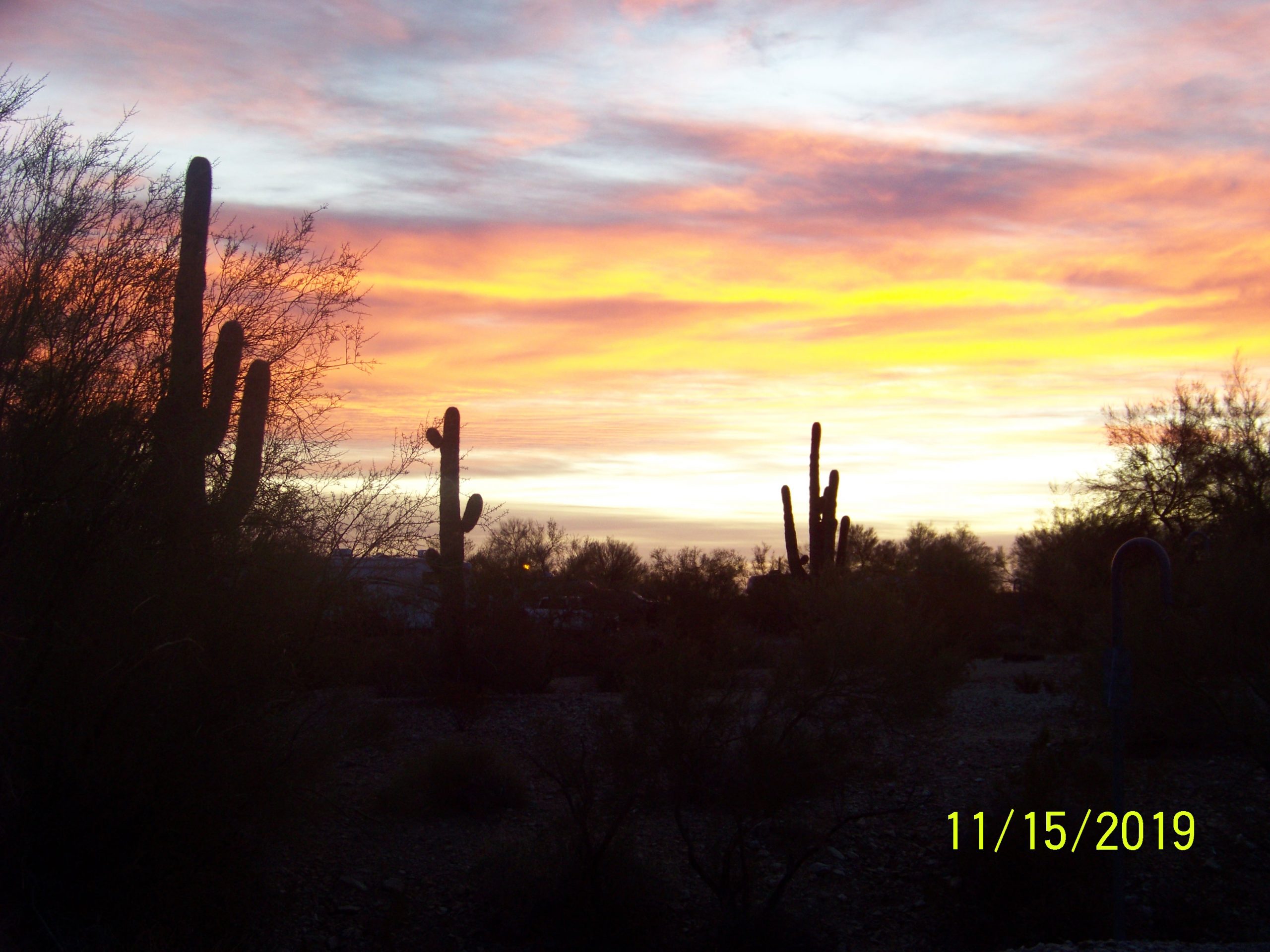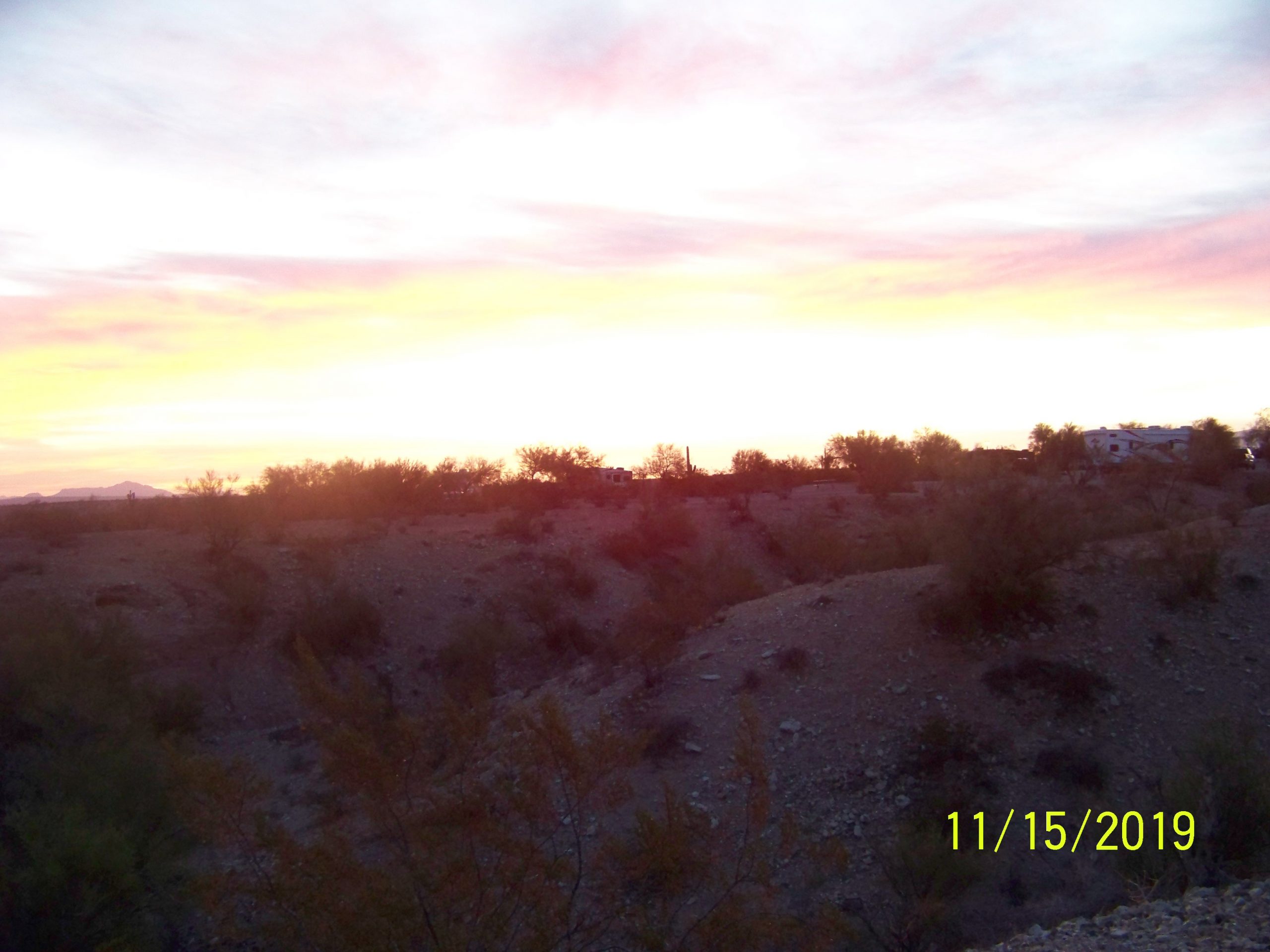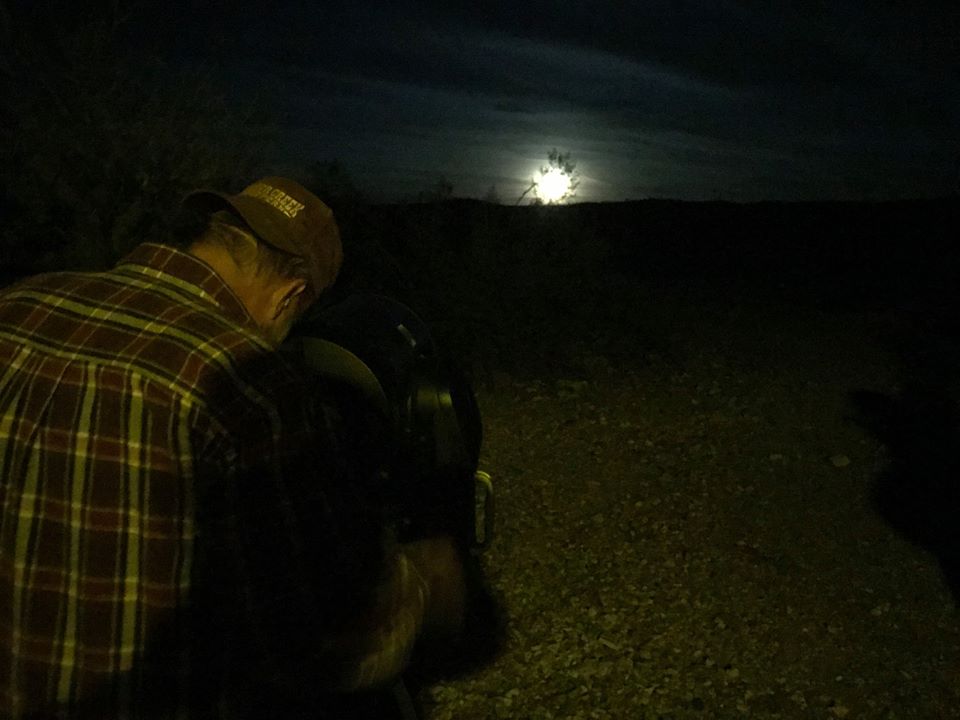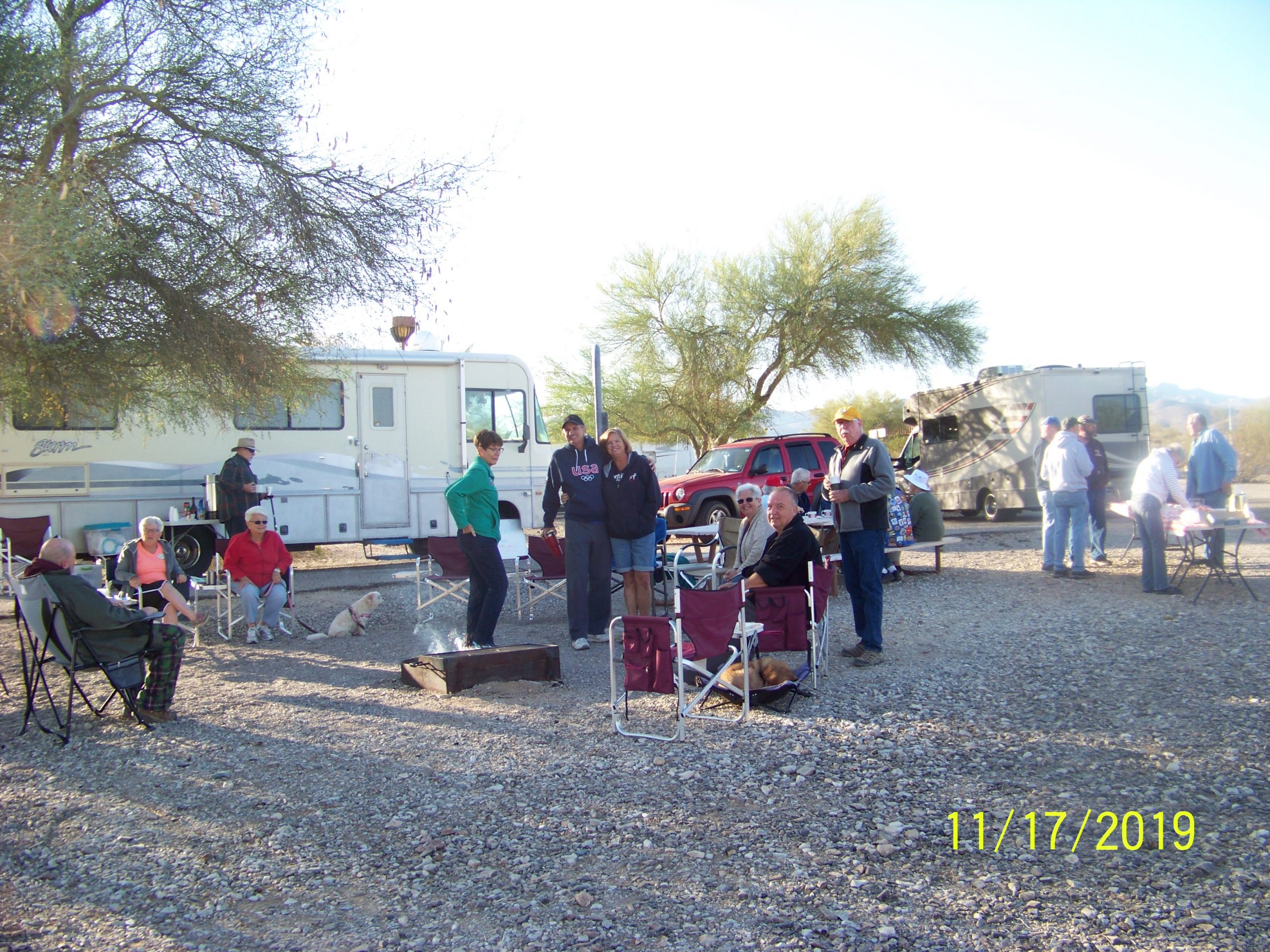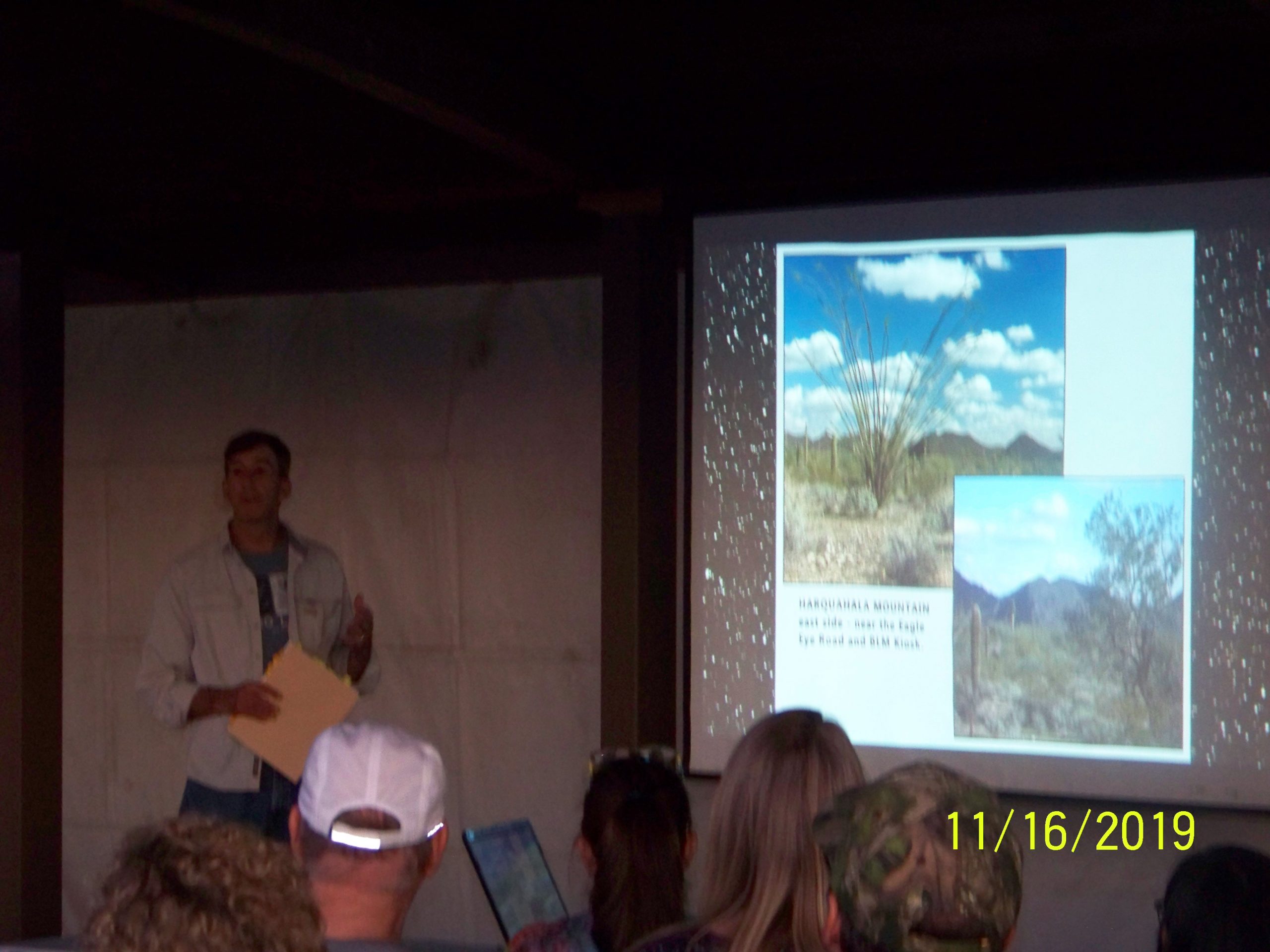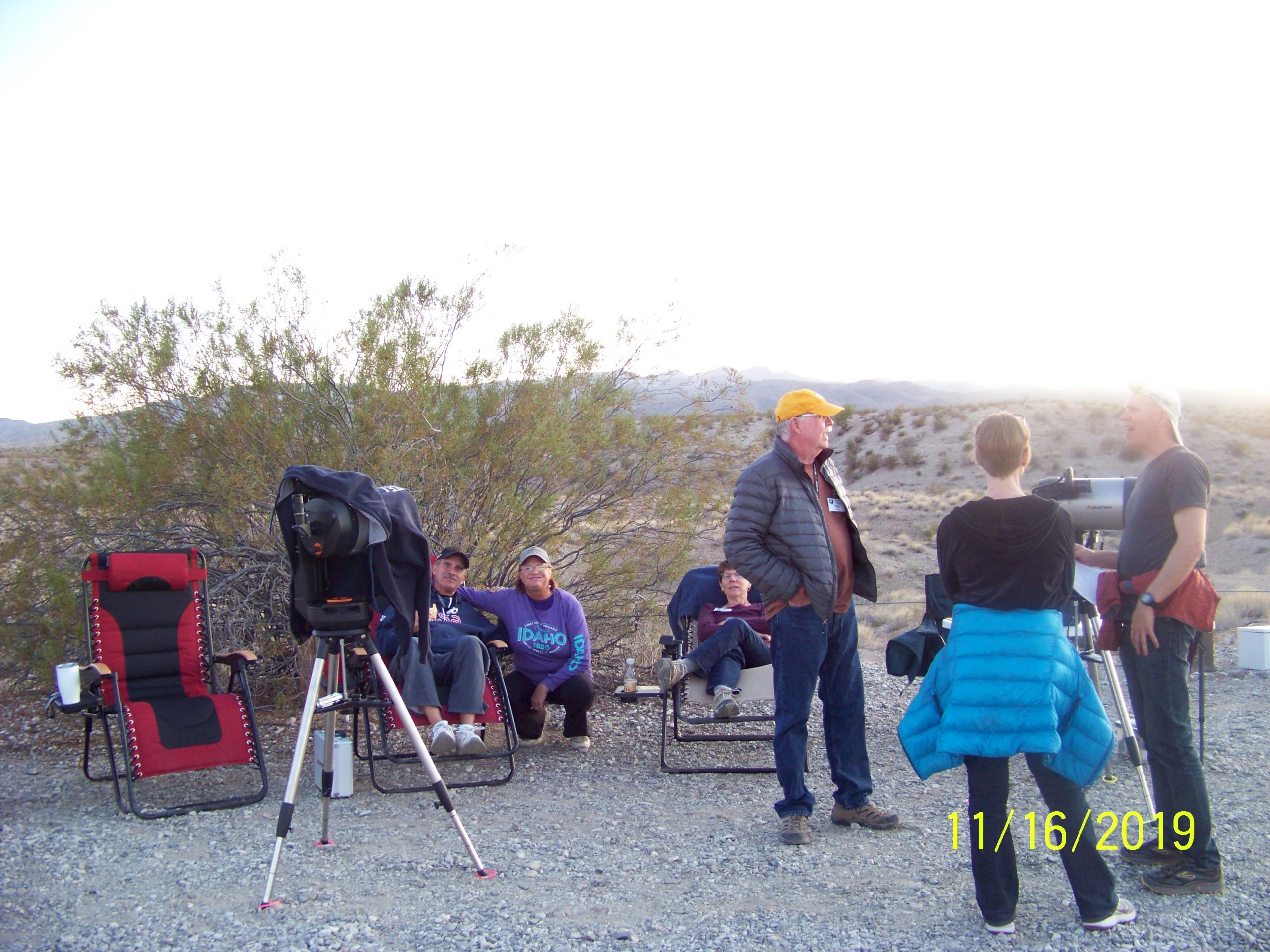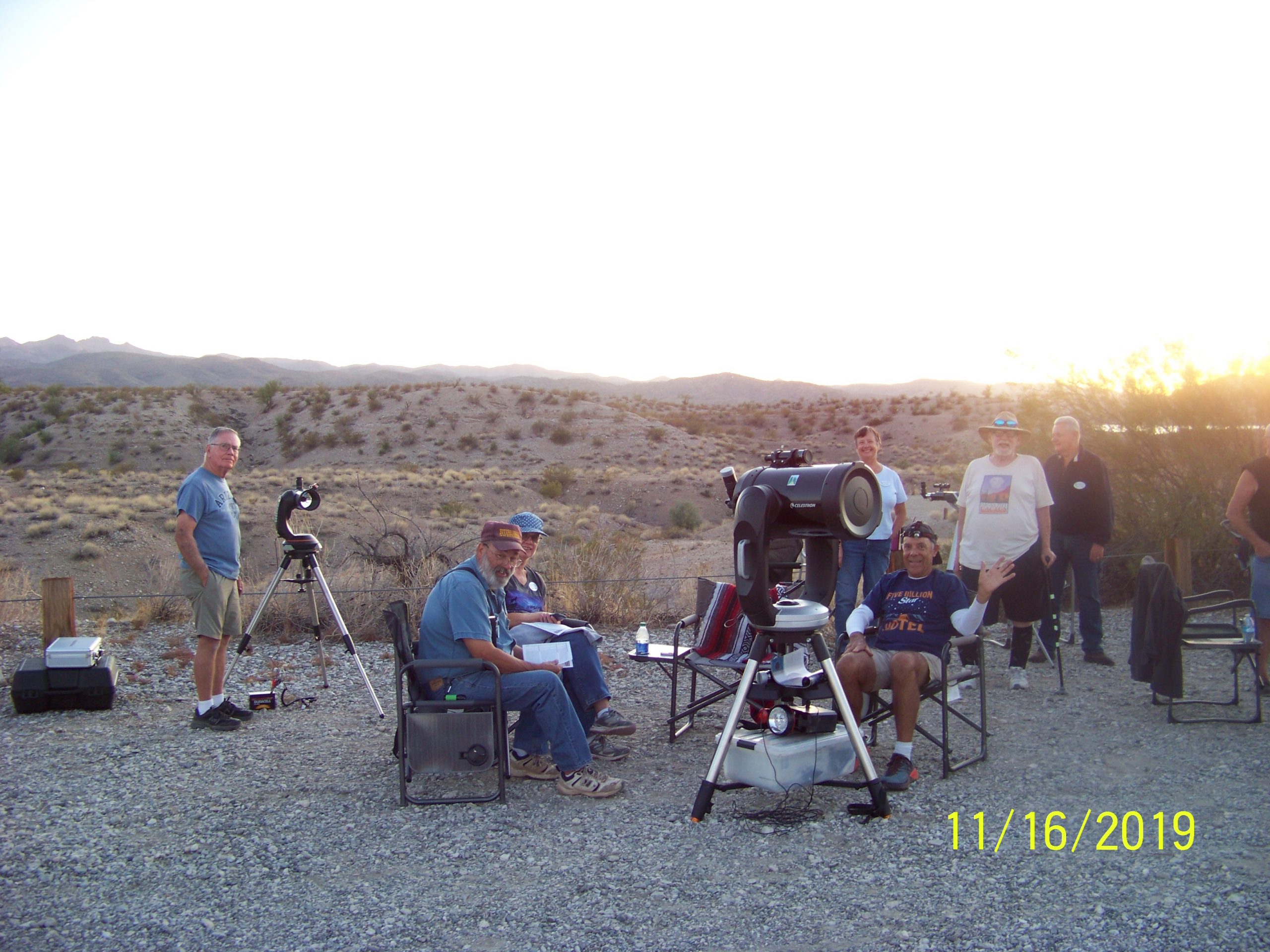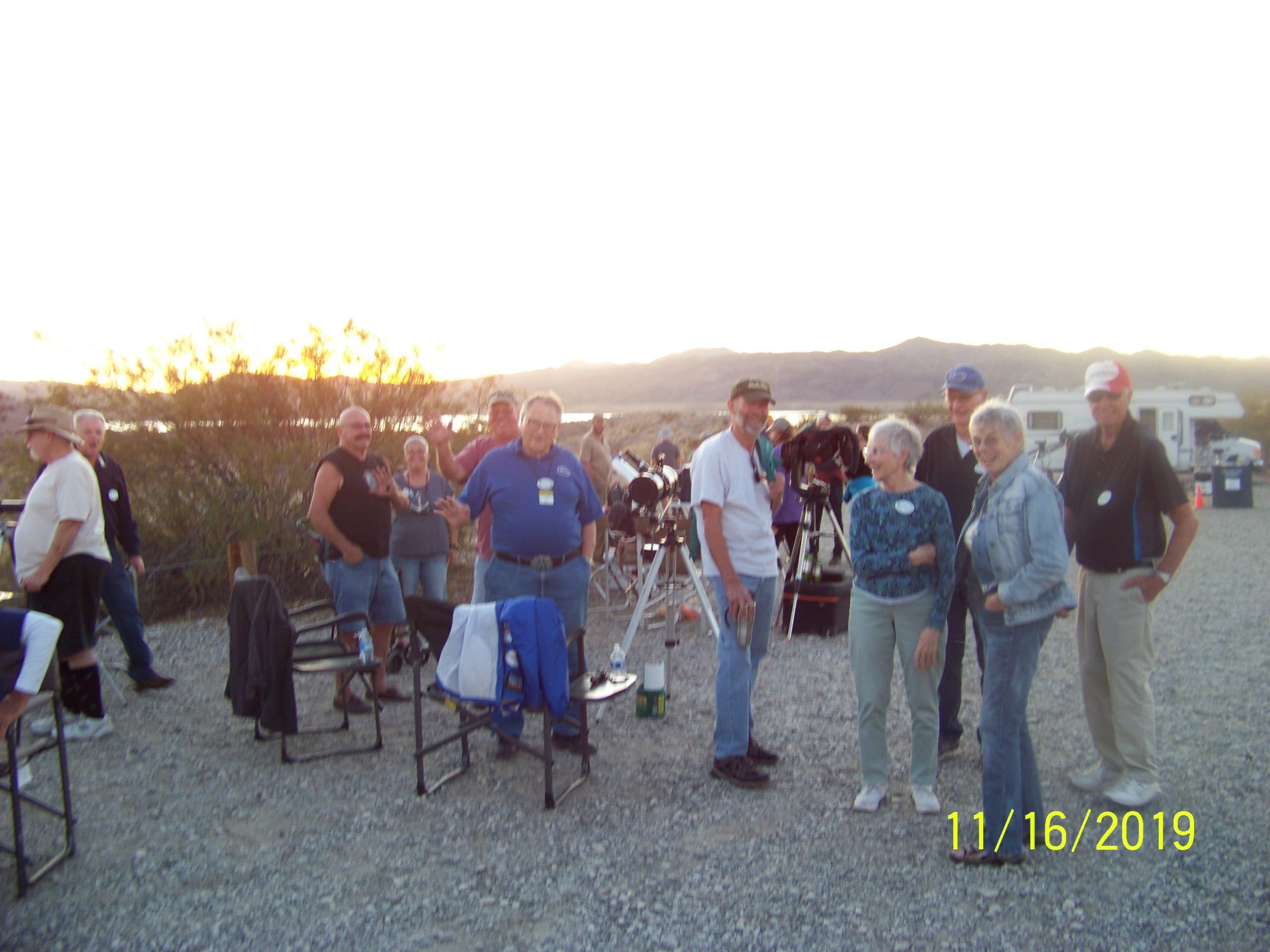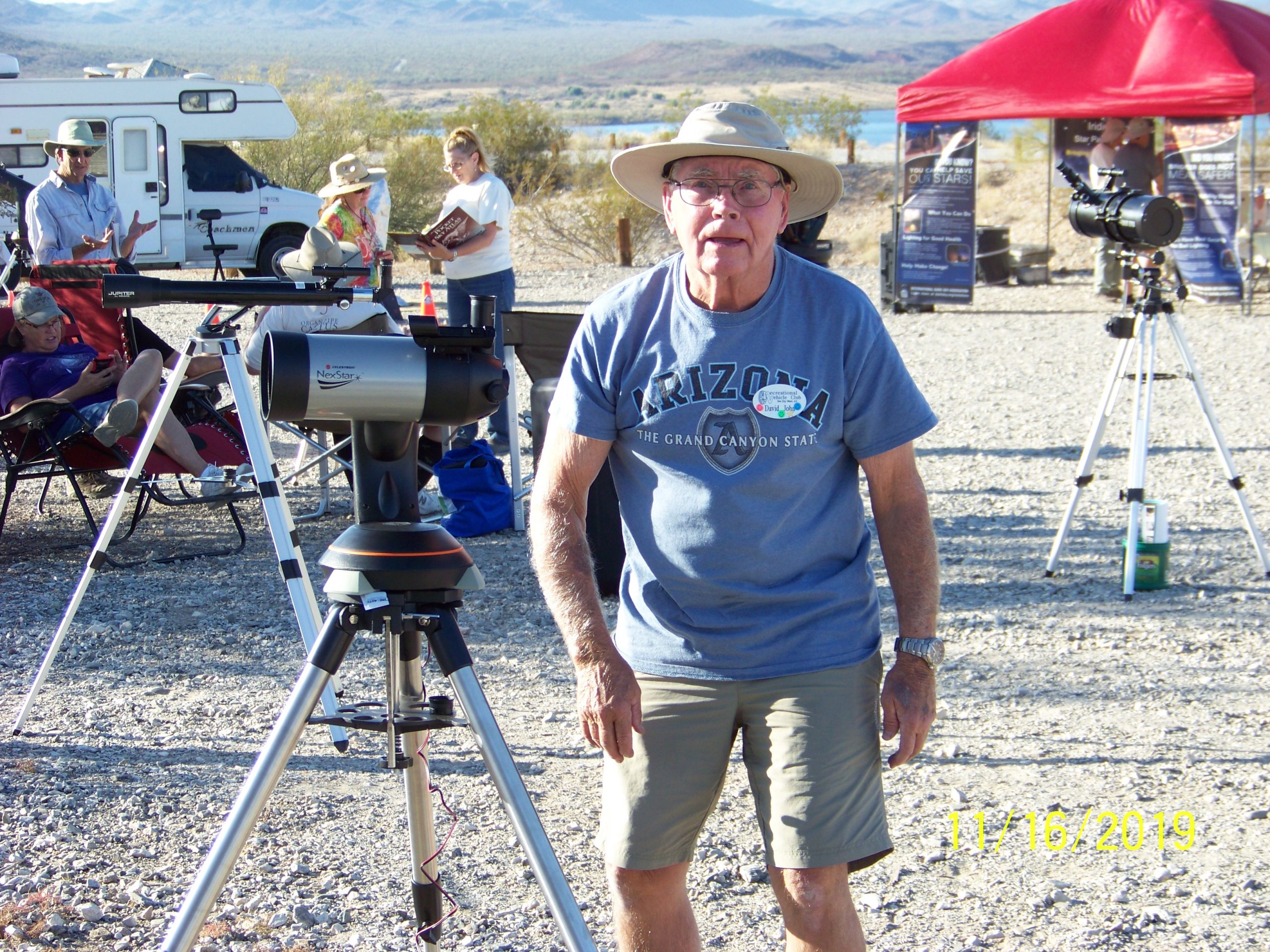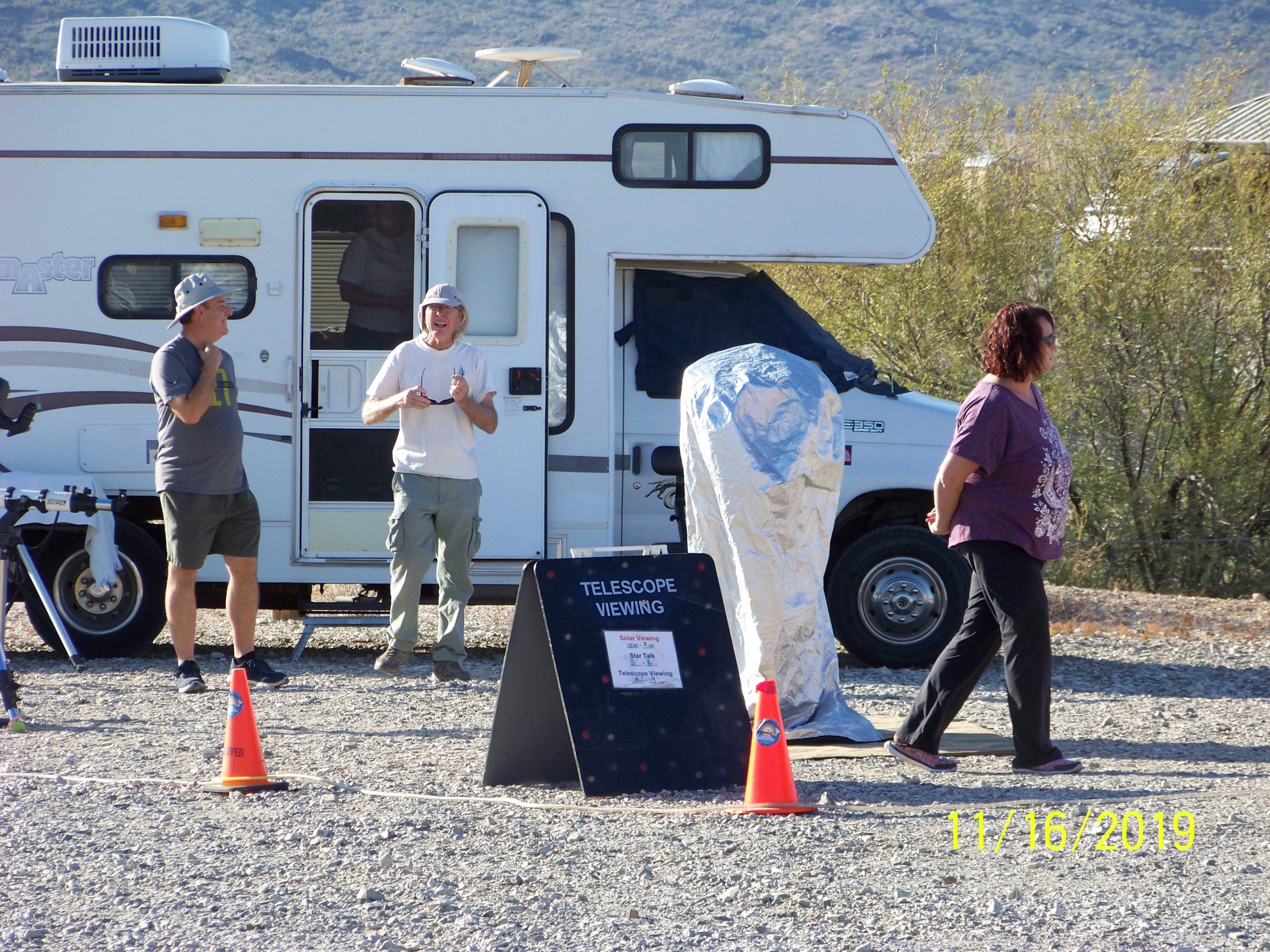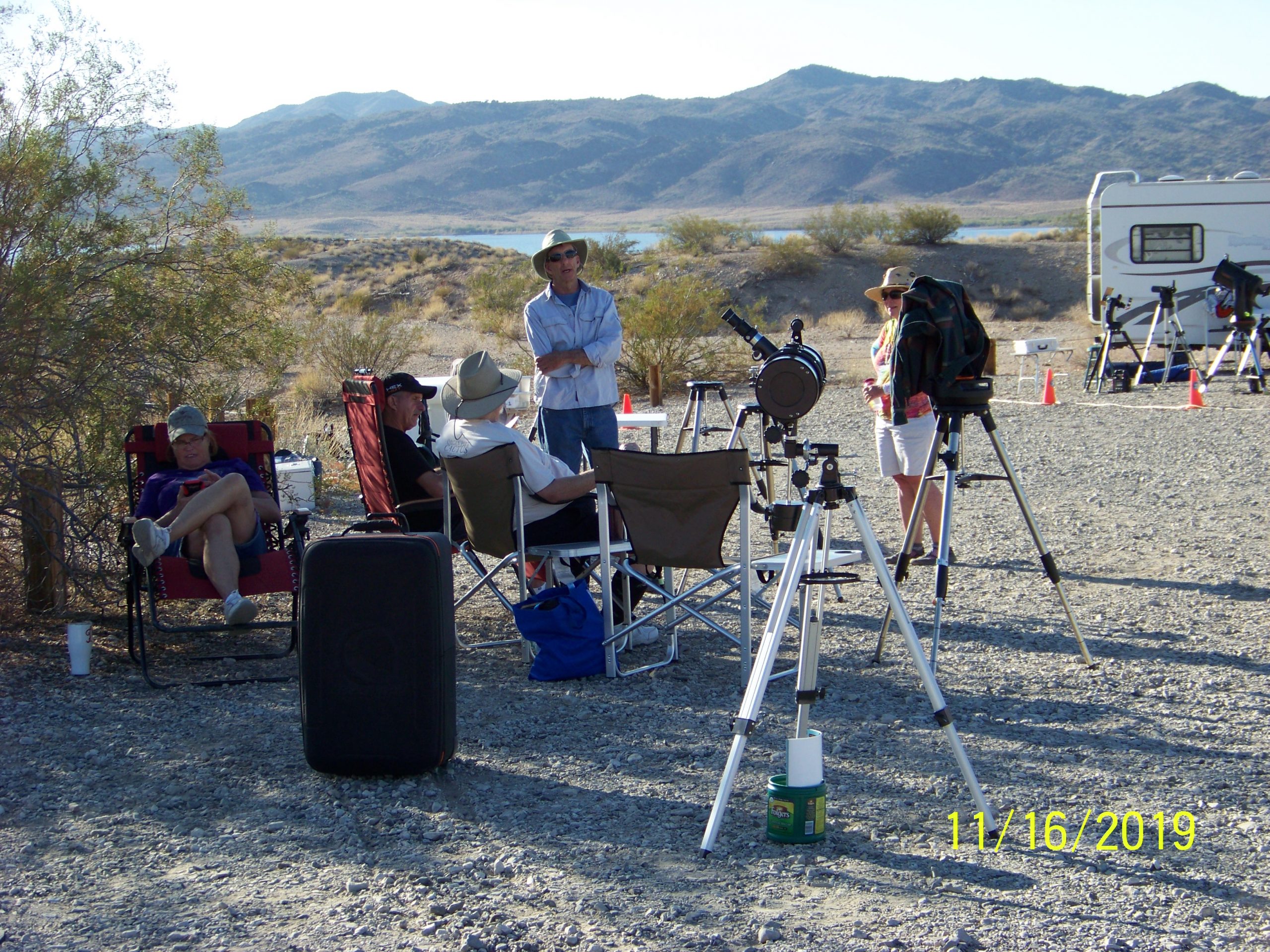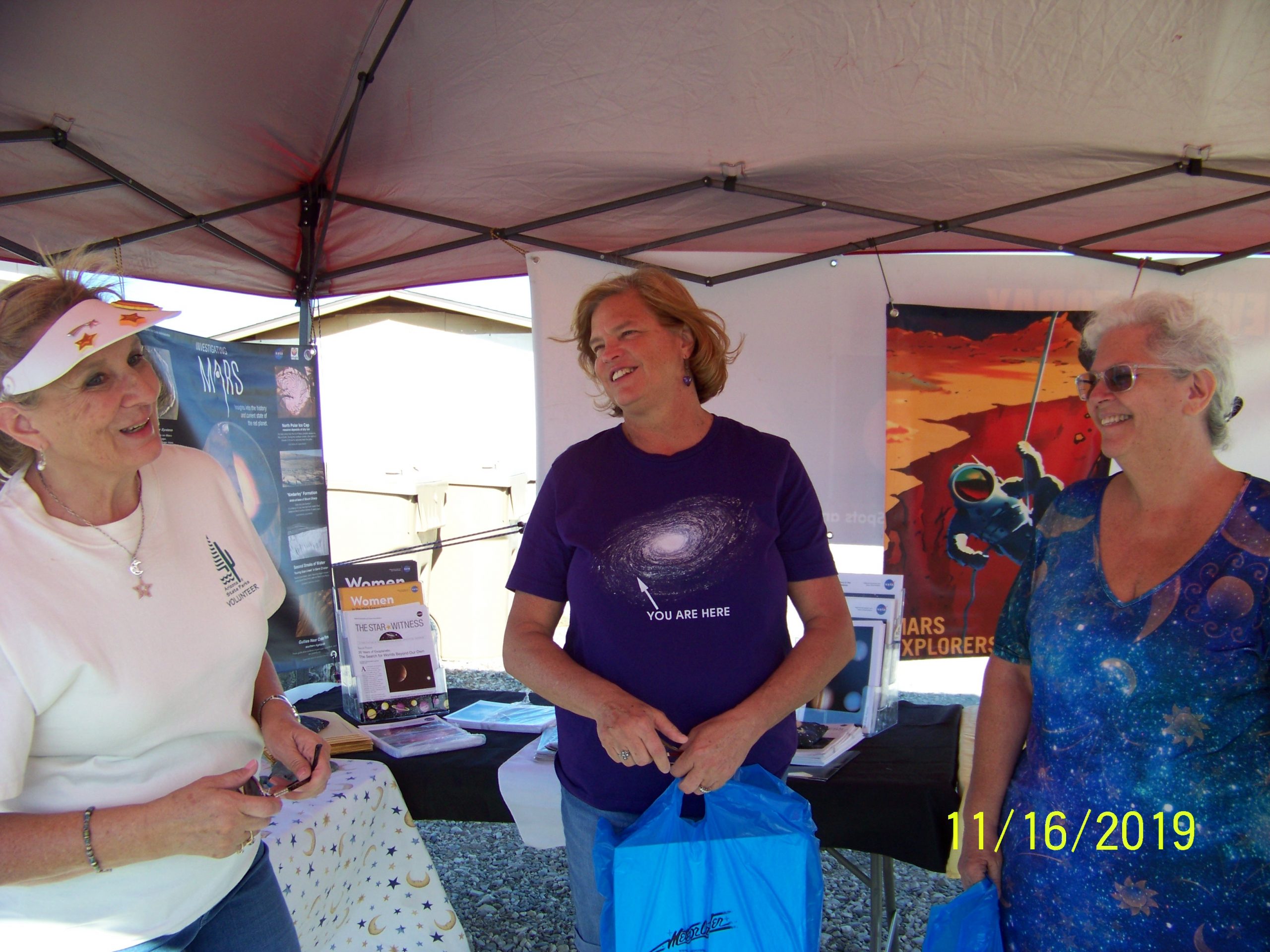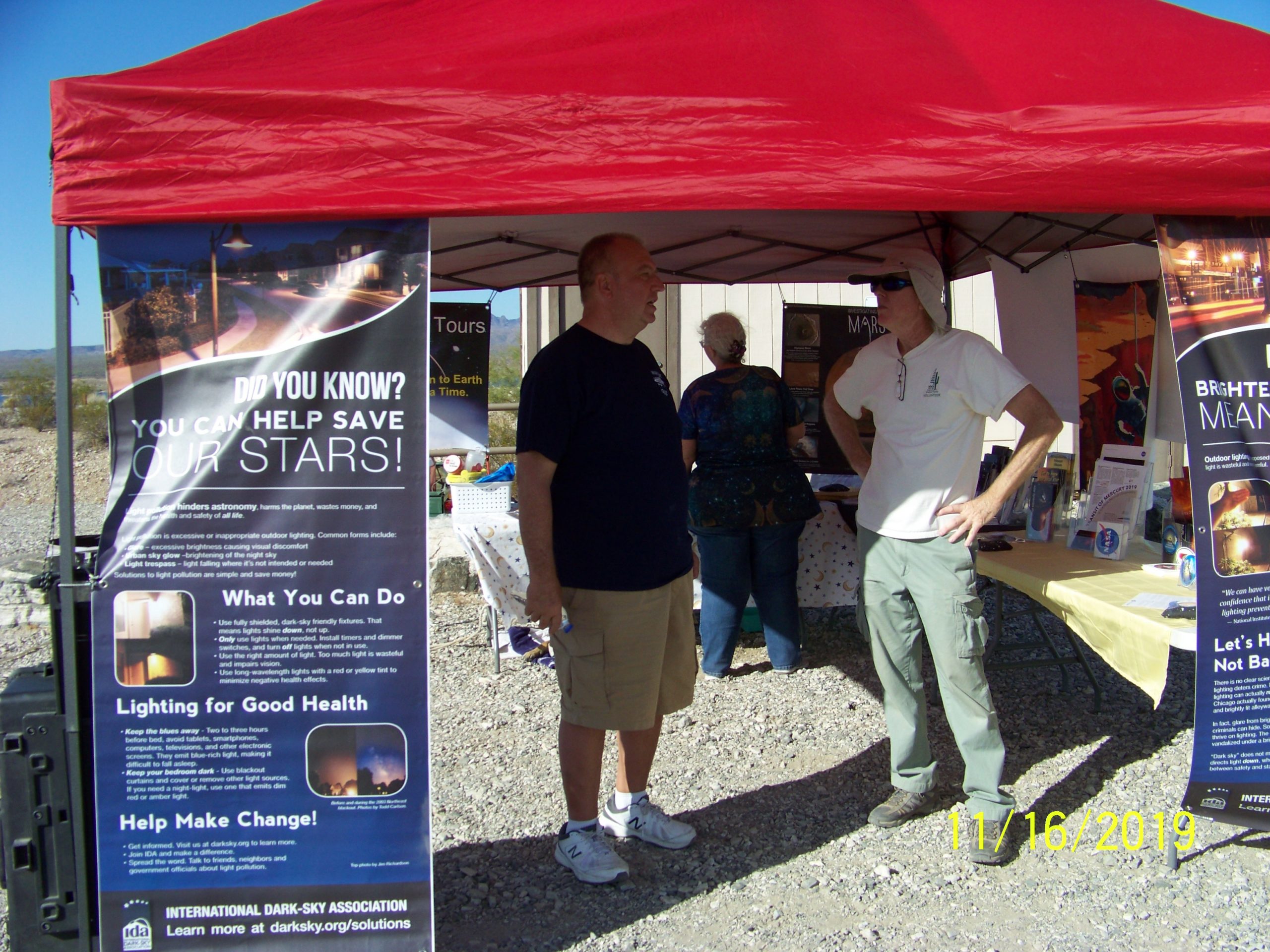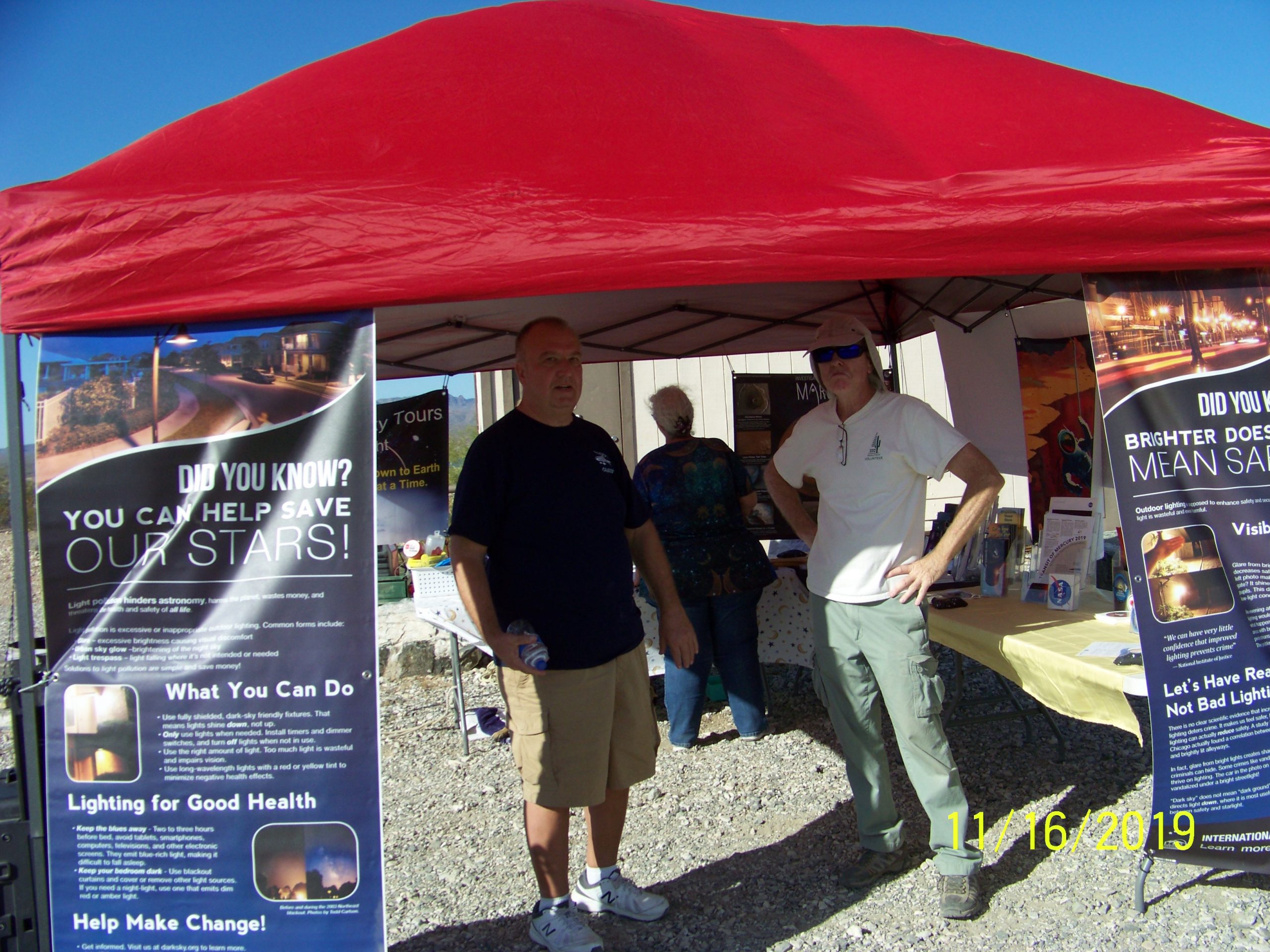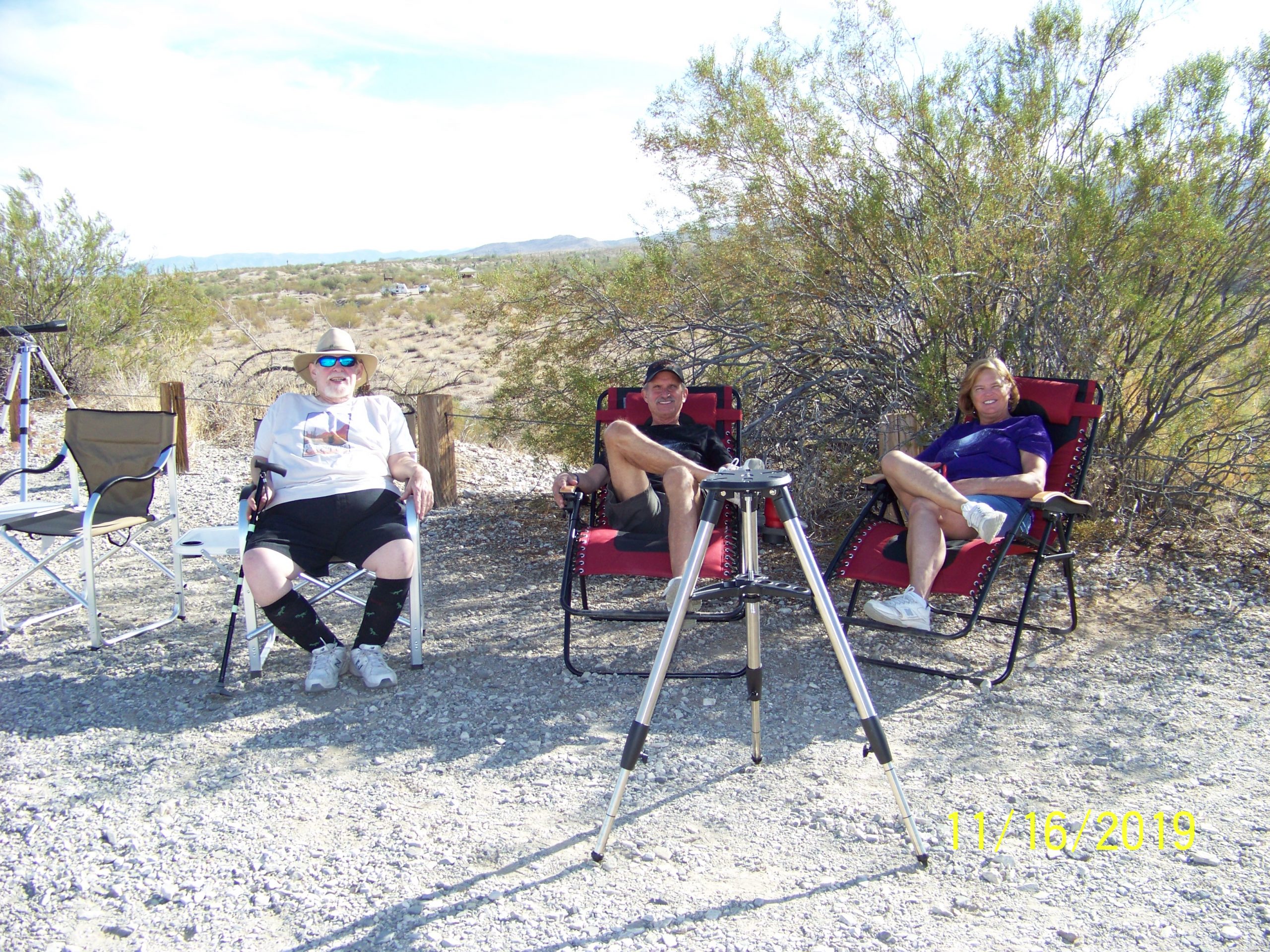 Surprise Arizona SciTech Festival – November 2nd, 2019
WVAC has been invited to participate in the Surprise Arizona SciTech Festival, this is a free event, we look forward to seeing you there and look for our table. For more info click (here).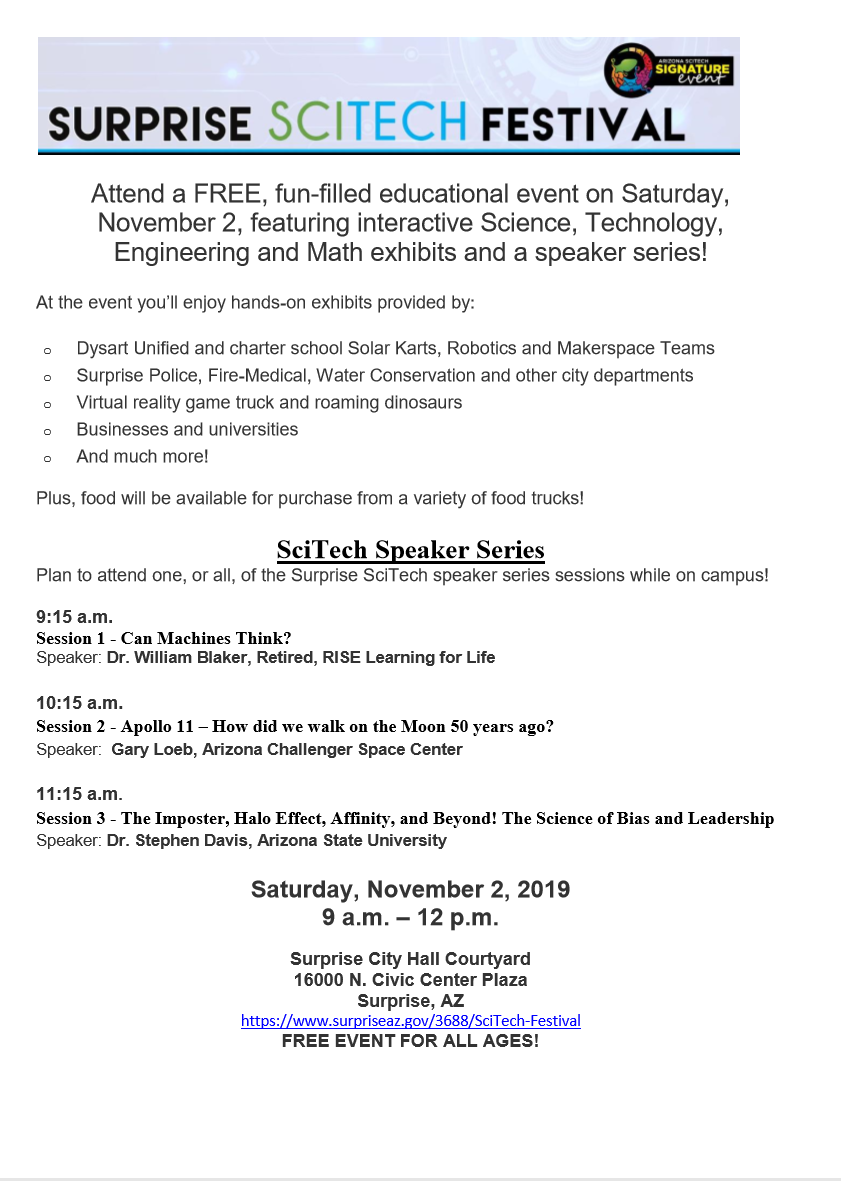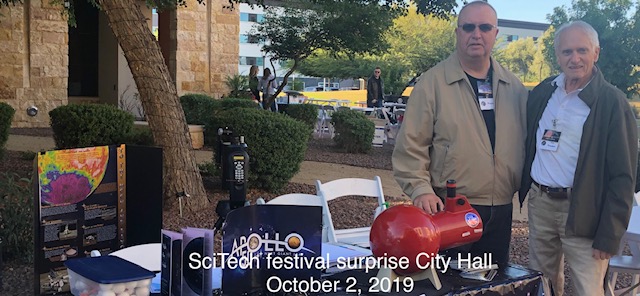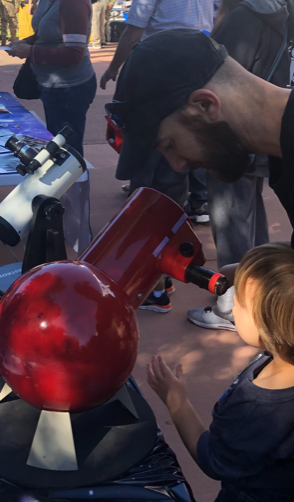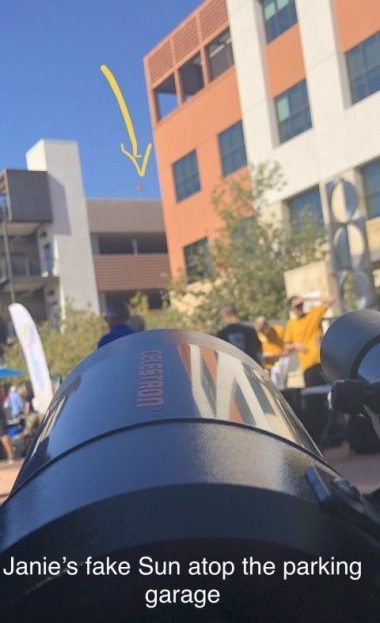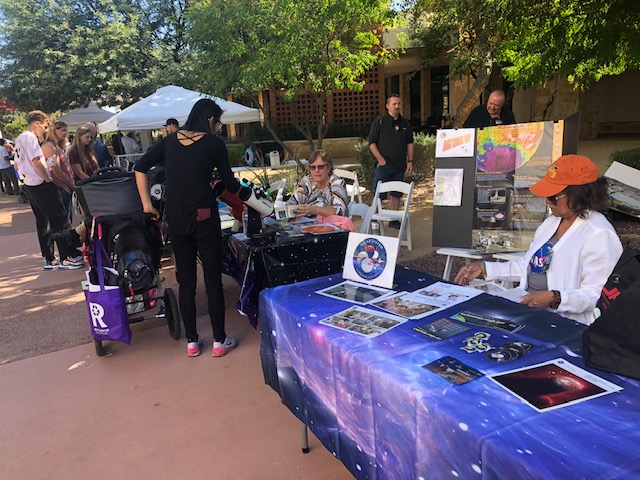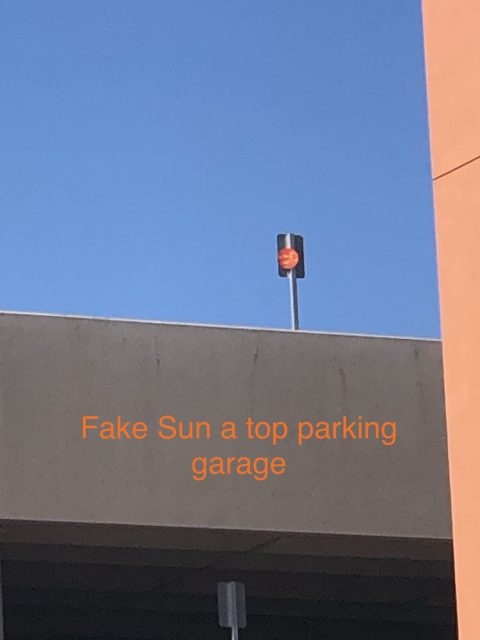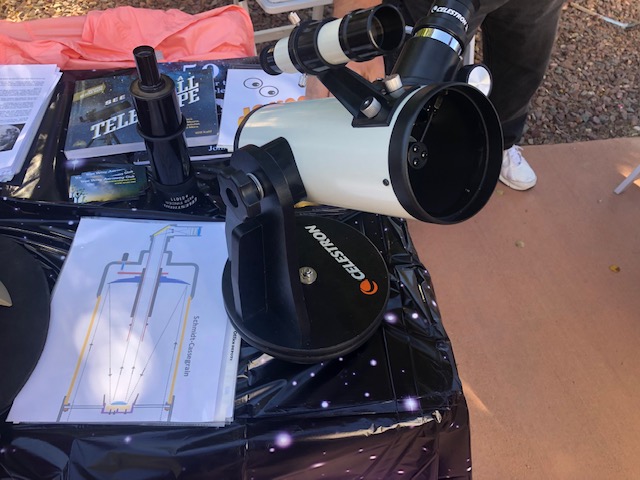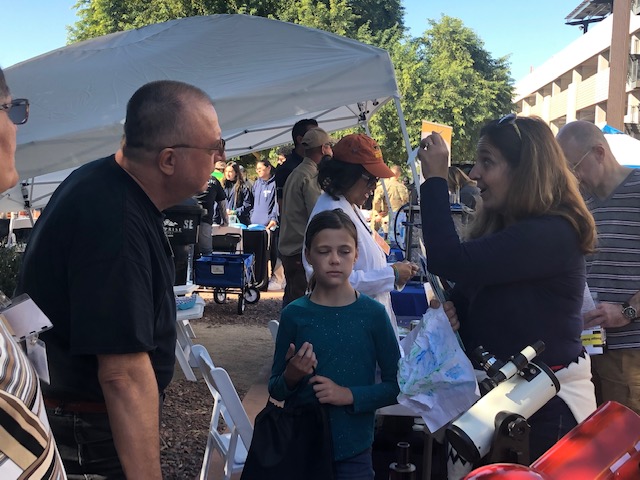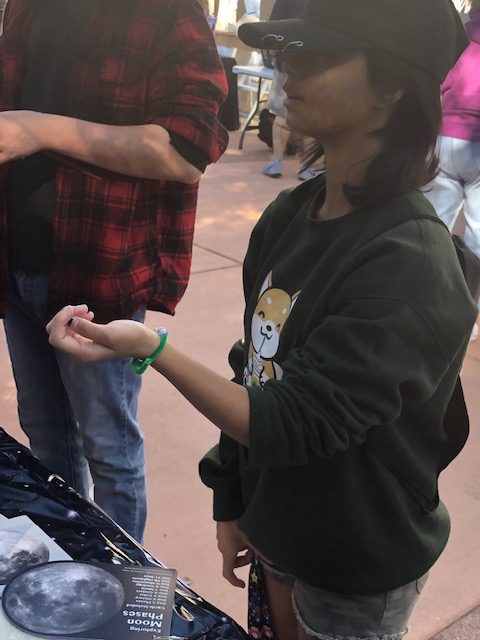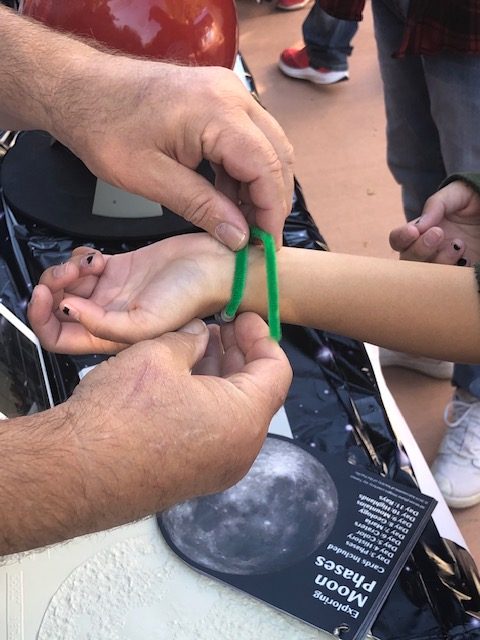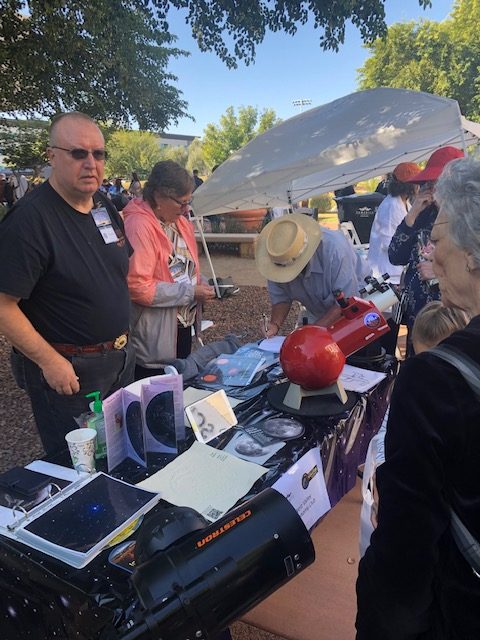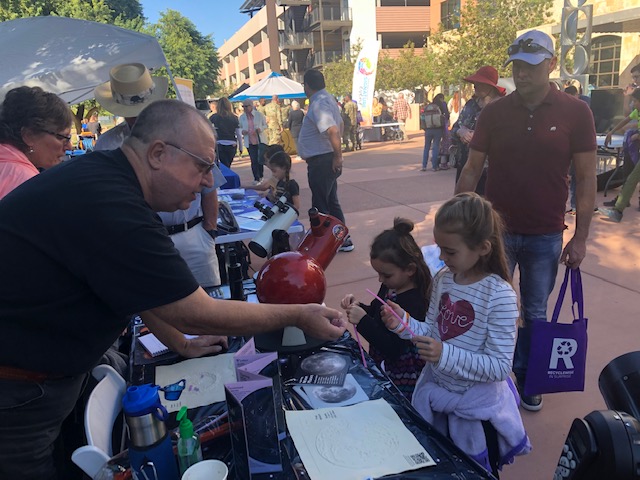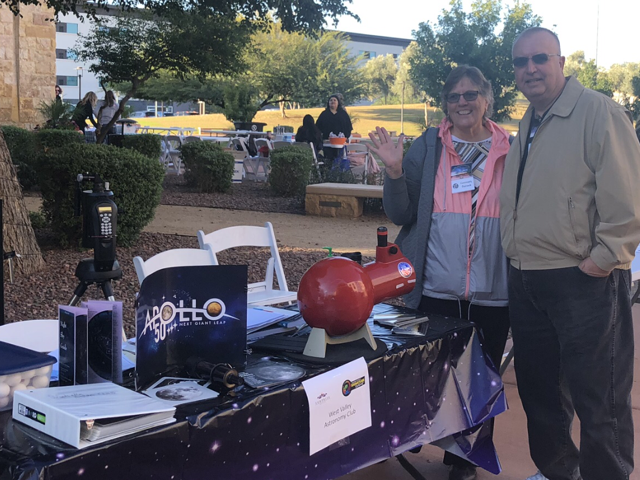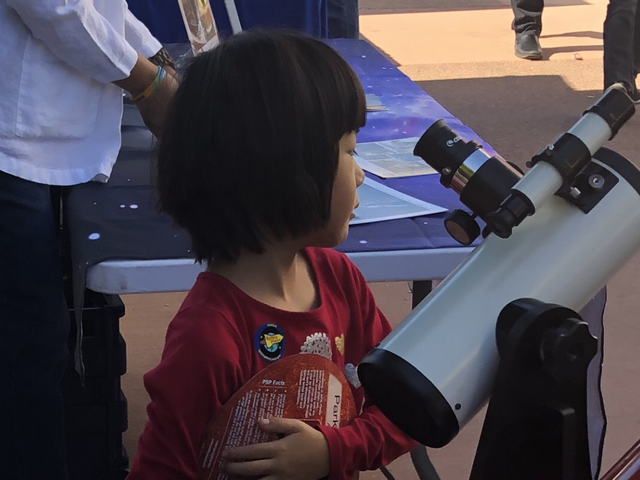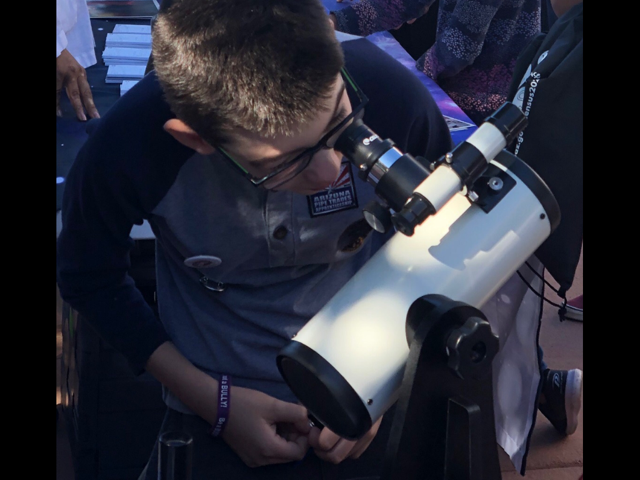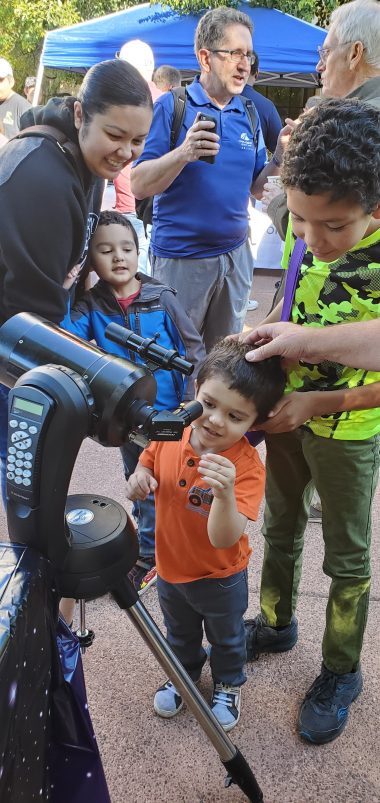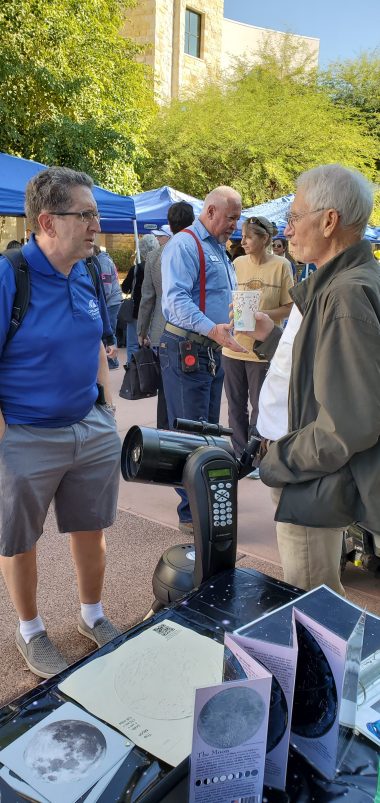 International Observe The Moon Night – October 2019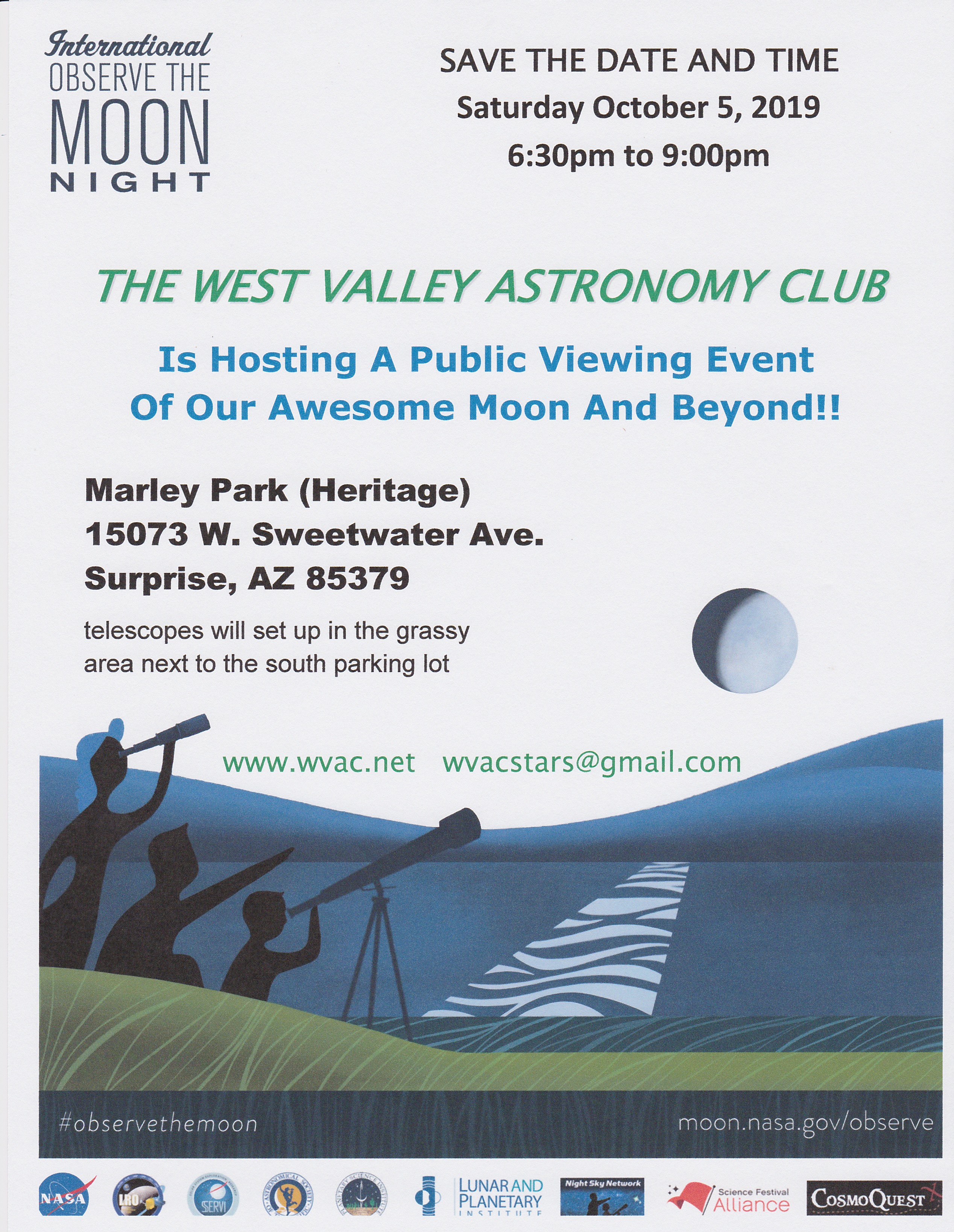 INTERNATIONAL OBSERVE THE MOON NIGHT
On Saturday October 5, nineteen club members gathered at Marley Park in Surprise to celebrate the Moon.  WVAC was one of the 2093 registered worldwide participants for the 2019 InOMN.
A big thank you to the 19 club members who came with telescopes and binoculars, what a great way to connect with our fellow lunar enthusiasts!
We did not take attendance but the event was very well attended by the residents of Marley Park and Surprise.  Marley Park was chosen as a follow-up with the second grade class at Marley Elementary School.  We heard that the event had been announced on the morning news.  John Cline also had it posted in the Surprise Independent.
We couldn't have asked for a clearer night.  The Moon, Jupiter, and Saturn awed the public.  We were also able to point out the constellations of Scorpius and Sagittarius.
International Observe the Moon Night is a worldwide celebration of lunar science and exploration, celestial observation, and our cultural and personal connections to the Moon. It has been held annually since 2010. One day each year, everyone on Earth is invited to observe, learn about, and celebrate the Moon together. The Moon is the stepping stone to the cosmos and for discussions of lunar and planetary science, exploration and celestial observation.
More About International Observe the Moon Night
Each year, thousands of people worldwide participate in events at museums/science centers, libraries, planetariums/observatories, schools, universities, parks, community centers and private residences/businesses and backyards around the world.  People, young and old, come together to learn about lunar science, see the Moon, stars, and planets through telescopes and participate in hands on experiments/activities.
Everyone can participate. All you need to do is look up!
This is a time for libraries to feature Moon books, radio stations to play Moon songs, schools to unite around a common lunar theme in art, history, engineering, language, and science classes – everyone can explore the Moon from their own angle.
International Observe the Moon Night is sponsored by NASA's Lunar Reconnaissance Orbiter mission and the Solar System Exploration Division at NASA's Goddard Space Flight Center, with many contributing partners.
This annual event occurs in September or October, when the Moon is around first quarter – a great phase for evening observing. Furthermore, the best lunar observing is typically along the Moon's terminator (the line between night and day) where shadows are the longest, rather than at full Moon.
2018 statistics for global event highlights the reach of the program.
Six continents participated
75 countries hosted events
All 50 U.S. states participated
160,000 participants worldwide 4 million participants since 2010
Plan Ahead
Upcoming dates for International Observe the Moon Night
September 26, 2020
October 16, 2021
October 1, 2022
NASA looks forward to putting the first woman and next man on the Moon by 2024!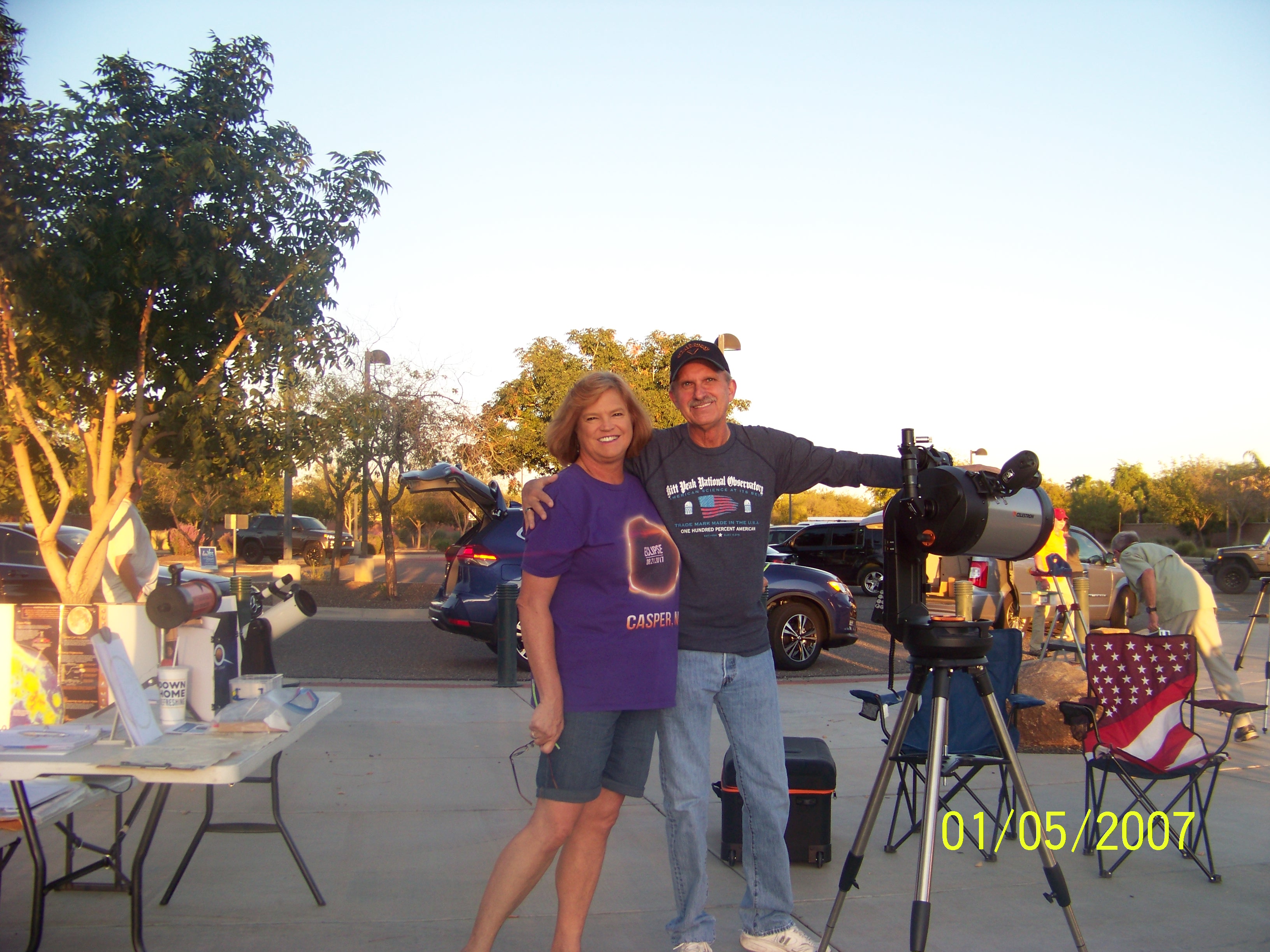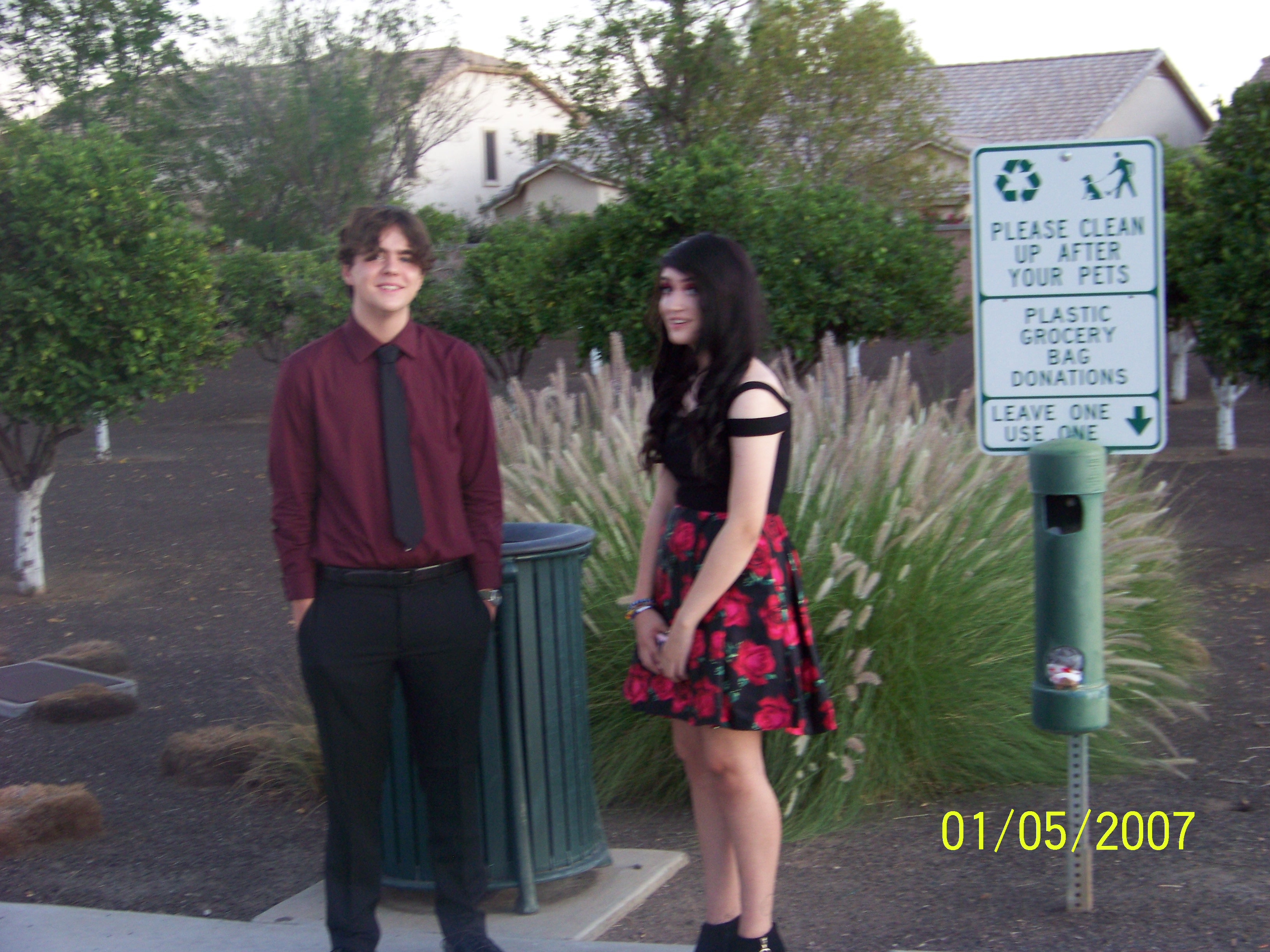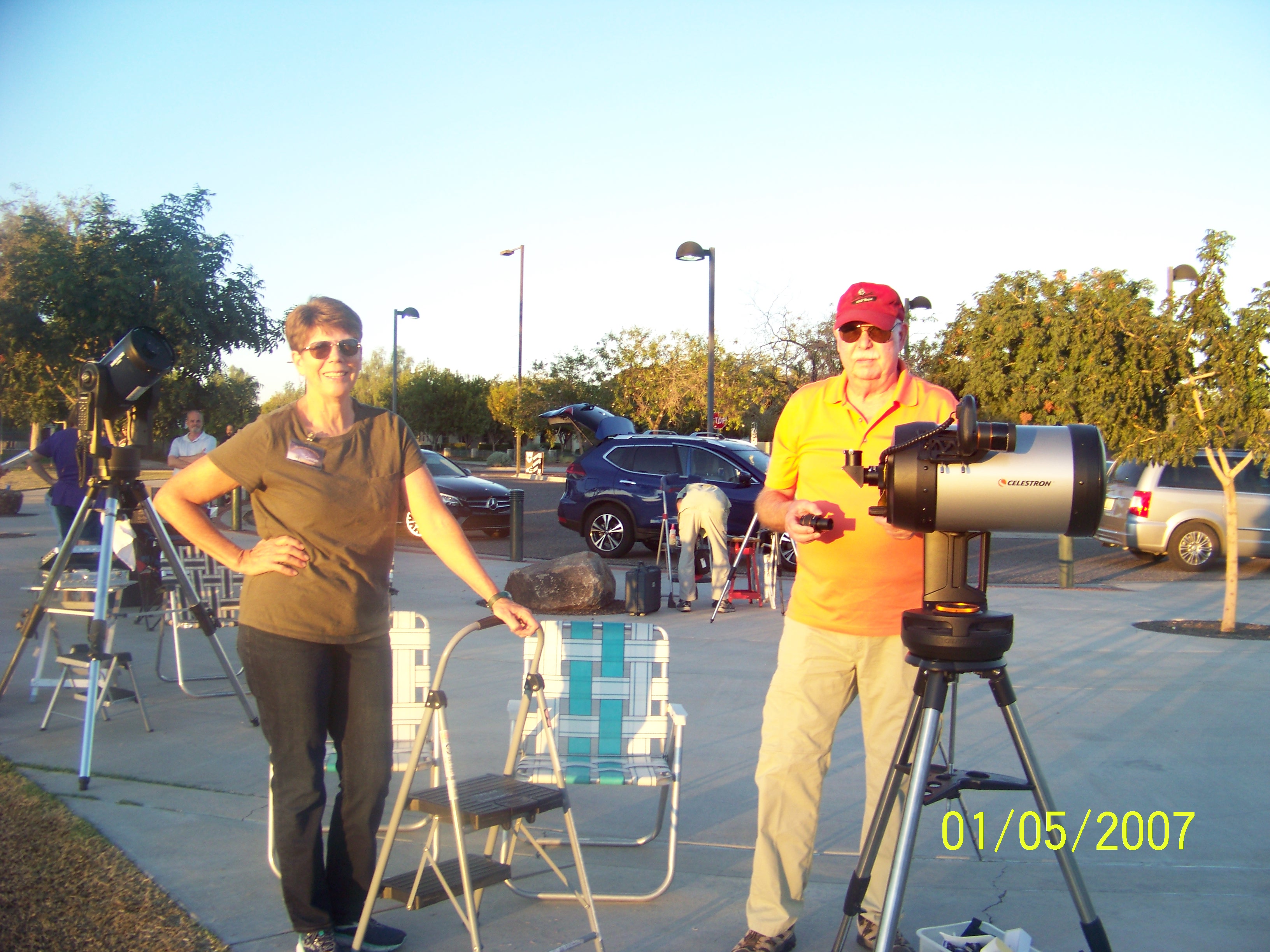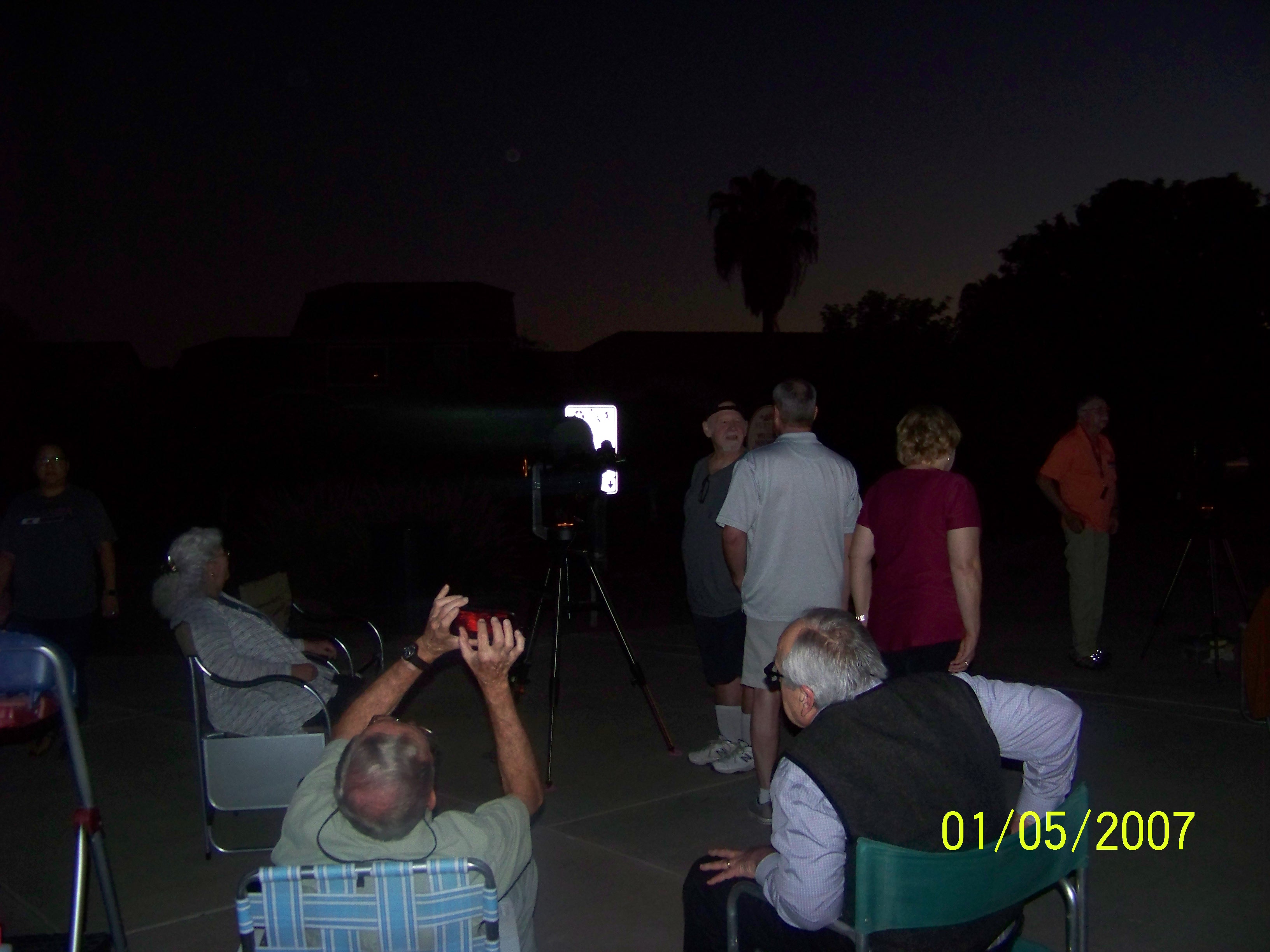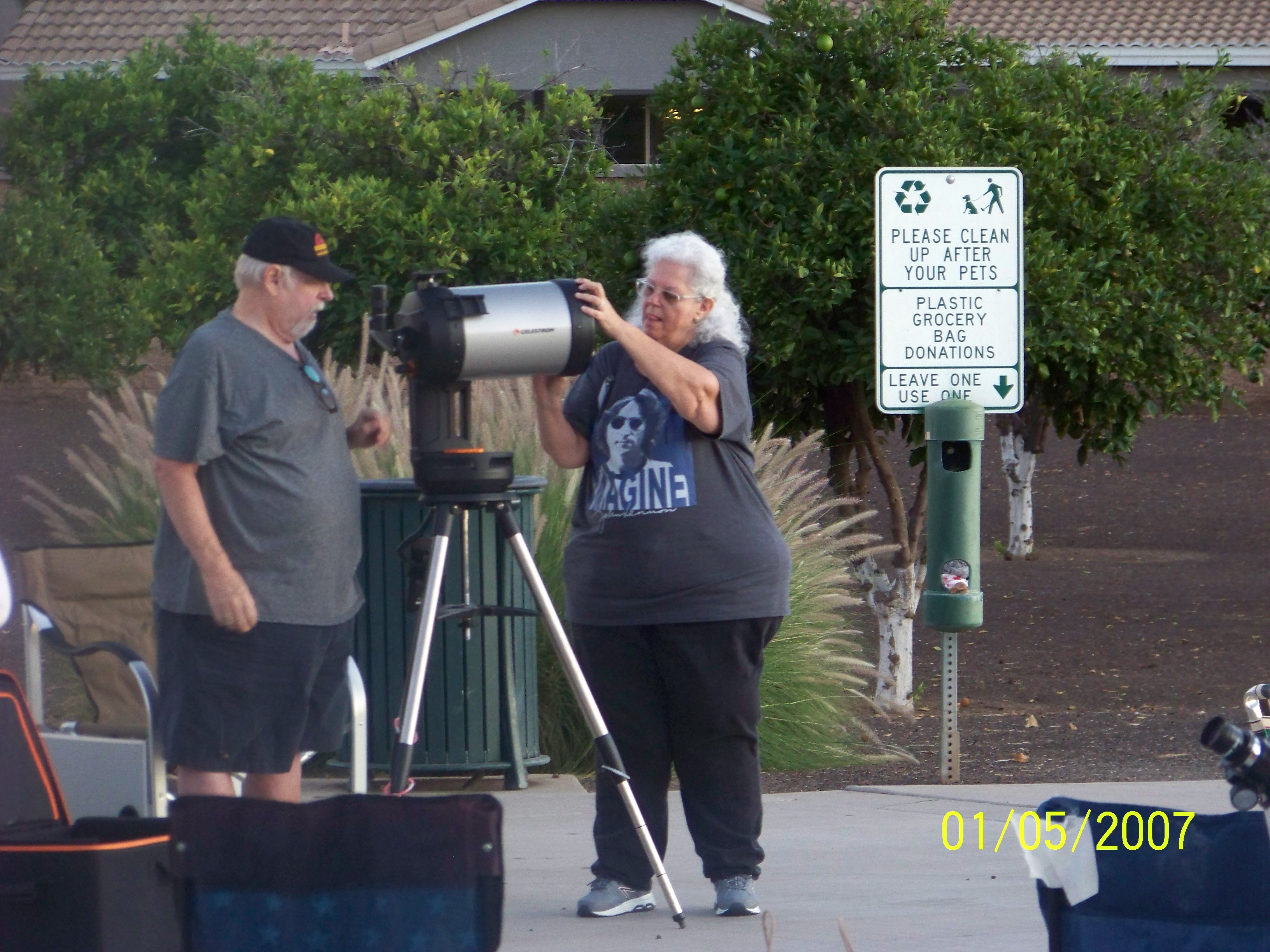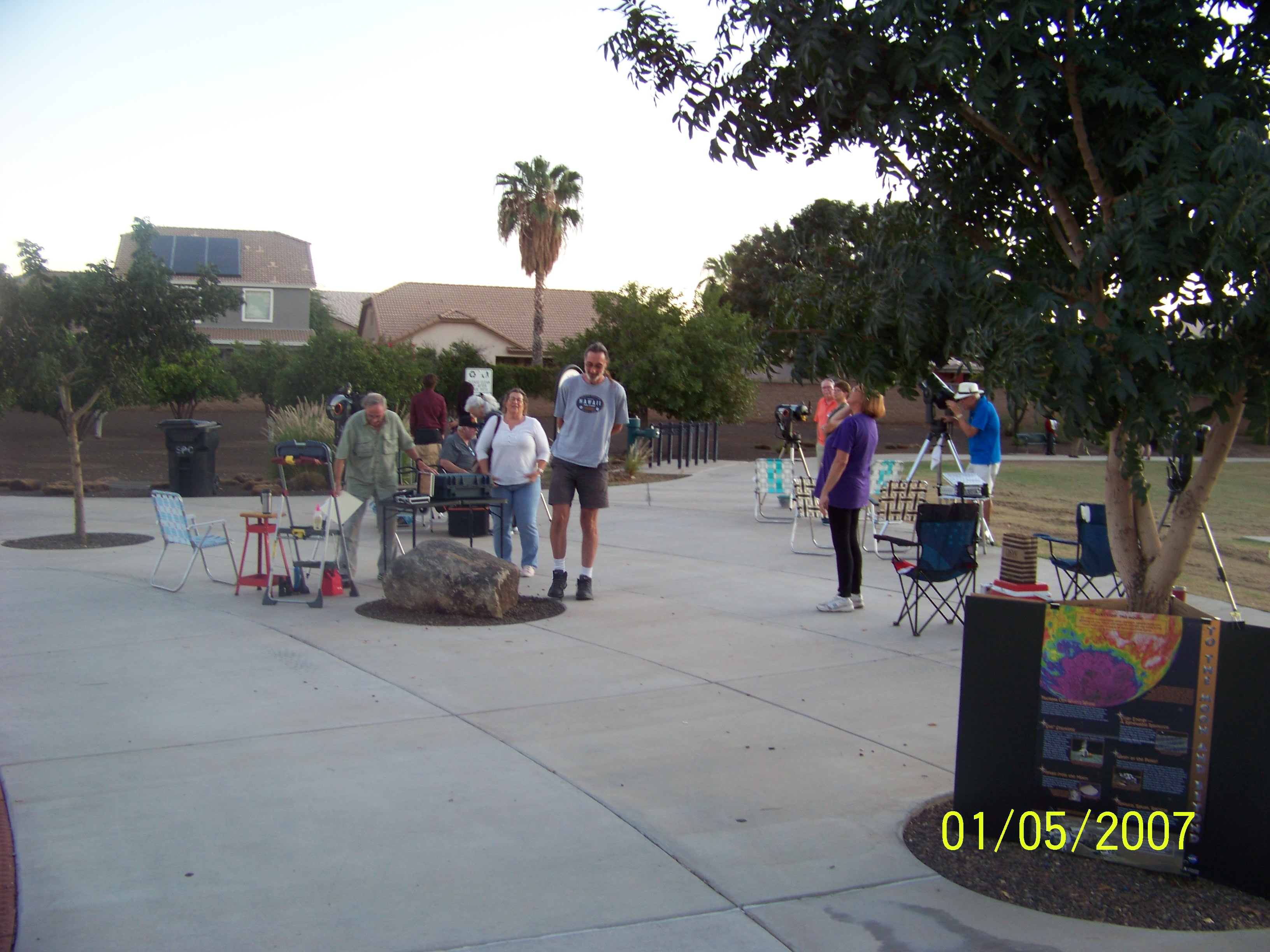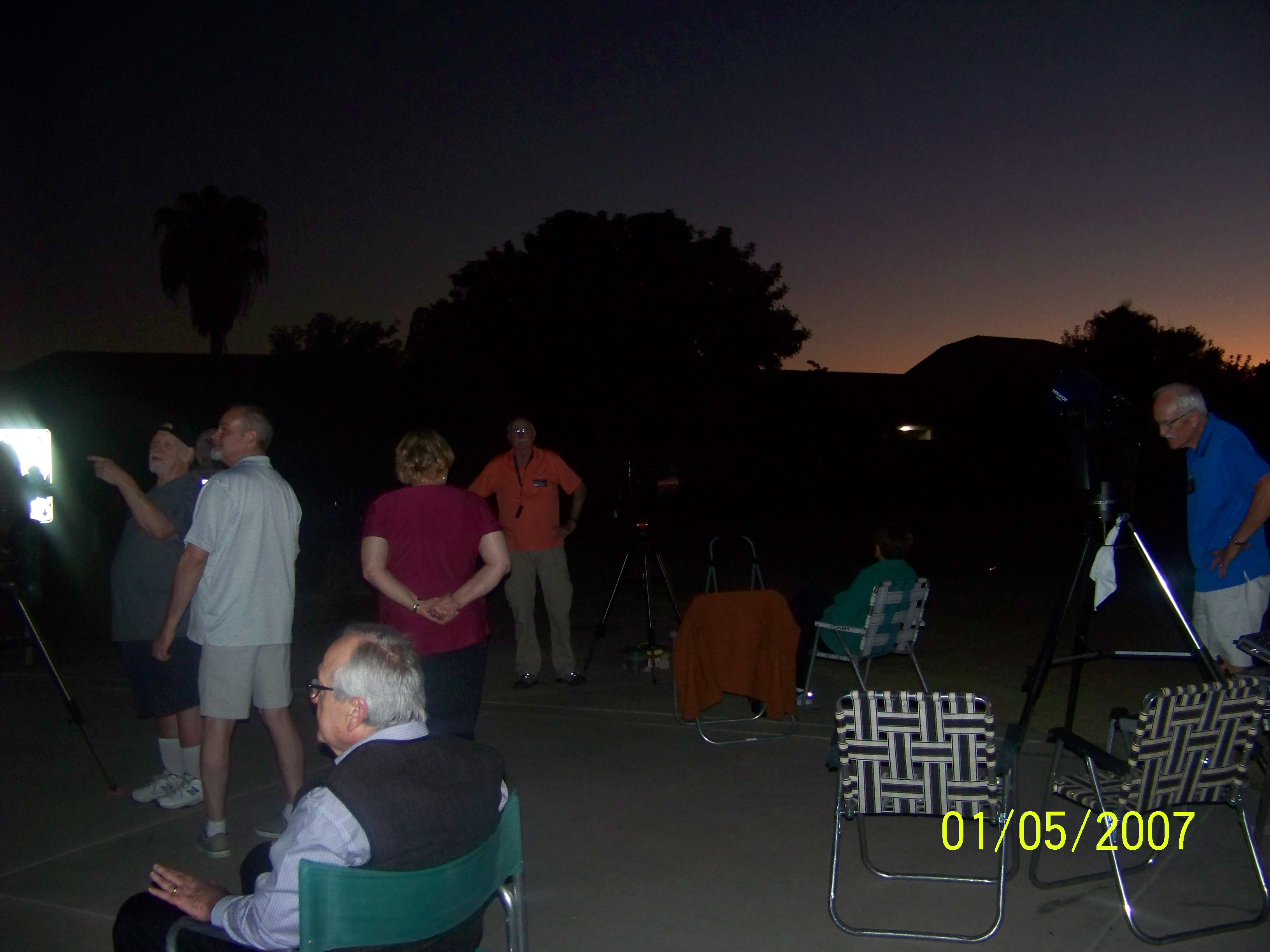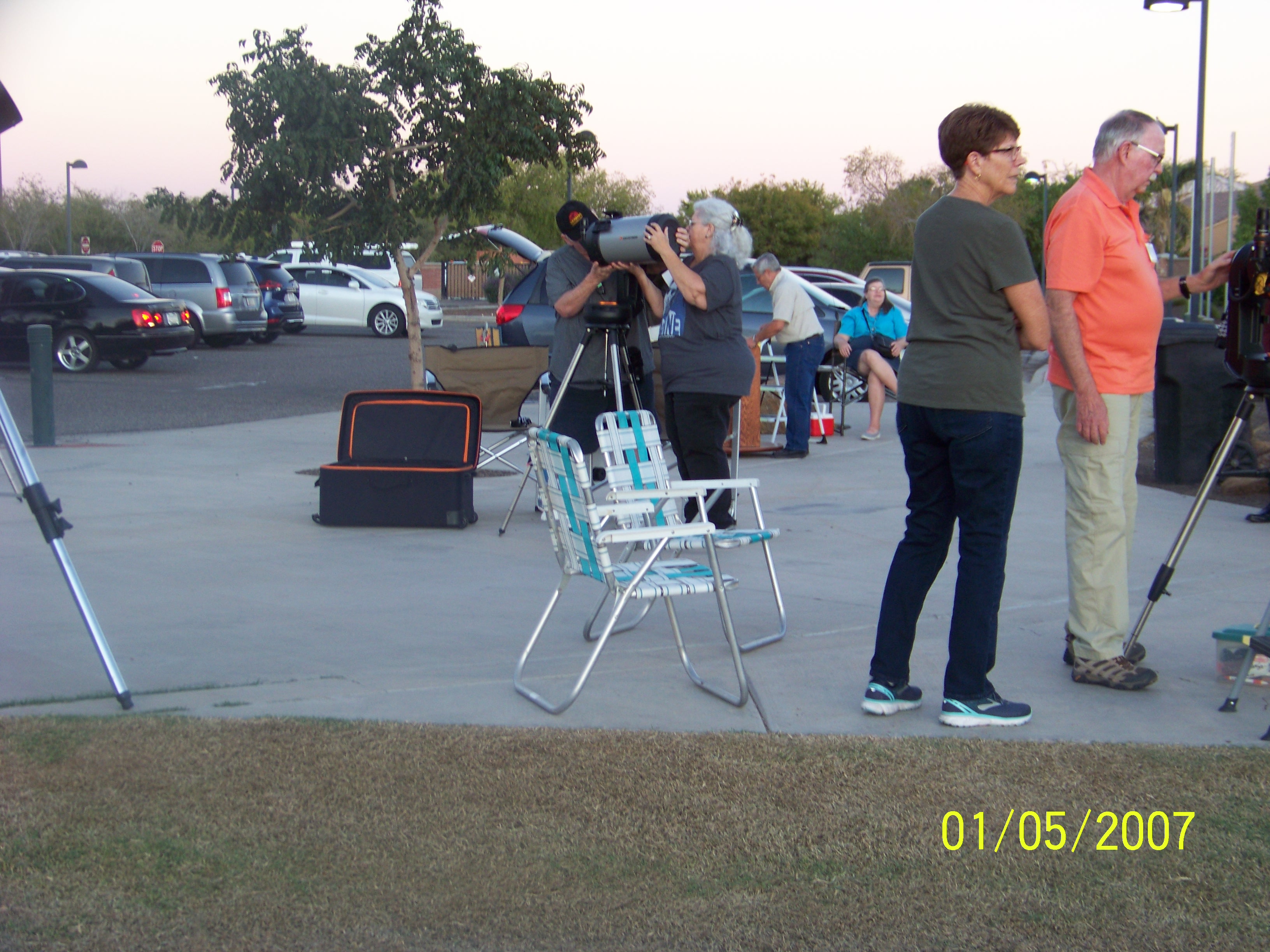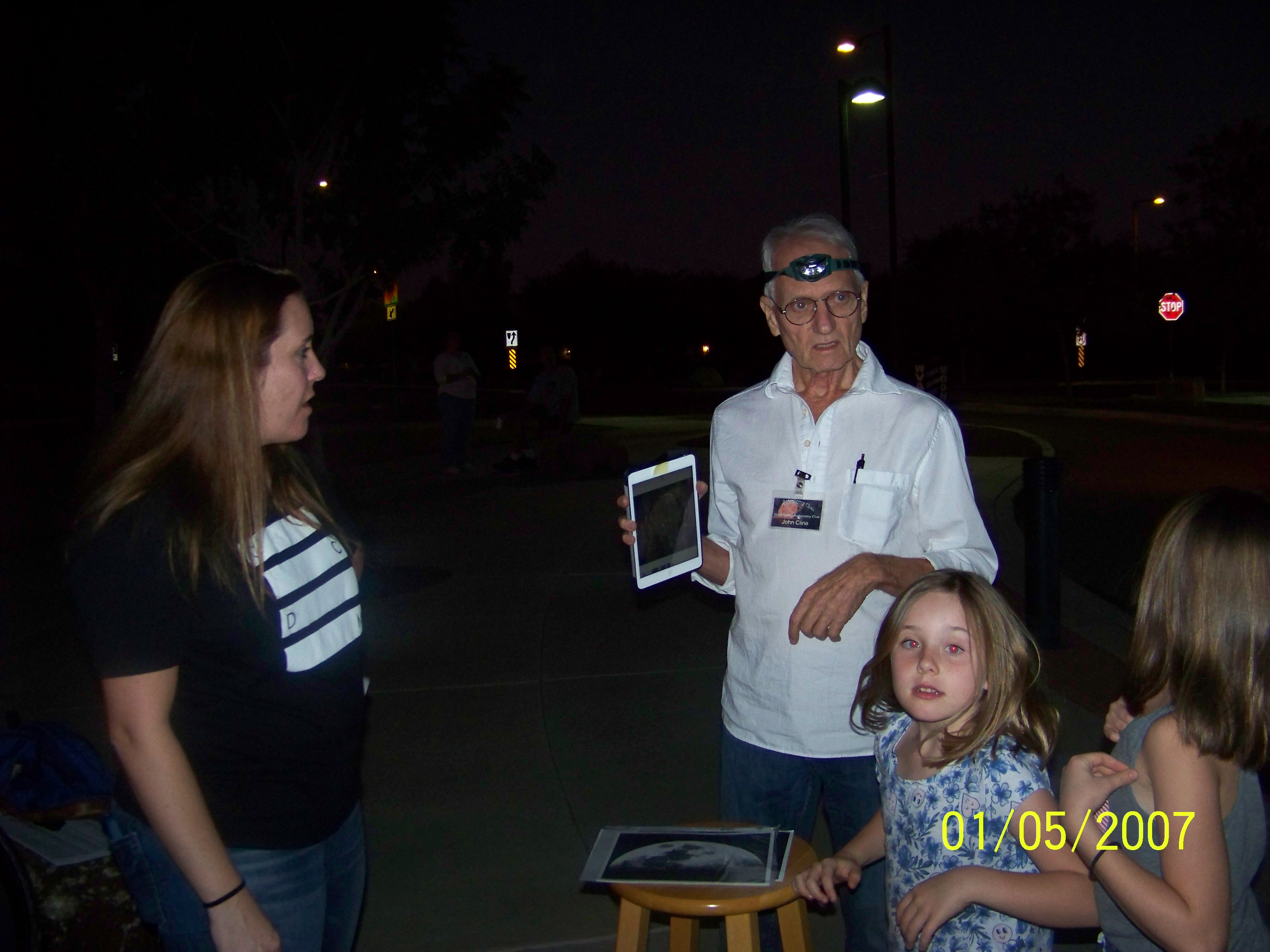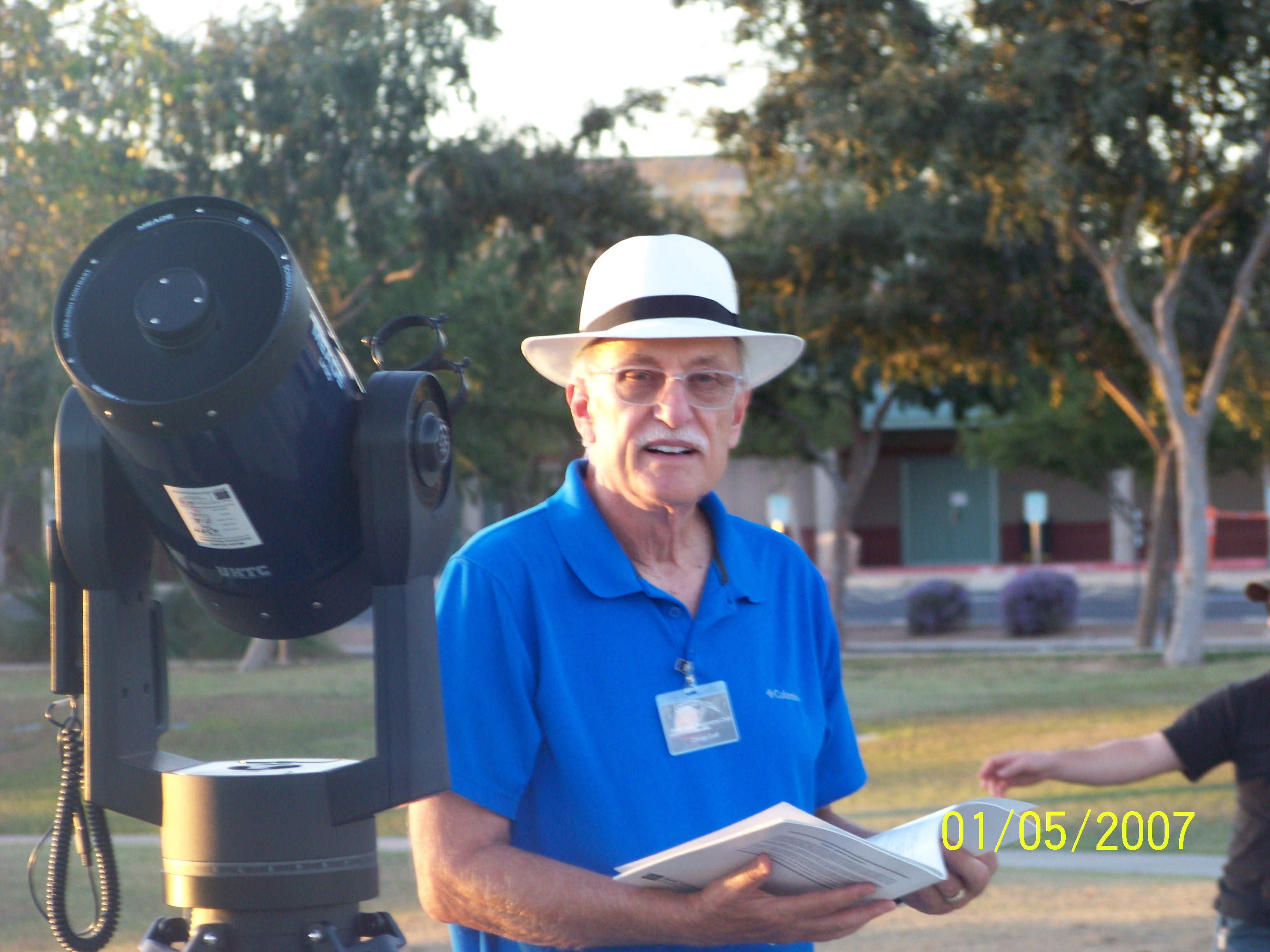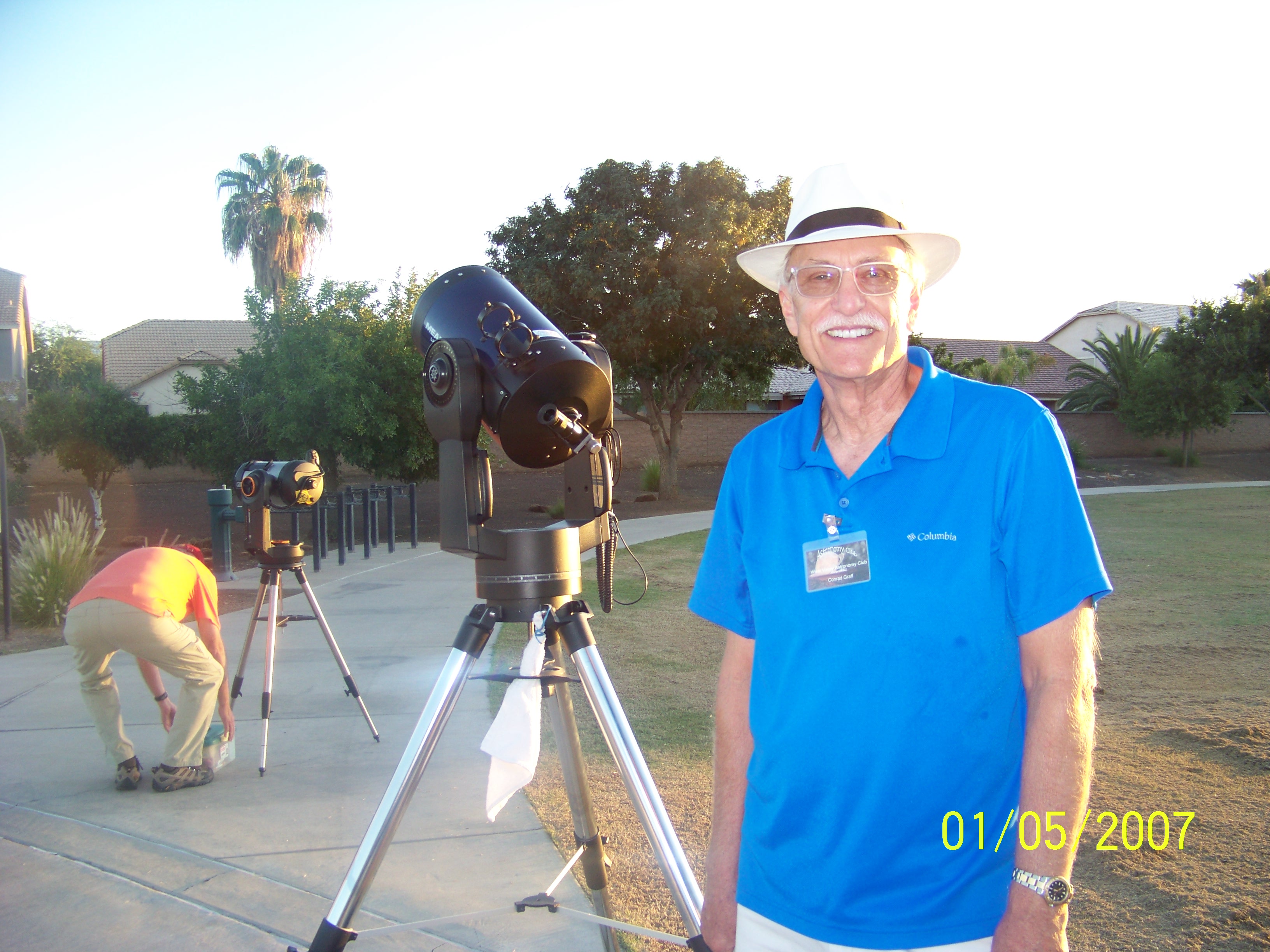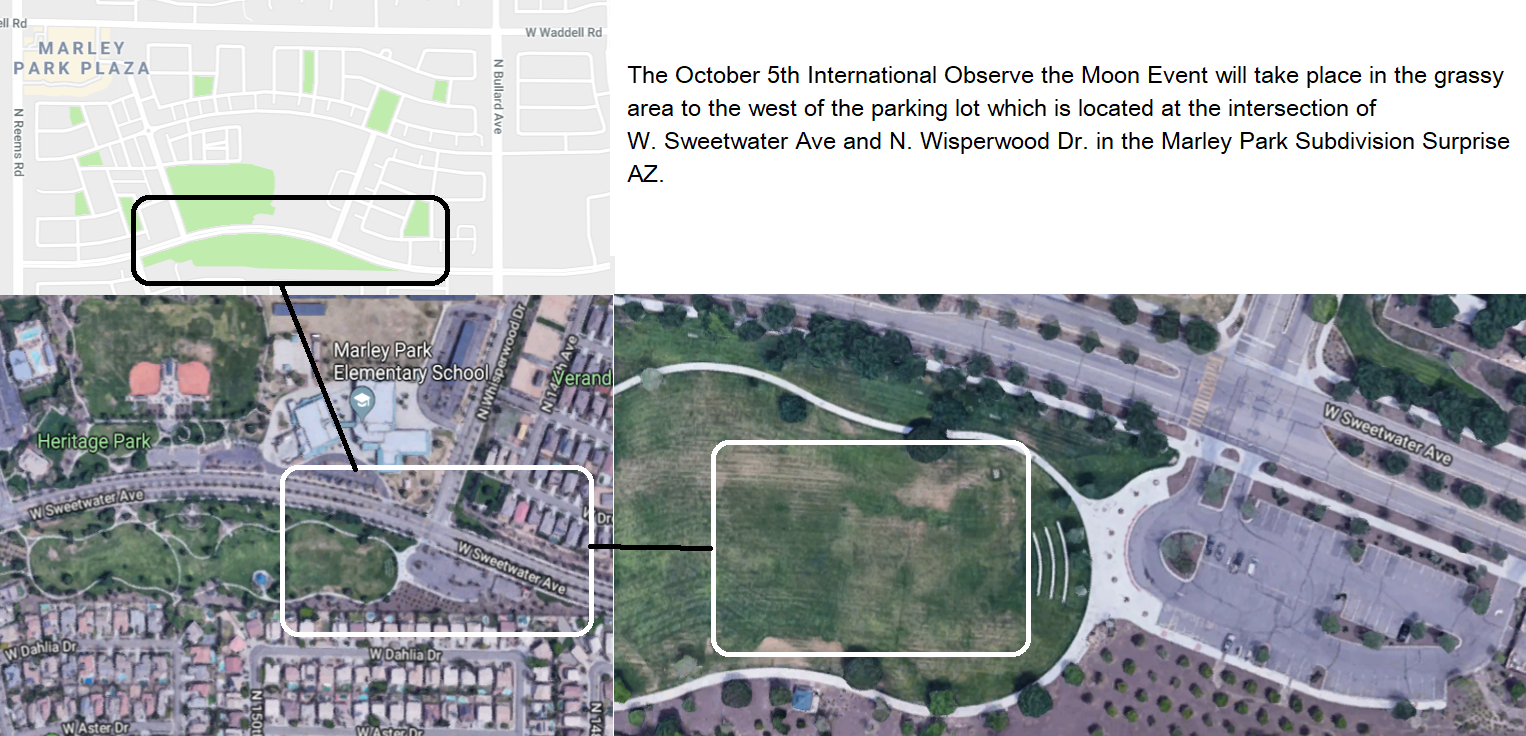 MARLEY GRADE SCHOOL EVENT August 30th, 2019

This was one fun, hot event!  Jessica Carleton, 2nd grade teacher at Marley Park in Surprise invited WVAC to do a presentation to augment the Earth, Moon, and Sun unit.  This unit is required curriculum for 2nd grade in Maricopa Public Schools.  Janie Randle, Treasurer, being interested in community outreach agreed to lead this event.  Bob Randle sent out an email to club members asking for participation.  Michael Weinberg said he would like to help and that he had a solar filter for his 8 inch scope.  Bob Randle also made a filter for his 6 inch scope.  So it was decided that despite the heat we would have the students view the sun as our primary activity.  Bob and Carolyn Colvert brought out cards with holes punched in them to show students a different way to look at the sun if they did not have a scope.  Janie put together a few demonstrations with materials that were just received from Night Sky Network.  Ron Langlois had volunteered to help but his brother came into town and he had to help with RV repairs.  Anyone with an RV knows about that!
So at 7:45 on August 30 we arrived at Marley Park School.  We had to hand over our driver's license, sign in, and receive a visitor badge.  Times have certainly changed.  Thank goodness we were able to drive into the fenced area and set up the scopes near our vehicles. Did I mention yet how hot it was?  Yikes.  Anyway, we displayed several posters of the moon.  Bob and Michael got right on the task of aligning their scopes.  Michael, Bob C. and Bob R. had a difficult time aligning Michaels scope but with some ingenuity they got the job done.  Dang that Sun is bright.  Then they put white sheets over the scopes to try to keep them cooler.
Bob C. brought a spotting scope and he was going to demonstrate how to use it in reverse to get the sun to shine on the ground. But we had to put the scope away when one of the teachers tried to look through it.
Being our first event of this kind, we had to wing it a bit. Janie and Bob and several conversations with the teacher and they also visited the school so they some idea of what to expect.  The visit to the school was in the afternoon so they didn't think to question where the shade was in the morning.  Luckily the school had some pop-up tents so we were able to create some much needed shade.
As  the students arrived that morning, they lined up to see the sun.  They were all really excited.  It turned out there were five 2nd grade classes with 28 students per class…well, let's just say lots of students had the opportunity to view the sun.  A few even tried to sneak back in line.  We got through the line in about 30 minutes.
While the students waited in line, Janie and Carolyn had the students do an experiment with moon phases.  Most students thought that was really cool.
The students returned to their respective classrooms.  We went into each classroom for a brief presentation.  We of course told the students that they should never look at the sun and that we had special equipment to view the sun.  We told them that right now the sun was pretty much asleep but when it started to wake up it would have spots and flares…we showed them pictures of this.
We spent some time taking about the night sky and did try to impress on the students that they did not need special equipment and they should "JUST LOOK UP" at the night sky.  We taught them about the tools they did have: eyes, hand for measurements, and maybe a star book, as well as a good imagination.  We had them look into a small telescope and spotting scope at a picture of the moon that had the "Man in the Moon" circled.  We told them the story of Ursa Major, Cassiopeia, and how to find the North Star.  Then they had a slide show of the Milky Way and Solar System.
We all had a lot of fun.  We offered to return next school year and present again, adopting Marley School for outreach.  We also decided that since we were looking for a venue for the International Observe the Moon Night that we could do it right across the street in the park and hopefully many of these students will come with their parents/siblings to observe the moon, constellations, and other heavenly bodies.  It will be a great follow up for them.  Jessica Carleton said she would email all parents of the event.
Thank you to Michael Weinberg, Bob and Carolyn Colvert, Bob and Janie Randle for making this a successful event.
Anyone wishing to be involved in community outreach please contact Janie Randle, use the astronomy club web email (here).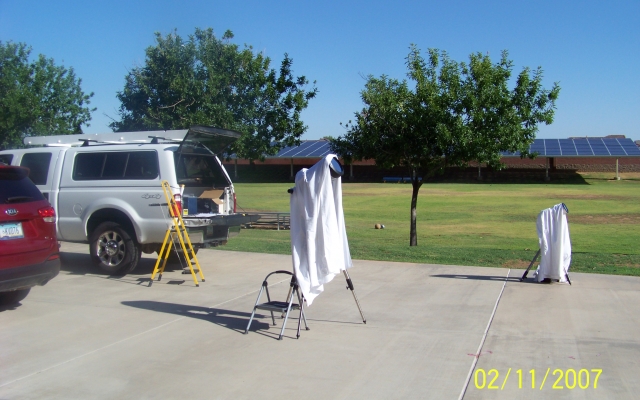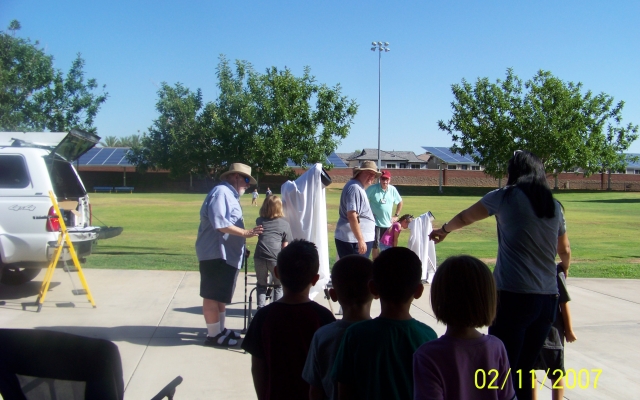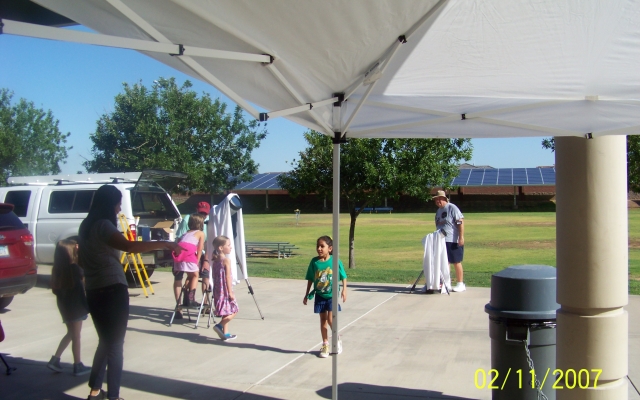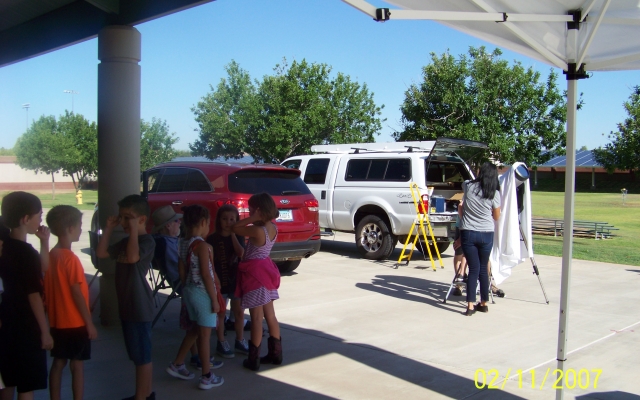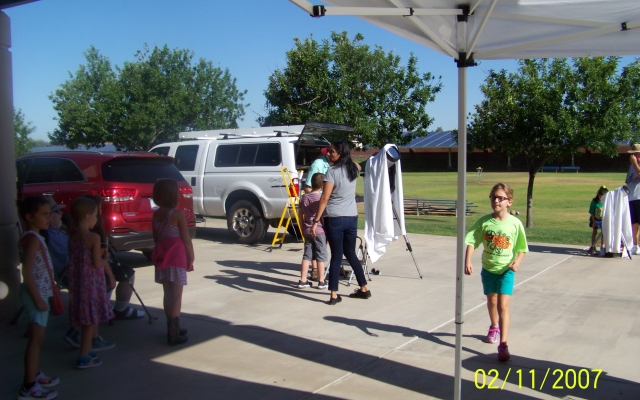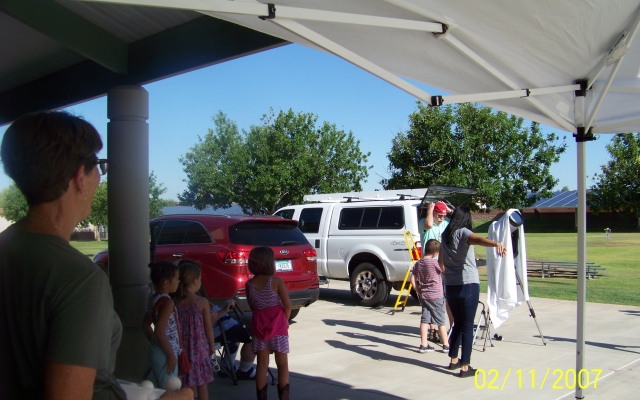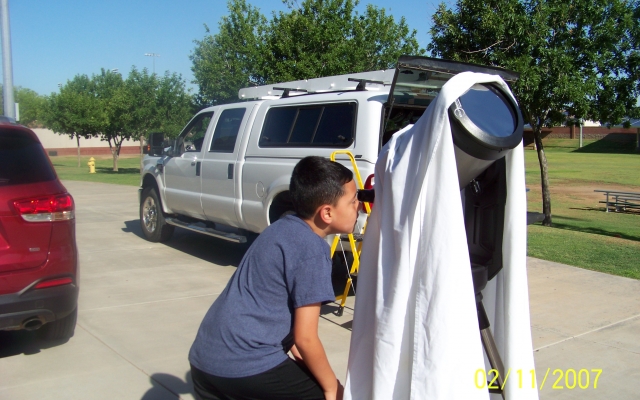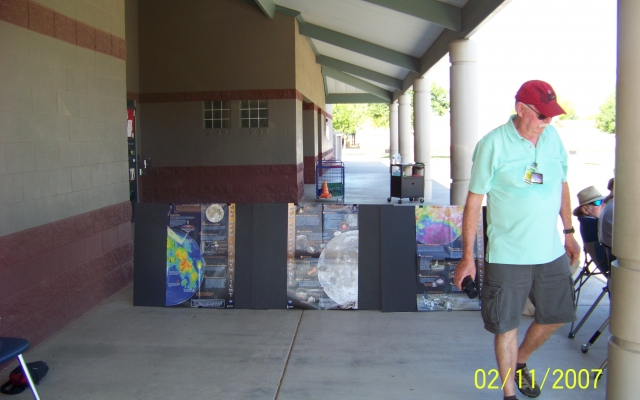 Grand Canyon Star Party June 22nd – Jun 29nd, 2019:  The Grand Canyon Star Party is an annual event which takes place on both the north and south rim of the canyon.  You can attend this event as a guest or a participant. For more information click (Here).
Peoria Library Youth Star Party – June 13, 2019 @ 8:00 PM –  The Peoria Library Youth Star Party was held at the Main Peoria library.  There was a good turn out… 40 to 50 attendees and at least 5 club telescopes were available to look through.  The Star party was conveniently held atop the parking garage roof.  Ron and Beth O. set up some flashy, informative displays to enhance the event and advertise our Club. We are looking forward to another such party this Fall.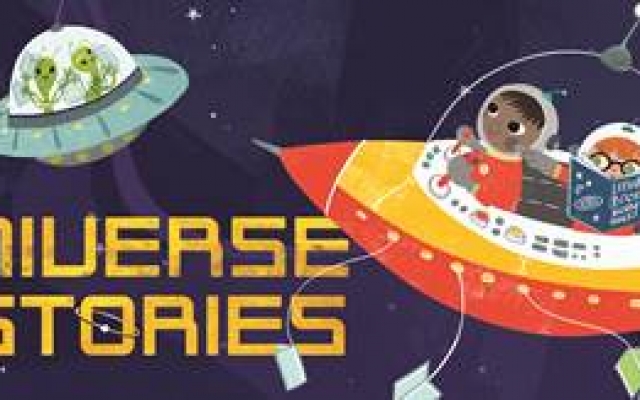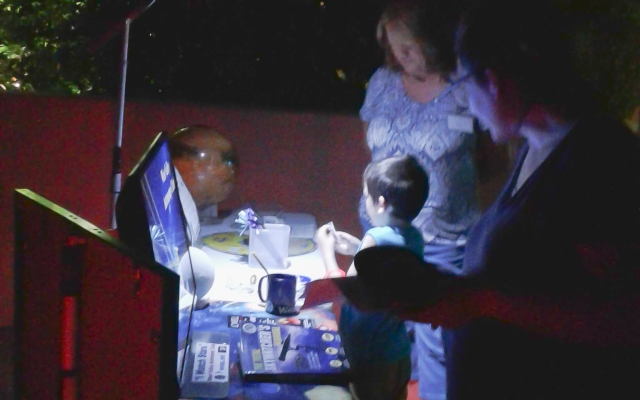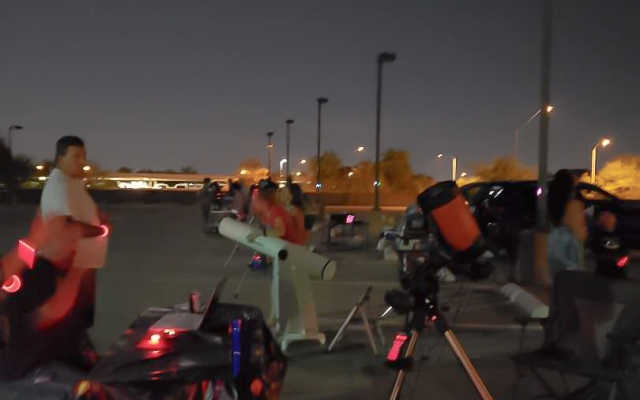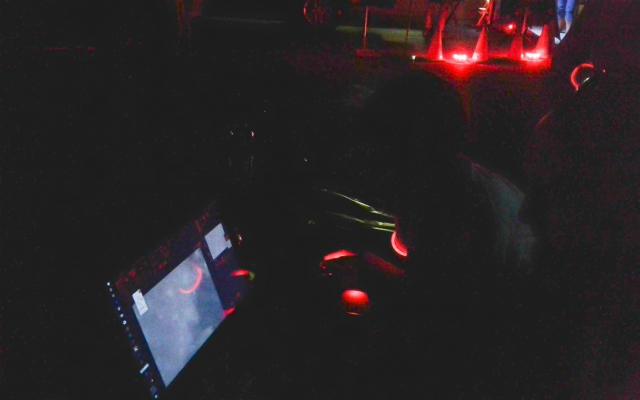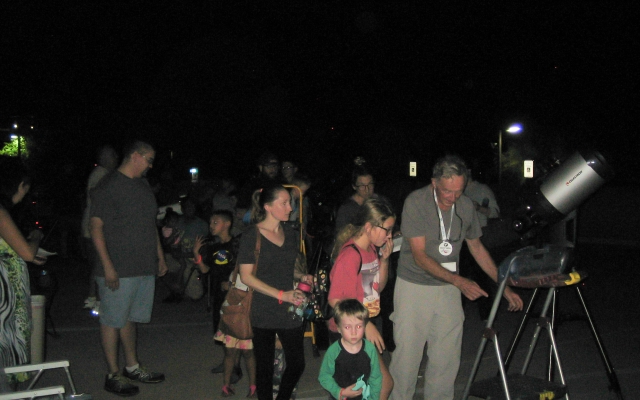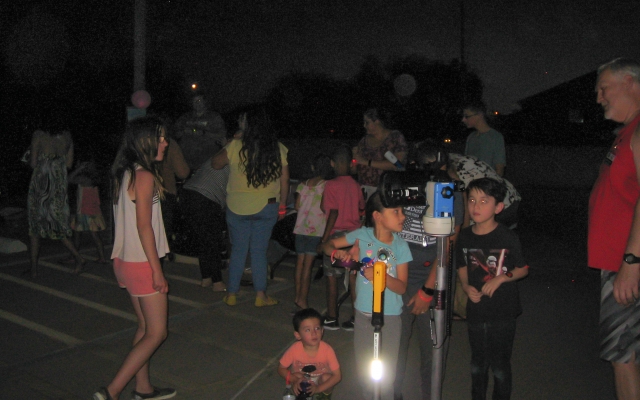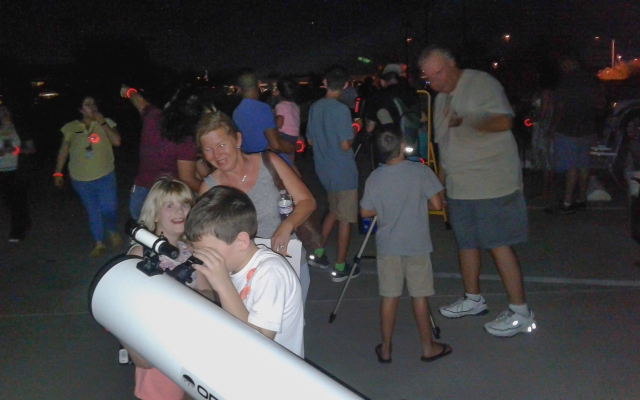 ASU Meteorite Lab – February 23, 2019: The WVAC visited the ASU meteorite lab for the second time, where Dr. Wadhwa and his staff Rebecca Davis, Dr. Laurence Garvie and Melissa Morris provided a wonderful tour of the meteorite vault.  The climate controlled vault contains meteorites from around the world consisting of all type of elements from iron to diamonds.  Ongoing studies of these meteorites are providing an amazing insight into how the universe was formed.
January 22, 2019:  20 WVAC members visited the East Valley Astronomy Club Gilbert Observatory.  The Gilbert Rotary Centennial Observatory (GRCO) is located at the Riparian Preserve at Water Ranch in Gilbert, Arizona, east of the Southeast Regional Library (southeast corner of Greenfield and Guadalupe Roads). The observatory is open every Friday and Saturday evening at nightfall year round weather permitting. The GRCO is owned by the Town of Gilbert and operated by the Riparian Institute. The East Valley Astronomy Club manages the observatory and staffs its operation and programs.
.