The Concept
The library telescope program places telescopes in local public libraries, allowing greater general access to the scope since they can be put into circulation just as a book.
Where applicable, a local Club member acts as a foster parent to the scope. He or she will periodically clean and adjust the telescope, and act as a local astronomical resource to the library patrons. Additionally, a library member or student from a local school could be engaged as an apprentice astronomer to provide needed care to the scope.
The Telescope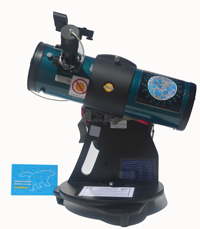 The library telescope lending program uses the Orion StarBlast 4.5-inch Astronomical Telescope along with a zoom eyepiece and supportive material. The telescope is easy to use and is robust. There is nothing to assemble. It has a wooden base, not the usual spindly tripod legs. The telescope is of manageable size, but has a relatively large optical tube. This means that the Moon and deep sky objects will show far more detail than one could see with the common "beginners" telescopes. It also has a large field of view that allows the object to stay in the eyepiece longer. This is a quality instrument, reviewed by a number of astronomical publications and found quite worthy.


For Surprise, Arizona
In talking to the Surprise Library about Fall 2022 Astronomy Outreach Star Parties with WVAC, John Hiatt asked about knowledge of, and interest in, the Library Telescope Program. As it turned out there was strong interest! On Friday May 13th Cheryl Cyr, Library Regional Manager at the Northwest Regional Library (Surprise) gave the green light to get the program started. John is going to donate the first telescope to the Surprise Library to get the ball rolling. He has also volunteered himself to be available for staff training and maintenance of the telescope. John made clear that at this time there was no obligation to the WVAC to become involved with the program. However it is his hope that the program proves worthy of the club's support. As of late May he is assembling the telescope and the materials needed for the modification to the first telescope.
Launching a Library Telescope Program
More information about starting a program is available at The Library Telescope Program website
This set of steps will be used as a guide to the successful introduction of the program to the Surprise Library.
John Hiatt is at step 2 in the "Launch" process as of the end of May, 2022.