Until further notice all WVAC Meetings will be virtual using ZOOM Please check upcoming meeting for changes.
Where We Normally would Meet: 
17540 Avenue Of The Arts, Surprise, Arizona (Unitarian Universalist Church)
(WVAC is not affiliated with the Unitarian Universalist Church)
 We meet nine times a year from September to May
General Meetings are held the first Tuesday of the month unless indicated (*)
       2021: Jan 5th,  Feb 2nd,  Mar 2nd,  April 6th,  May 4th.
We offer a Members only December Holiday Party and May Picnic
All meetings will begin at 7:00pm Arizona time unless otherwise indicated.
Our meetings feature great Guest Speakers – including staff astronomers from Arizona Observatories or professional astronomers from Arizona universities.
Not a paid member? We welcome all visitors.  If you enjoy the program we ask that you show your  appreciation by contributing to our Donation Scope or joining the club.
Future Meetings
May 4th, 2021 WVAC Picnic/Swap Meet/Star Party (Alex Vrenios will be bring his Solar Telescope COOL) (Event Volunteers needed)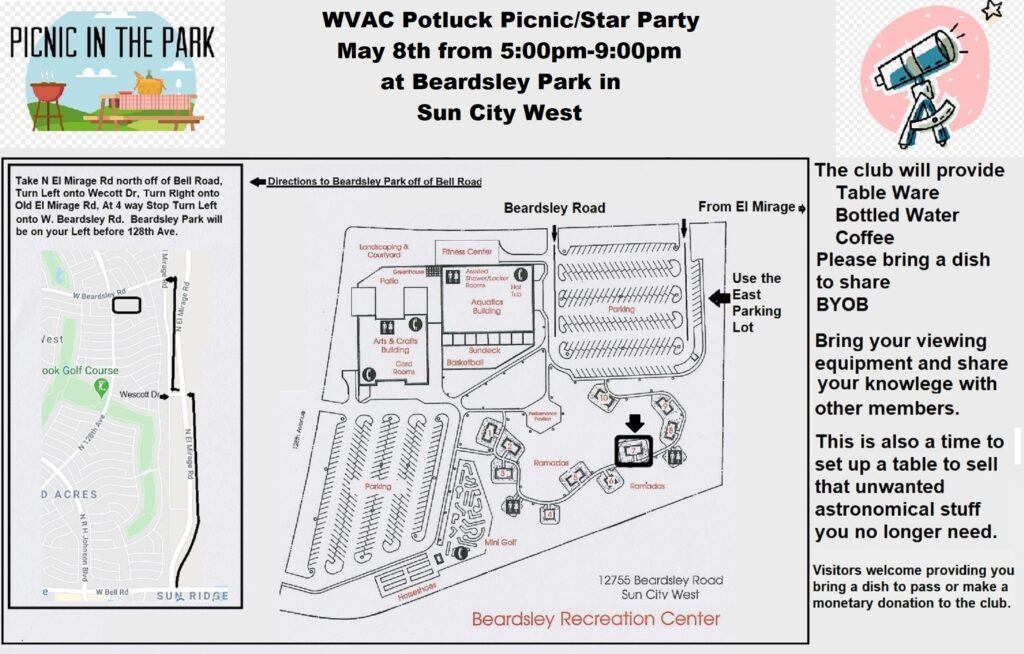 Typical meeting agendas are as follows:
Coffee and Cookies Available
Opening Welcome and Remarks
Guest Speaker presentation with Q&A

Announcements

Door Prize and 50/50 Raffle
Club Workshop (if time permits)
Closing Remarks
Or you can view details of our previous meetings.