Until further notice all WVAC Meetings will be virtual using ZOOM Please check upcoming meeting for changes.
Where We Normally would Meet: 
17540 Avenue Of The Arts, Surprise, Arizona (Unitarian Universalist Church)
(WVAC is not affiliated with the Unitarian Universalist Church)
 We meet nine times a year from September to May
General Meetings are held the first Tuesday of the month unless indicated (*)
       2021: Jan 5th,  Feb 2nd,  Mar 2nd,  April 6th,  May 4th.
We offer a Members only December Holiday Party and May Picnic
All meetings will begin at 7:00pm Arizona time unless otherwise indicated.
Our meetings feature great Guest Speakers – including staff astronomers from Arizona Observatories or professional astronomers from Arizona universities.
Not a paid member? We welcome all visitors.  If you enjoy the program we ask that you show your  appreciation by contributing to our Donation Scope or joining the club.
Future Meetings
February 2, 2021 Presentation to WVAC
Presenter: Will Oldroyd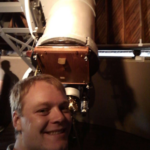 Will is a graduate student at NAU studying Astronomy and Planetary Science. He grew up in Provo, Utah and graduated from Brigham Young University in Physics and Astronomy with minors in Math, Geology, and Spanish. Will's main research focuses on searching for a mysterious undiscovered giant planet—called Planet X—hidden in the distant outer solar system. Some of the most exciting parts of this research are using supercomputers to visualize how the planets are connected through gravity and using some of the biggest telescopes on Earth (or off of it) to discover new worlds. When he's finished with school, Will plans on becoming a professor so he can continue studying the universe and share new discoveries with others. In his spare time, Will enjoys hiking and playing board games with his wife and son.
Presentation: "The Search for Planet X" We will discuss the history and current state of the hunt for a hidden world orbiting deep in the far reaches of our solar system.
Meeting ID: 811 231 7903
Passcode: Welcome
March 2, 2021 Discovery of the Dark Sky
Presenter: Luke Edens
Title: Discovery of the Dark Sky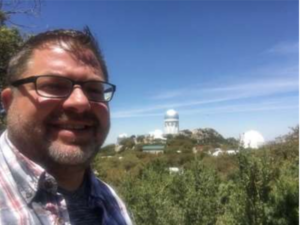 Topic: Luke will share with the audience his experience on learning the night sky, mission of the International Dark-Sky Association, awareness about light pollution, basics of astrophotography and the astronomical resources available to the public within Arizona.
Luke Edens's Bio: Luke works full time in healthcare and enjoys spending his free time exploring archaeological sites, viewing the night sky, hiking and kayaking the Southwest. He is a volunteer Arizona Site Steward for archaeological preservation and Vice President of the Friends of Agua Fria National Monument (FAFNM) where he volunteers as outreach coordinator and chairperson of their dark sky committee. He is also an active member of their cultural committee. Luke's interest in archaeology has led him to look upward as he explores his favorite topic, archeoastronomy (cultural astronomy). Luke has organized several outreach events and night sky parties for the FAFNM.
Luke is also, the Vice President of the International Dark-Sky Association (IDA) Phoenix Area Chapter. He is an active member with IDA having attended the IDA 2019 annual meeting and conference. His goal is to preserve the natural night sky heritage and teach others about the effects of light pollution.
May 4th, 2021 WVAC Picnic/Swap Meet/Star Party (Alex Vrenios will be bring his Solar Telescope COOL) (Event Volunteers needed)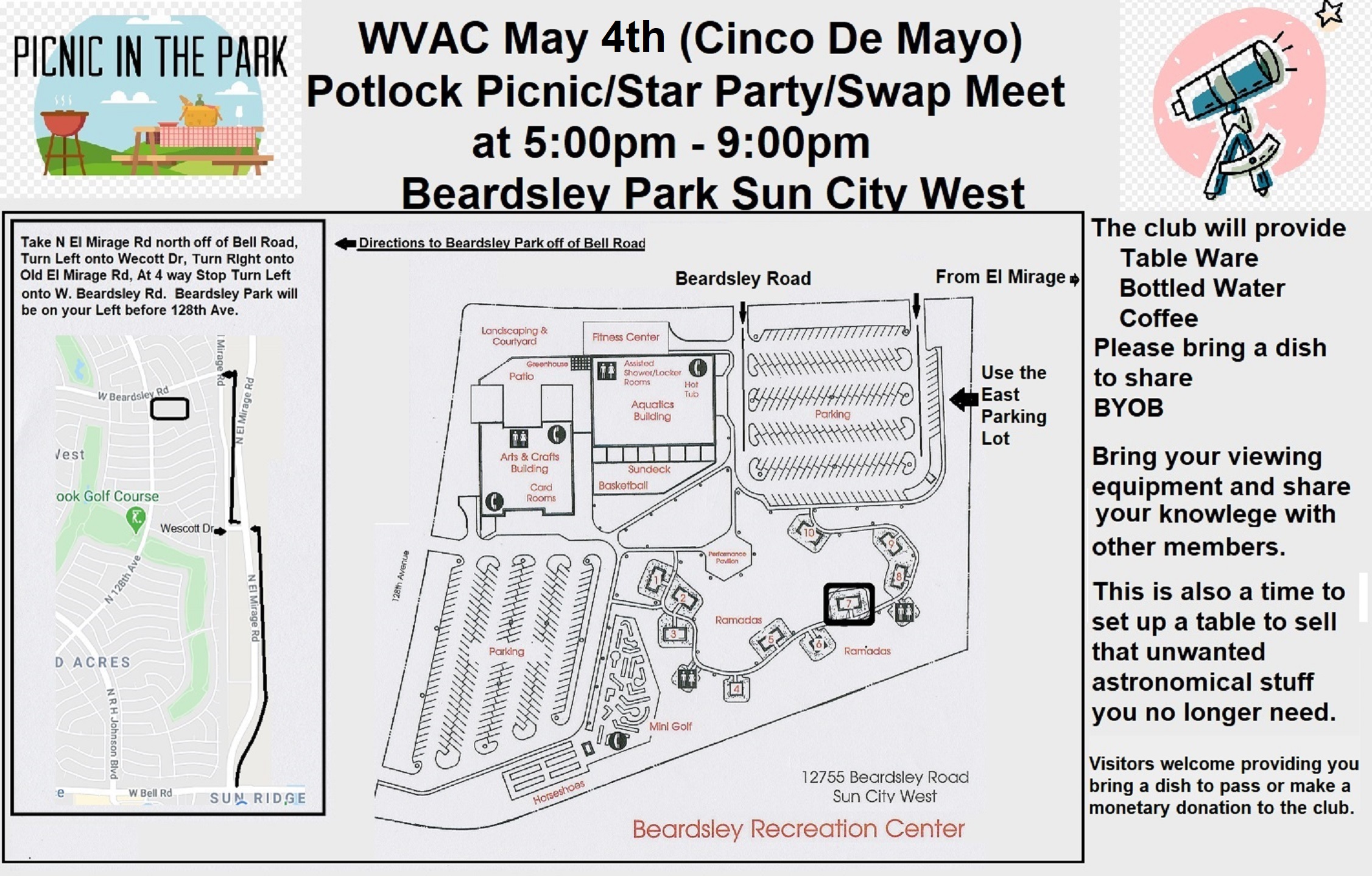 Typical meeting agendas are as follows:
Coffee and Cookies Available
Opening Welcome and Remarks
Guest Speaker presentation with Q&A

Announcements

Door Prize and 50/50 Raffle
Club Workshop (if time permits)
Closing Remarks
Or you can view details of our previous meetings.