Items For-Sale:
(great values on quality used equipment!)
WVAC members may list astronomy items for sale here. To submit a "FOR-SALE" notice, please send us a message.  In your email message, please provide details of the item(s) for sale, your asking price(s), condition, and location of the item(s), your name and contact information, etc. You may also attach any images of the item(s) to be included in the advertisement. Please let us know when the item(s) is no longer available, so it may be removed from this list.
*****
Galileo G-1202 MD – Reflecting Telescope 
 Features: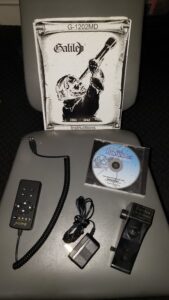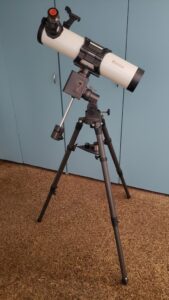 4.7" aperture  
Three eyepieces-  10 mm  25 mm  Zoom and 1.8 barlow
Scope is in good shape.  Motorized tracking works well. 
All accessories included.
Asking  $115 OBO – proceeds go to Club
Contact the club: wvacstars@gmail.com
if interested.
(for more information or to see the package please talk to Larry at 323-574-3216)
*****
The Orion Skyquest XT8 Classic Dobsonian Telescope Package
Complete for beginner
Orion XT8 Telescope $650
Orion XT8 Protective Cover $71
Dob Dolly – Detachable Rolling Platfrorm with Stabilizer Feet $160
Aperture 10 x 50 Right Angle Finder Scope with Illuminated Reticle Eyepiece $170
Spare Non-Right-Angle Finder Scope
2" Crayford Focuser that accepts 1.25" and 2" Eyepieces $128
Tele Vue 2" 2x Big Barlow Magnifier $75
Tele Vue 10 mm 1.25"/2" Ethos Eyepiece $658
Tele Vue 31 mm 2" Nagler 82 degree Apparent Field Eyepiece $698
Sirius Plossi 25 mm 1.25" Eyepiece $17
SVBONY 1.25" Moon Filter+CPL Filter+Five Color Filter Kit For Telescope Eyepiece $33
Orion Lasermate Deluxe 2 Telescope Collimater $60
Plastic Hinged Storage Kit with Isolated Spaces $55
Celestron Power Tank Glow 5000 Red Flashlight and Charger $40
2 Orion Magnetic 3-Pound Dobsonian Counterweight $90
Tele Vue 2" Barrel Extender $36
Supporting Guides
Star Watch by Phillip S Harrington $15
Left Turn at Orion by Guy Consolmagno and Don M Davis $30
Orion Star Target Constellation and Celestial Object Finder for Latitudes 30 degrees to 50n degrees $8
Orion Moon Mapn260 $10
Astronomy Magazine Monthly Publications
Extensive Educational Information









Complete package $3,000 value (not sold in parts)
Contact: Art Laramee
art.laramee@reagan.com
602-820-8441
*****
5.81″ Orion Solar Filler (07710)   Retails for $69.95 Asking $20.00
The 5.81″ measurement is inside of the foam padding.
Contact the club: wvacstars@gmail.com