Items For-Sale:
(great values on quality used equipment!)
WVAC members may list astronomy items for sale here. To submit a "FOR-SALE" notice, please send us a message.  In your email message, please provide details of the item(s) for sale, your asking price(s), condition, and location of the item(s), your name and contact information, etc. You may also attach any images of the item(s) to be included in the advertisement. Please let us know when the item(s) is no longer available, so it may be removed from this list.
Oberwerk 15X70 Ultra binoculars and Tripod – $460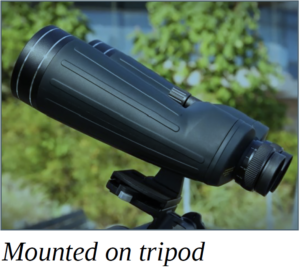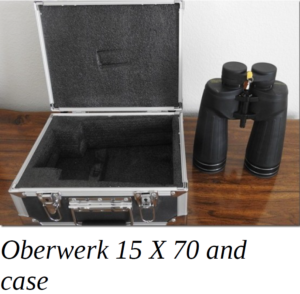 The Oberwerks 15x magnification pulls objects much closer than the cheaper Celestron 8×56's
Original cost of the two items is $620 plus shipping and I am wanting to sell them for a 26%
off.
Size and weight: Binoculars ~11 in. long and @ 5.5 lbs (Case is 12″ x 12″ x 16″ @ 14 lbs and
Tripod in box is 7″ x 7″ x 36″ @12 lbs).
Condition: The glass on the binoculars is pristine and always covered even in the storage box as
they came from Oberwerk
Would prefer to have local pickup in the Phoenix area but willing to travel for in-person
delivery.
Contact Dave Elder – delder2@cox.net Tel.~ 623 214 3470 for more information.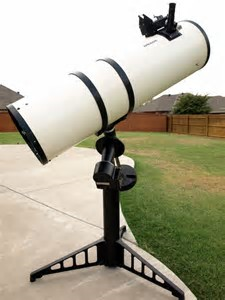 Meade 10″ Starfinder Telescope
Meade 10 in. Starfinder Reflecting Telescope. The Scope is on an equatorial mount with a motor drive.  After the polar alignment procedure, single drive tracking is possible of stellar objects.  Two eyepieces are included.
Asking price is $250.  Contact Len Cohen at 623-546-3741, or email to fralen@cox.net
Orion Spaceprobe 130 ST EQ 
Consider this slightly used donation scope as-is… all it needs is an

eyepiece (i.e., 25 mm) and if desired, a finder scope.  The Orion Spaceprobe 130 ST (short tube) is a convenient size and with a 5.1 in. aperture, and has a bright f/5 focal ratio.  The scope is perfect for the more serious beginner or intermediate stargazer.  The 130ST comes on an equatorial mount with dual setting circles and slow-motion hand controls.   Once polar aligned, the EQ 2 will easily track celestial objects.  Weight is only 27 pounds.  Sale price is $150 or obo.  Call John @ 623 544 2425.