Items For-Sale:
(great values on quality used equipment!)
WVAC members may list astronomy items for sale here. To submit a "FOR-SALE" notice, please send us a message.  In your email message, please provide details of the item(s) for sale, your asking price(s), condition, and location of the item(s), your name and contact information, etc. You may also attach any images of the item(s) to be included in the advertisement. Please let us know when the item(s) is no longer available, so it may be removed from this list.
****
Celestron CPC Deluxe 800 with Edge HD Optics and Accessories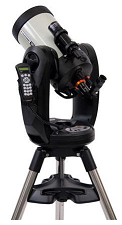 Version # 11007 (see internet for full detail description, include version number).
This version includes StarBright XLT coatings. Sky Align includes 40,000 object database to go with SkyPortal and built-in GPS, Heavy duty stainless steel tripod and the optics are Fastar compatible. This is a dual fork arm mount with a 40mm eye piece and 1.25″ Star Diagonal included. This unit was just purchased over one year ago and has been used very little due to medical issues.  Asking $2400.00 Prefer to sell local as time and effort is more than I can deal with at this time to package and ship, thanks.
ACCESSORIES:
ZWO ASI294MC color Camera – $925.00


USB 3.0 Cooling delta; -35 degrees from ambient
Additional:
HyperStar C8HD Alt-AZ – $900.00
Edge HD/CPC 8". FYM-CPC8 Feather Touch Auto Focus. – $425.00
Artro Zap Dew Strip and 12v controller. – $100.00
WiFi Sky Portal Module – $70.00
Telrad Reflex sight – $25.00
Filters:
Baader IR-Cut Mon and Sky Glow2" – $120.00
Celestron UHG/LPR 1.25" – $60.00
Optolong L-Pro 2″- $160.00
Celesttron Eye Pieces:
7mm X-Cel LX – $75.00
18mm X-Cel LX – $75.00
25mm X Cel LX – $75.00
32mm – OMNI – $40.00
Contact: Wayne Wilcoxon   eMail: linemanww@cox.net
*****
Orion SpaceProbe 130 EQ Reflector Telescope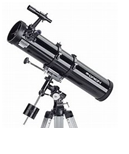 This donated classic Orion SpaceProbe 130ST  has an 5.1 inch aperture with a f/7 focal ratio. This scope is perfect for the more serious beginner or intermediate stargazer. This scope is excellent for viewing deep-sky objects like cloudy nebula's, distant galaxies, and open star clusters.
The 130 EQ comes on a sturdy equatorial mount, with dual setting circles and slow-motion hand controls. Once Polar aligned, the Scope will easily track celestial objects using just the RA slow-motion control knob.  This equipment has been hardly used.
Accessories include: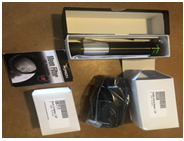 Orion 25 mm lens (36X)
Orion 2X Shorty Barlow (72X)
Variable Camera adaptor
Orion Moon Filter (13%)
Televue 3X Barlow (108X)
Sale price is $295.00  Proceeds will go to the Club.
Please contact:  John Cline: johclin@cox.net
*****
Galileo G-1202 MD – Reflecting Telescope 
 Features: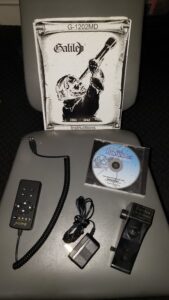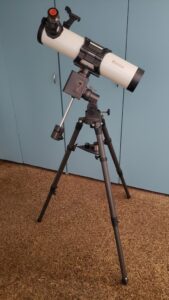 4.7" aperture  
Three eyepieces-  10 mm  25 mm  Zoom and 1.8 barlow
Scope is in good shape.  Motorized tracking works well. 
All accessories included.
Asking  $150 OBO – proceeds go to Club
Contact John Cline – johclin@cox.net
if interested.
(for more information or to see the package please talk to Larry at 323-574-3216)
*****