Items For-Sale:
(great values on quality used equipment!)
WVAC members may list astronomy items for sale here. To submit a "FOR-SALE" notice, please
send us a message. 
In your email message, please provide details of the item(s) for sale, your asking price(s), condition, and location of the item(s), your name and contact information, etc. You may also attach any images of the item(s) to be included in the advertisement. Please let us know when the item(s) is no longer available, so it may be removed from this list.
WVAC Sale… Classic Celestron Super C8 (SCT) $195 (as is*) Introduced in 1985 at the time, NASA included a C8 on every space shuttle flight. The Super C8 Plus was one of the last C8 models before the introduction of the first go-to mounts.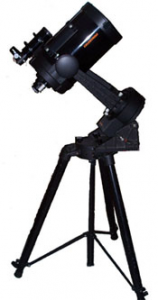 Technical Celestron Info: • Clear aperture – 8″ (200mm) • Light grasp – 843 times the unaided eye • Cassegrain focal length – 80″ (2000mm) • Magnification – 77.9x (26mm Plossl eyepiece) • Mirror coatings- Aluminum silver with optional Starbright silver coatings for both primary and secondary mirror. • Faintest stellar magnitude – 14 (visual), 16 (photographic) • Focal ratio – f/10 • Finder scope – 8x50mm (also serves as Polaris alignment finder)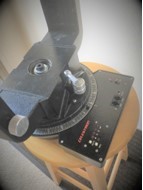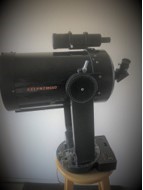 • Visual back – 1.25″ (2″ optional) • Eyepiece, 1.25″ – 26mm Plossl • Star diagonal – Mirror type, 1.25″ • 12 VDC RA and Dec drive • Setting circle diameter – RA 8″ (*Mtr. drive inoperative), DEC 4.25″ The Super C8 Plus on its wedge and tripod is an extremely competent portable telescope. Proceeds from the sale will go into the WVAC treasury. More info: John Cline 623 544 2425 or johclin@cox.net
Celestron 8″ Nexstar Evolution Telescope with Star SenseAuotoalign "go to" system $2500 FIRM Package Includes:
• Telescope Transporter case plus Orion Accessory Case $517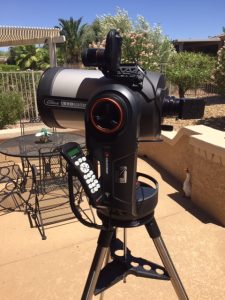 • 3 TEL VUE eyepieces… 41mm,27mm,11 mm $1185 • 2 in. Diagonal w/adapter, 2 in. and 1 1/4 in variable Filters $ 475 • Transporter Case, Orion Accessory Case $ 517 • Total accessories only: $2204 • Star Sense Auto Align Celestron 8" Telescope $1999 • Total value $4203 • Sale price (entire package only) $2500
Features:
1) Fully motorized, GO-TO (go to objects with a tap on your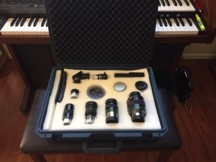 smartphone) 2) Works with SkyPortal App 3) Simplified StarSense Auto Align 4) Li-Iron battery power for 10 hours of operation
Contact Ron Langlois – langlois23@icloud.com – for more information 
Orion XT10i:

SOLD –
(Proceeds went to the club)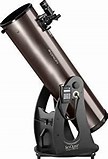 Orion XT10i, 10″  Newtonian Telescope on Dobsonian Base with multiple lens/filter kit…$495 obo – (new on eBay for $1200 w/only 2 lenses)
This Scope was donated to the Club by an ailing member and is in very good condition.  It comes with the Orion IntelliScope Computerized Object locator which employs a simple 2-star alignment method. There are over 10,000 objects including Messiers, Galaxies, Stars & Planets, etc. in the data base.
 Accessories: Included are four 1.25 in. eyepieces and one 2.0 in., Wide Angle eyepiece.  Package includes three Orion and two Lumicon filters.    Also included are a  9x50mm finder scope  Two Collimators:  a  1/4″ standard and a 2″ LaserMate Mirror Collimator. The entire scope and rotating base sits on a  triangular wheeled (not shown)  dolly with three adjustable leveling screws.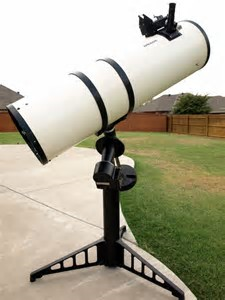 Meade 10″ Starfinder Telescope
Meade 10 in. Starfinder Reflecting Telescope. The Scope is on an equatorial mount with a motor drive.  After the polar alignment procedure, single drive tracking is possible of stellar objects.  Two eyepieces are included. Asking price is $250.  Contact Len Cohen at 623-546-3741, or email to
fralen@cox.net
Orion Spaceprobe 130 ST EQ 
Consider this slightly used donation scope as-is… all it needs is an

eyepiece (i.e., 25 mm) and if desired, a finder scope.  The Orion Spaceprobe 130 ST (short tube) is a convenient size and with a 5.1 in. aperture, and has a bright f/5 focal ratio.  The scope is perfect for the more serious beginner or intermediate stargazer.  The 130ST comes on an equatorial mount with dual setting circles and slow-motion hand controls.   Once polar aligned, the EQ 2 will easily track celestial objects.  Weight is only 27 pounds.  Sale price is $150 or obo.  Call John @ 623 544 2425. Meade ETX-105EC Astro Telescope –

SOLD

Computerizd GOTO Mount with an AutoStar controller.    Bundle comes with

8

Plossi eyepieces, 5 filters, 2x Barlow lens snugly fit into a Meade silver case. 

Additionally, package comes with a sturdy tripod, 120 VAC transformer and 12 V DC plug. Both slewing motors work fine. Equatorial tracking is optional as well as Alt/Az.  Three manuals are included.  Lenses alone purchase value is over $200. Asking $250 obo for entire package.  Contact John C. at 623 544 2425.