The Concept
The Library Telescope Program places telescopes in local public libraries. As of February 2023, there are 891 libraries in 6 countries participating in the program. Its mission is to allow public access to telescopes, which can be checked out just like a book. Typically, a local astronomy club member acts as a foster parent to the scope.   The West Valley Astronomy Club has placed telescopes in the following libraries, and with more awareness this list is growing. Don't make the mistake of buying a cheap telescope, contact your library to check out a great telescope!
| Location | # of Scopes | Address |
| --- | --- | --- |
| Surprise Regional Library | 1 | 16089 N Bullard Ave, Surprise, AZ 85374 |
| Surprise Asante Library | 1 | 16755 W Vereda Solana Dr, Surprise, AZ 85387 |
| Peoria Public Main Library | 1 | 8463 W Monroe St, Peoria, AZ 85345 |
| Sunrise Mountain Library | Planning Stage | 21109 N 98th Ave, Peoria, AZ 85382 |
| El Mirage Library | Planning Stage | 13513 N El Mirage Rd, El Mirage, AZ 85335 |
| White Tank Library | Planning Stage | 20304 W White Tank Mountain Rd, Waddell, AZ 85355 |
The Telescope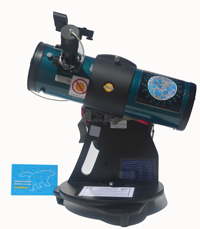 The Library Telescope Program provides a 4.5-inch telescope, plus support materials available for checkout. The telescope is easy to use and is robust. There is nothing to assemble. It has a wooden base, not the usual spindly tripod legs. The telescope is of manageable size, but has a relatively large optical tube. This means that the Moon and deep sky objects will show far more detail than one could see with the common "beginners" telescopes. It also has a large field of view that allows the object to stay in the eyepiece longer. This is a quality instrument, reviewed by a number of astronomical publications and found quite worthy.
West Valley – Phoenix Metropolitan Area
In November 2022 and February 2023 the West Valley Astronomy Club purchased and donated telescopes to the Surprise and Peoria main libraries. This launched the program in these two communities.
Launching a Library Telescope Program
More information about starting a program is available at The Library Telescope Program website
Contact the West Valley Astronomy Club if you would like your library to participate in the Library Telescope Program.