Steward Observatory Mirror Lab visit – November 2019

Our club is repeating a highly popular visit to the U of A mirror lab in Tucson Arizona on November 21, 2019.
The experience is an energetic 90 minute walking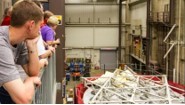 tour which explains and shows, up-close, the immense mirror production process for astronomical telescopes. The mirrors for the Giant Magellan Telescope are in production and installation will begin soon in Chile. Time is 1-2:30 PM for our group tour. The cost is $18 pp. Van service is $70 pp which will offer pickup at the church and drop off at the Lab.
Contact Ron Langlois directly by cell phone, 623-466-4118 or email (Here), All payments for the Mirror Lab trip must be received by 31 October 2019, unless you are making your own arrangements! Please send cash or checks to Ron Langlois, 16956 W. Eureka Springs Dr. Surprise AZ, 85387. Make checks payable to Ron Langlois.