---
Below are events that our club regularly hosts:
Year-round Star Parties – Enjoy the company of experienced telescope operators, ask questions, view the dark sky.
Special Field Trips – Visit University Programs, Meteor Labs, Outdoor large Telescopes, Mirror Labs, etc.
Please check out these upcoming events:
Lowell Observatory Trip(POSTPONED/Rescheduling) (Events Planner: Paul Bleikamp) (Members Only Event)
WVAC Meteor Crater Trip(POSTPONED/Reschedulging)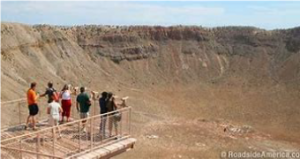 The Club is planning a visit to our state's Meteor Crater early next year. We will have our very own tour guide who will take us out on the rim. The modernized facility contains a restaurant, a gift shop and a fascinating rock shop.  A movie, "IMPACT, The Mystery of Meteor Crater"  plays at regular intervals in their Big Screen Theater. The trip up north is about a 2-3 hour drive and we will have the same van service that we are using on our Mirror Lab trip for about the same price or  people could car pool on their own. The crater has a very interesting history and a great deal of science.  Ron Langlois is leading this trip. More information about this trip will be given out as soon as it is made available.
Previous Events… For a list of previous events click here
Star Party:
A Go/No-Go will be posted before sunset (around 4pm) the day of, for those looking to attend (People on the notification list will receive email notification for these events). Please join us with a telescope (or without) for a few hours under a dark sky.
For more details and how to prepare or to be added to the Star Party notification list, please visit our Star Party page »