---
Below are events that our club regularly hosts:
Year-round Star Parties – Enjoy the company of experienced telescope operators, ask questions, view the dark sky.
Special Field Trips – Visit University Programs, Meteor Labs, Outdoor large Telescopes, Mirror Labs, etc.
Please check out these upcoming events:
Public Star Party Surprise Main Library
Date and time: Tuesday, December 1st from 6:30 – 7:30 PM
16089 N Bullard Ave, Surprise, AZ 85374
Adult presentation by John Hiatt 5:30 – 6:15
Topic, Library Telescope Program.
Join the West Valley Astronomy Club outside and observe the moon through telescopes. Open to all ages, no registration is required.
Surprise Arizona Sci-Tech Festival (Look for our table)

The City of Surprise celebrates science, technology, engineering, art and mathematics (STEAM) efforts in the community by holding an annual SciTech Festival. This free, fun-filled educational event features interactive science, technology, engineering, art and math exhibits and demonstrations. Technology and the daily interactions with it continue to exponentially grow. Surprise embraces these new trends and the businesses that create new products and services.
Interact with hands-on, informational STEAM exhibits provided by:
Surprise Police, Fire-Medical, Water Conservation and other City Departments
Business and Higher Ed Institutions
and more!
2022 Event Details (Click Here)

Date: Saturday, December 10
Time: 10 a.m. to 2 p.m.
Location: Mark Coronado Park parking lot 15850 N. Bullard Ave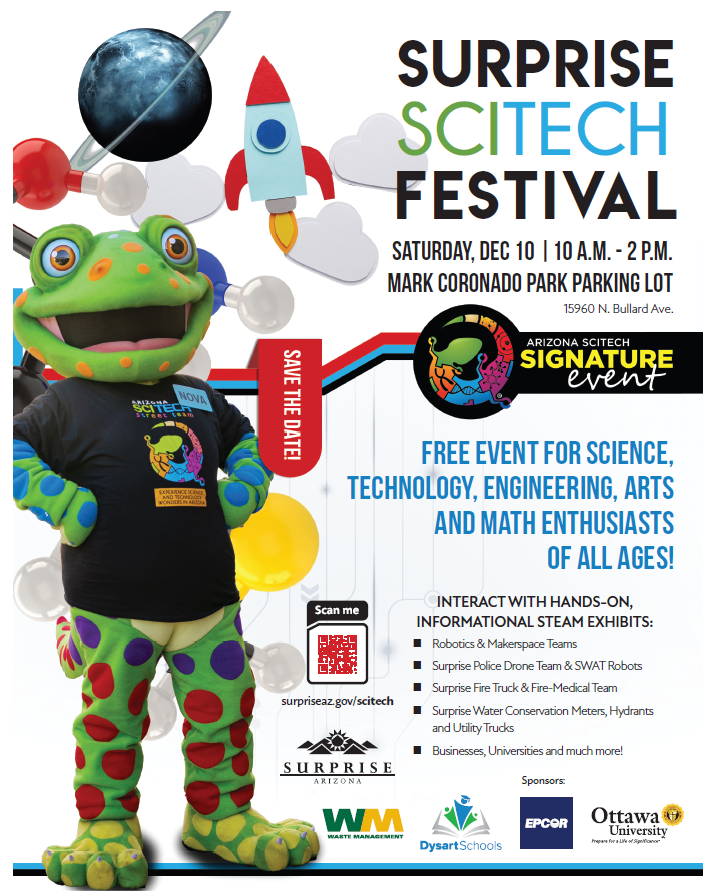 Previous Events… For a list of previous events click here
Star Party:
A Go/No-Go will be posted before sunset (around 4pm) the day of, for those looking to attend (People on the notification list will receive email notification for these events). Please join us with a telescope (or without) for a few hours under a dark sky.
For more details and how to prepare or to be added to the Star Party notification list, please visit our Star Party page »