---
Below are events that our club regularly hosts:
Year-round Star Parties – Enjoy the company of experienced telescope operators, ask questions, view the dark sky.
Special Field Trips – Visit University Programs, Meteor Labs, Outdoor large Telescopes, Mirror Labs, etc.
Please check out these upcoming events:
March 24th is the Boy Scout Star Party(POSTPONED) (Outreach Coordinator: John Hiatt)
March 20th is the Wickenburg Star Party(POSTPONED) on Castle Hot Springs Road.
April 25th is the Lowell Observatory Trip(POSTPONED) (Events Planner: Paul Bleikamp) (Members Only Event)
Peoria Library Public Star Party(POSTPONED) – April 28, 2020 @ 8:00 PM – Our first star party was such a success that WVAC has been asked to participate in a spring star party at the Peoria Library (Just off of Grand Ave.) All WVAC member are welcome to attend, we will be looking for volunteers to share their knowledge of the night sky and/or their telescopes. I you would like to volunteer please contact Bob Randle (Click Here).
WVAC Meteor Crater Trip(POSTPONED) – Spring 2020 –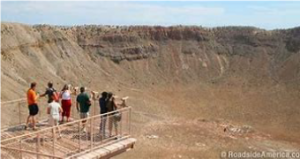 The Club is planning a visit to our state's Meteor Crater early next year. We will have our very own tour guide who will take us out on the rim. The modernized facility contains a restaurant, a gift shop and a fascinating rock shop.  A movie, "IMPACT, The Mystery of Meteor Crater"  plays at regular intervals in their Big Screen Theater. The trip up north is about a 2-3 hour drive and we will have the same van service that we are using on our Mirror Lab trip for about the same price or  people could car pool on their own. The crater has a very interesting history and a great deal of science.  Ron Langlois is leading this trip. More information about this trip will be given out as soon as it is made available.
Internationial Observe The Moon Night – September 26th, 2020

Alamo Lake State Park Star Gazing Party – November 2020
Hosted by the: Verde Valley Astronomy Club and the Alamo Lake State Park
(This Event has been canceled by the State Park and Verde Valley due to Covid-19, but we will be conducting our own private star party)

Nov.13 (arrive), 14 (star gazing), 15 (depart)
Make your own reservation online.
Campsite reservations: https://azstateparks.com/reserve/alamo-lake/camping/
Cabin Reservations:  https://azstateparks.com/reserve/alamo-lake/cabins/WVAC Club Leaders site is: C18 from the 13th – 17th (Campfire Friday Night).
Contact: (623) 975-7483 or (Email them here).this is the link to the video from last year: https://www.youtube.com/watch?v=Jx71divKSEo
Previous Events… For a list of previous events click here
Star Party:
A Go/No-Go will be posted before sunset (around 4pm) the day of, for those looking to attend (People on the notification list will receive email notification for these events). Please join us with a telescope (or without) for a few hours under a dark sky.
For more details and how to prepare or to be added to the Star Party notification list, please visit our Star Party page »