The West Valley Astronomy Club (WVAC) was founded in 1990 by Jim and Vivian Chrisman, originally as a Sun City West club.
We are located in the West Valley  (just West of Bell Road).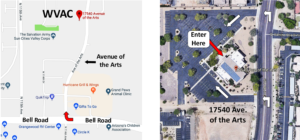 Our club is famous for being friendly, engaging, and informative.  Our annual membership is affordable and offers several benefits.  Click below to read more about member benefits and how to join
Member Meetings
We currently meet nine (9) times a year from September to May. Meetings normally take place on the first Tuesday of our active months with December being our Holiday Party/Business meeting, and in May we may have a club picnic and star party.
Our meetings feature great guest speakers, including on-staff Astronomers from Arizona observatories and professional Astronomers from Arizona Universities.
Star Parties
Weather permitting – our Star Parties are held monthly; imagine numerous telescopes set up and operated by experienced Dark-Sky astronomers.  Viewing (seeing) conditions are some of the best in the United States.  Don't miss out!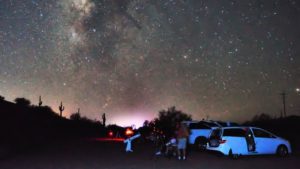 One of our Star-Party photos.
More on WVAC
Here is a link to the WVAC's By-Law (here)
WVAC's History (here).